MUSIC PREVIEW: Bright Light Social Hour upon us
Posted on February 3, 2016 By Michael Senchuk Entertainment, Front Slider, Music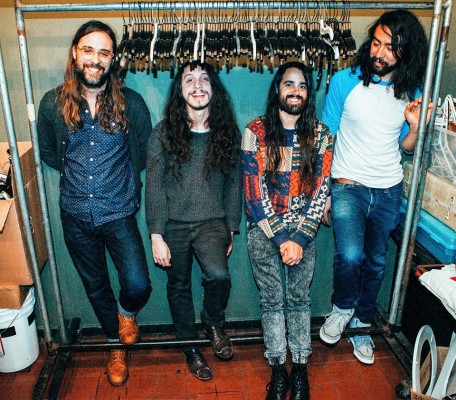 Much has been made of how the low Canadian dollar is impacting touring acts on both sides of the border – though last week's spate of concert announcements may have us thinking differently. Regardless, it's great to another great American coming our way, and in this case it's all the way from Texas: The Bright Light Social Hour.
This soulful psych-rock quartet blasted out of the Austin music scene in 2011, sweeping the SXSW Festival awards for band of the year, album of the year, and song of the year – called Detroit, which is not about Austin.
The band released their sophomore full-length Space Is Still the Place last March. The theme of this album is about the future of the Southern states and the young Americans that inhabit those stretches, as the band got to know a great many individuals across the U.S.A. during many a road trip. They prefer to stay with friends and friends of friends, and friends of friends of friends, when they travel, instead of hotels. As much for the vibe as for the cost savings, apparently.
After a lengthy itinerary that spanned last fall throughout the United States, and a few dates in Eastern Canada, the band is finally coming out West for the first time, and will be performing at Brixx on Friday night.
Opening the show is local experimental rock duo Pyramid//Indigo, who released their self-titled debut EP last August, which features a heady mix of sounds from drone to electronic to ambient, from eerie to ethereal to sounds of nature. Also on the bill is Mirrim. 8 pm, $14 advance.
Friday 5
Jeff Lang – This renowned Australian singer-songwriter-slide guitarist plays a style he describes as "disturbed folk," which encompasses other elements than folk, obviously. He has a total of 11 solo albums, including 2014's I Live In My Head A Lot Of These Days. Festival Place in Sherwood Park, 7:30 pm, $19.25 advance
Dri Hiev – This Calgary project is a strange but wonderful blend of post-punk, noise, and intense industrial music. Sometimes labeled "experimental" as well, their most recent release was last fall's EP called ContraVirtual. Their live show is like a swirling dervish of fright and fight. Hellen and Florals are also on the bill. Bohemia, $10 at the door.
Cecile Doo-Kingue – The New Moon Folk Club is hosting their third event of their season, after an insanely successful showing of Royal Streets just a couple weeks back. This Montreal guitarist is rooted in the blues, but blends strong influences from soul and afro-folk into her sound. The always effervescent and scintillatingly talented Kat Danser opens. St. Basil's Cultural Center, 8 pm, $20 advance.
Saturday 6
Joe Nolan – This soulful local singer-songwriter plays a no-cover afternoon gig to start your Saturday off right. His 2014 release Tornado will tear at your insides. Empress Ale House, 4 pm.
Corb Lund – This country artist doesn't need any introduction to local music fans. Always a popular draw, the Juno-winning Albertan released his ninth studio album, Things That Can't Be Undone, in late 2015. A nice rebound from his previous album, which didn't make the charts anywhere – Undone not only managed No. 8 on the Canadian overall charts, but also hit the US Country and Heat charts. Jubilee Auditorium, 8 pm, $32.50 and up, BUY
Adventure Club – This Montreal-based EDM duo, comprised of Christian Srigley and Leighton James, first came to prominence with a remix they assembled of Brand New's song Daisy in 2009. They have performed at the Ultra and Electric Daisy music festivals, and have one EP to their credit so far. Quite the sonic journey from when they first met each other in high school and started a hardcore pop-punk band. Union Hall, 9 pm, $45, SOLD OUT.
Sunday 7
Belle Starr – A trio of frenzied fiddlers, gritty and raw, with musical talents and vocals that take your breath away – each having found their one true violin, like Willie and Trigger. The three are recording a number of shows on this tour in preparation for a live album to be released later this year. With Olivia Rose Leaf and Justine Vandergrift. Mercury Room, 7 pm, $10. BUY