MUSIC PREVIEW: Big Band Valentine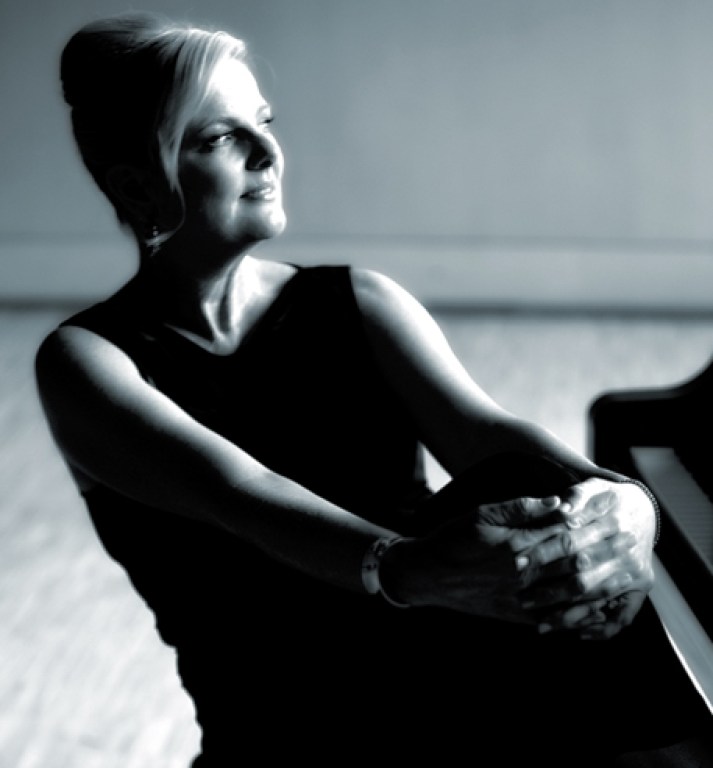 For the record, so to speak, Carol Welsman came out before Diana Krall – singing more or less the same sort of material with similar smoky style, both Canadian, both went to the famed Berklee College of Music, both jazz singers who both accompany themselves with decent chops on piano, both since moved to Los Angeles to live a happily married life, and both do a version of Day by Day. Uncanny.
The similarities end here! Her fans know well that Welsman is her own artist, has her own sound, and like so many female jazz vocalists we could make comparisons to until we're blue in the face, puts her own personality on the great American (and Canadian) songbook. That's what good jazz singers do. Welsman has just released her 11th studio album, Alone Together.
We can expect some romantic numbers for Saturday night's Jazz at the Oasis show at the fairly new Oasis Conference Centre (10930 177 Street) with the River City Big Band, celebrating the 18-piece Edmonton jazz orchestra's 20th anniversary. It's romantic because … oh, right, Sunday is Valentine's Day. Don't forget now.
Tickets to the show are $35 advance.
Friday 12
Jason Fowler – This Toronto singer-songwriter-sessionman is just one of the acts performing at the 8th annual Winterfest happening at the Uptown Folk Club (7308 76 Avenue) this weekend. Fowler has impressive classical guitar chops and Knopflerish mojo to go with his winsome, laid-back songs, as can be heard on his most recent 2010 release, Lumens of Light. Braden Gates, Jocelyne Baribeau, Melanie Switzer, and Troy Kokol also perform on this night. 6 pm, $20 advance. Saturday's all-day affair includes Chuck Porter, Beth Portman & The Good Find, Tim Isberg, and many more, with Alberta aboriginal star Laura Vinson closing. Starts at 1 pm, $30 advance
Saturday 13
Scenic Route to Alaska – One of finest local bands named for map locations, highways or landmarks is the headliner for the romantic rockin' evening at Ritchie Hall (7727 98 Street), also featuring Colleen Brown and Lucas Chaisson, 8 pm, $20 advance, $35 for couples
Yukon Blonde – Neither blonde nor from the Yukon, this happy, shiny, vocally-brilliant indie pop quintet is having a swell ride on the back of its latest hit Saturday Night from the band's third album, On Blonde – also suitable for a romantic rockin' evening. The band On an On opens the show at the Starlite Room, 8 pm, $20 advance
George Canyon – Occasionally the hot country cookie factory will extrude a worthy artist, and here is such a one: A Nova Scotian cowboy singer-songwriter who sings with conviction and honesty in songs that don't whip the dead bro-country tropes. When he sings about the military, for instance, you might want to know that Canyon is an actual frickin' military officer – the Colonel Commandant for the Royal Canadian Air Cadets, to be exact. It helps that he also looks like the Marlboro Man. Century Casino, 8 pm, $68.20 advance, show repeats Sunday the 14th.
Jenn Grant – A wee room for an intimate show sees no stranger to our town at The Almanac: Maritimer Jenn Grant has been making music for more than a decade, in the "folk-pop" vein, they say, which must mean folk music with catchy melodies. With Joshua Hyslop, $16 advance
Sunday 14
Frazey Ford – This incomparable Vancouver vocalist who co-founded the Be Good Tanyas and has since released two solo records ably filled the spot by the canceled Sinead O'Connor at the 2015 folk fest. Ford is back in a more intimate environment at the McDougall United Church. With Phil Cook, 7 pm, $25 advance
Monday 15
Sheepdogs – Swampy, bluesy, soulful rock has become part of the "sound" of Saskatoon well before these guys showed up – with a vengeance: A shot in the arm from the cover of the Rolling Stone, followed by a strong self-titled album (their fourth, in truth) that hit No. 1 in Canada. They tour now in support of their latest release, Future Nostalgia. Union Hall, with Beat Cops, 8 pm, $32.50 advance.