25 YEARS AT THE SUN: Close enough for rock 'n' roll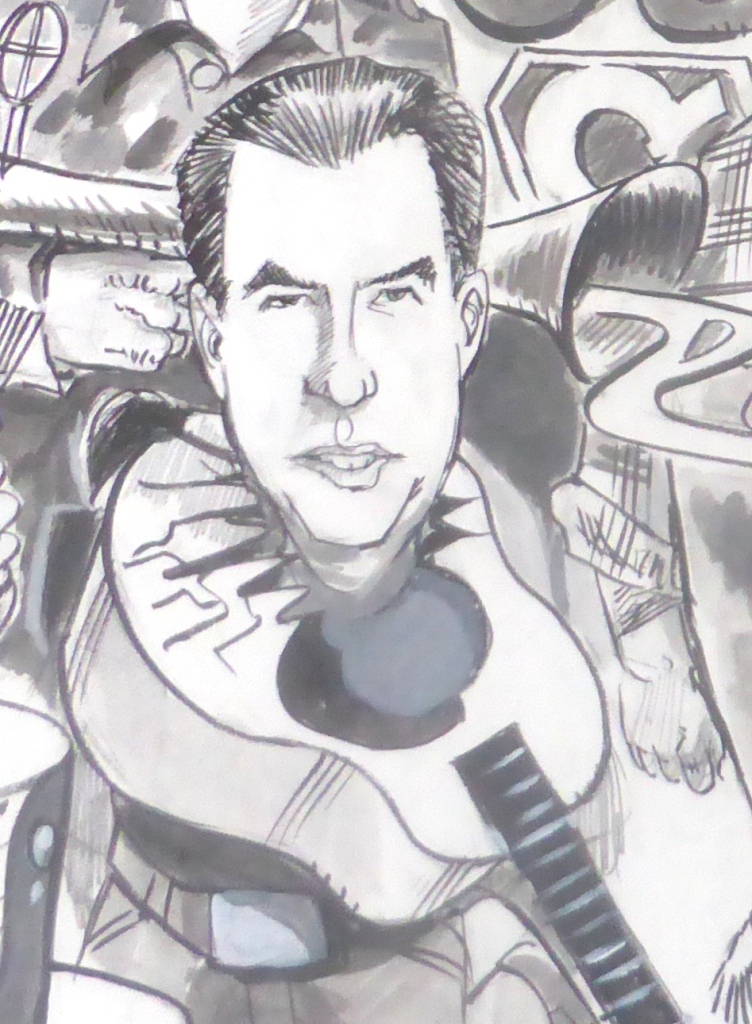 I have seen The Tragically Hip 14 times, Blue Rodeo 13 times, Nickelback seven times and heard Four Strong Winds at the Edmonton Folk Music Festival 18 years in a row.
I have reviewed approximately 400 concerts in the arena soon to be formerly known as Rexall Place. Ask me to remember 10 and I couldn't tell you. Eric Clapton with Bonnie Raitt was pretty cool. So was Prince and his mofo badass mind-blowing funk band with Maceo Parker at the Jubilee Auditorium. Holy shit, was that good. Pink Floyd at the stadium was fun, and the only thing I remember is that everyone was stoned. Radiohead was amazing at the Dinwoodie Lounge. Pearl Jam rocked the Shaw Conference Centre. The Ramones played punk in a farmer's field.
I attended roughly 100 concerts at the Jube, and a like number at the Winspear Centre and the Shaw. Add in festivals, 12 nights a year, maybe, various club shows and the Department of Nice Round Numbers clocks 1,000 concerts I've reviewed since I started as a rock critic at the Edmonton Sun in 1992. A thousand concerts in 25 years – close enough for rock 'n' roll.
My lucky run came to an end in January after PostMedia decided to "merge" the newsrooms of the Edmonton Sun and Edmonton Journal. My services as a rock critic in newsprint form are no longer required; likewise for many other Canadian journalists laid off. But since live music is a drug habit I can't break, I will keep doing it on GigCity as if nothing had happened. I'll stop when they pry the laptop out of my cold, dead hands. It would be ironic to die at a Tragically Hip concert.
There were lots of funny bumps on the road. I was nearly crushed by a collapsing crowd barrier at an outdoor festival featuring Bad Brains in 1993. I was attacked by feral children throwing mudballs in the post-Apocalyptic aftermath of the failed Rockfest '99 where hundreds of campers were stuck in the mud for days; I was the only witness to the disgraced, bankrupt, fleeing promoter getting kneed in the balls by the female manager of the Five Man Electric Band in the parking lot of the Leduc Motor Inn. He burst into tears.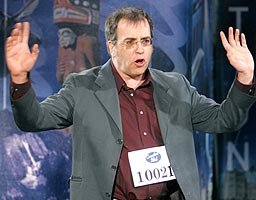 The nadir of my personal shame was being an exhibition contestant on Canadian Idol. I'd been assigned to write weekly updates of the short-lived reality show, so I had to watch every wretched moment. I made it my quest to be as negative as possible. To get their revenge, the celebrity judges heckled me DURING my performance of That's Amore. I didn't get the gold ticket.
They did billboards for Sun columnists one year, and mine was the only one that got defaced. Why me? Sure, I enjoy making fun of things I hate, and earned a reputation as something of an asshole, but I wasn't being an asshole just for the fun of it. I was doing it as a public service. It's a music critic's duty to warn readers about bad entertainment, because time is precious. So I got a lot of vicious hate mail, which only increased when content went online (marking the beginning of the end for daily newspapers). When they recently banned reader comments on stories, I enjoyed imagining pimply little troll heads popping in frustration.
In hundreds of phone interviews, I was hung up on by Billie Joe Armstrong from Green Day, hung up on by Matthew Good, hung up on by John Waite, insulted by Dennis Miller and effectively told that I'm an idiot by Henry Rollins. I was sent an e-mail that said "you suck" by the guy from the Goo Goo Dolls, banned by Tom Cochrane, banned by Amanda Marshall, and banned by Nickelback – and this after having been an early Nickelback supporter. Mistakes were made.
Lester Bangs Rock Critic Rule No. 1: Never make friends with rock stars.
In fact, the less I know about them the better. Rational ignorance works wonders for the enjoyment of music. Thriller is great despite Michael Jackson. For the endless stupid talk from Kanye West, he once made some great music. Note tense. That Auto-tune shitshow he did on Saturday Night Live flat out sucked, but never mind. And I don't want to know that Justin Bieber acted like a turd, because his new music is actually pretty good.
Have I completely lost it? A lot of new music is pretty good, if you give it a chance. Pop songwriting is an art that has been elevated beyond genre. For all the complaining, we're living in a golden age of music. It's a fan's market, an embarrassment of riches, and you only have to see a local show from almost any experienced local band to know this trend runs deep. The bar keeps getting raised. Bands at all levels keep getting better. They must.
Many old-timers claim that today's music is lousy, and was better in their day. It's just an illusion. What we hear of the past are only the good songs. The bad old songs are rightfully forgotten. There's a reason we haven't heard Everybody Have Fun Tonight by Wang Chung for 30 years – unless you're listening to crappy oldies radio. It remains to be seen if Justin Bieber is a genius.
People sometimes ask, "Don't you get tired of reviewing concerts?" God, no. I get sick of driving myself crazy trying to figure out how many pre-recorded tracks are being used at one of these damned pop diva Cirque du Karaoke spectacles. I am a strong opponent of lip-syncery of any kind. You, too, Coldplay. But when it's all real and it's great, there's nothing like live music. It's the closest thing we have to witnessing real magic. It's just sound, but it can focus the attention of thousands of people at once, move them to intense mass emotion, give people hope, inspiration, make them feel joy, sadness, anger, lust, fear, basically all the deadly sins – and isn't that amazing? The truly great artists are the ones who write songs that become far more famous than they are. They should be applauded. And they are. There is no shame in one-hit wonderment. Only honour.
And what people will pay for the privilege of witnessing a live performance from a top-level artist – that's amazing, too. Madonna must've walked away with a cool million for each of her two shows in Edmonton. She's worth every penny. Really?! Yes, really.
There were a lot of other great shows at Rexall Place, and soon it's time to say goodbye to the old girl. Memorable (thanks to looking it up) events include Roger Waters, Taylor Swift, Nine Inch Nails, Sir Paul McCartney, The Eagles, David Bowie, Leonard Cohen, Bruce Springsteen, Sir Elton John, AC/DC, Rammstein, Pearl Jam, Bob Dylan, Guns N' Roses, Green Day, David Byrne, System of a Down, there's got to be a list somewhere.
***
Cartoonist Don Kew made this drawing of the Edmonton Sun entertainment-lifestyle section as it was in 1996: