REVIEW: Yukon Blonde pops the rock, rocks the pop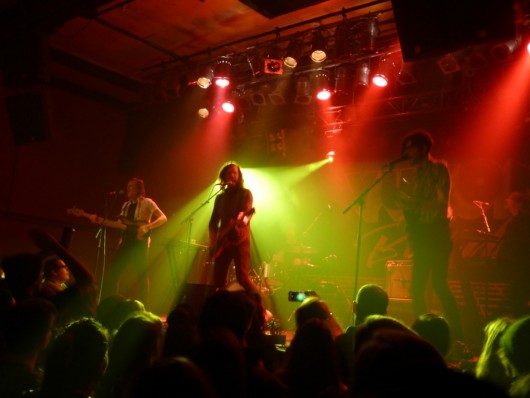 Yukon Blonde is the closest hope we have for the new Knack – and this is good news.
The world could use more of these bouncy, major-key kinds of bands. Where did they go? They're lurking and bubbling up from the indie scene, that's where. Like Yukon Blonde.
For a small but enthusiastic crowd at the Starlite Room Saturday night, the Vancouver band did a terrific job evoking the era of late 1970s happy rock – the Knack, Cheap Trick, The Cars. These were simpler times, simpler songs, boy-meets-girl pop music with a rock 'n' roll drive.
With style and energy, Yukon Blonde delivered quite a few lively pop-rock gems riddled with what sounded like pick-up lines. They included songs like My Girl (not to be confused with the Temptations song), Rather Be With You, the deep roaring blues of I Wanna Be Your Man, and jingle jangly numbers like Saturday Night, a new one from their latest album, On Blonde. They haven't quite hit their My Sharona yet – their Waterloo, their career-defining hit – but they sound close. The band's secret weapon is the singing: All five members sing brilliantly. All together the effect was thrilling.
The band metamorphosed, and hardened, as the show went on. Early on came a jaunty tune called Wind Blows, with frontman Jeff Innes singing, "Listen to the raindrops outside of your window." It sounded like the whole crowd was singing along to this arrant hippie nonsense, a light moment in the show. Later came more sturdy material like Radio, where the band proved it could rock out. The wheezy vintage synthesizers fattened the sound beyond the five-part vocals. Lots of fun.
So they started off being a quite Knacky and Carsish, and somewhat Clashy, but became more Clashy and less Knacky the longer they played. Almost but not quite punk rock. Too slick and romantic for that.
It bears repeating that there are only two kinds of rock: That to which you bang your head up and down, and that to which you bob your head from side to side, like the Peanuts gang. Yukon Blonde is a great example of the second kind – proudly rocking out while writing catchy pop songs. Or maybe it's the other way around.
Telling detail: The choice of pre-recorded music played through the P.A. before a concert starts says a lot about the headliner. Paul McCartney played other people doing his songs; Madonna spun the latest dance music. In Yukon Blonde's case, it was stuff like Loverboy's Working for the Weekend – and the crowd dug it. It's clear this decision wasn't completely ironic.