REVIEW: Matt Andersen thrills Edmonton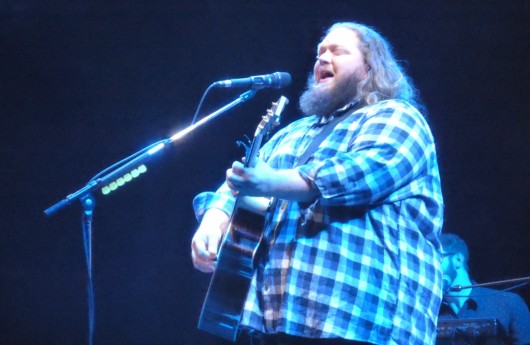 Great singers sure are in love with their slow songs – and Matt Andersen's got it bad.
Ballads ruled the evening at the New Brunswick bluesman's show at the Jubilee Auditorium Sunday night. More than 2,000 fans were thrilled as he unleashed his mighty pipes in folky acoustic blues, rockin' blues, funky uptown blues, and John Lee Hooker she-done-me-wrong blues so deep and dirty you could smell the booze sweat. This man is a shouter of the highest order, on par with B.B. King in his prime.
But it was in the slowest and quietest moments that this giant teddy bear of a man revealed his brilliance. Andersen was all by himself for a devastating performance of Coal Mining Blues. "Black on my hands, black on my shoes, black on my heart, from these coal mining blues," he sang in a voice that was the aural equivalent of fine silk, with words that rang true about the Eastern Canadian experience. Yes, coal mining sucks. This is real Canadian blues, distinct from its American brethren, yet still coming from a place of suffering. Deep for the blues. Literally.
A lot of blues shouters can't switch gears to this kind of quiet, soulful singing. They have to belt it out all or nothing. Not Andersen. He has perfect control to go with what sounds like a three octave range, and a range of dynamics that was spellbinding from a whisper to a howl. Never wasted a note, or showed off too much.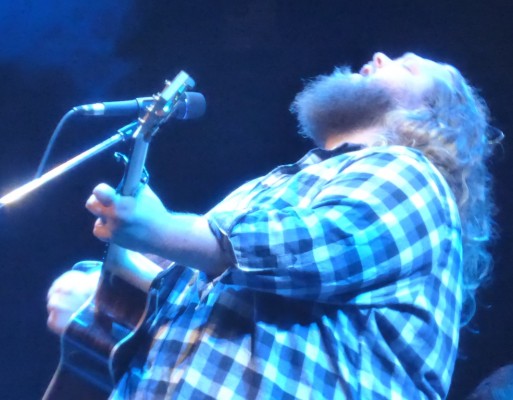 Incidentally, while he sang, he accompanied himself with flawless bass and rhythm finger picking on an acoustic guitar. Throughout the show, Andersen demonstrated a mastery of blues guitar wizardry, with or without the band, on the acoustic or trusty Telecaster, it didn't matter. Guitar face is usually a good sign of a good guitar player.
The guitar skills were just a bonus here, the icing on the cake. For again, the great part about this artist is his voice, his direct and heartfelt songs. Another highlight was I'm Giving In, when he ditched his guitar completely. You could hear a pin drop in the tragic story that followed: About a man conceding this and all future arguments with his wife in perpetuity – or words to that effect. "I'll let you win. I'm giving in," is the line. It sounded so sad over the torpid piano arrangement.
Are there issues lurking here? Always seems to be in the blues. Later came one of the most rock 'n' roll moments of the night: the grinding uptempo Muddy Waters-like Devil's Bride, which included a sad tale about a man who needed 10 shots of whiskey to get up the nerve to call his hated wife the title of the song. Nothing subtle about this one: "Your love is like a freight train," Anderson bellowed, "And I'm tied to the track!" Eat your heart out, Bruno Mars. Could've been fiction.
That's the magic of Matt Andersen: Not your usual Maritime blues singer who can also play guitar, not just another Matt from New Brunswick. He is one of a kind, the perfect artist with the perfect voice to lead the Canadian blues into the future.