MUSIC PREVIEW: The Hearts by any other name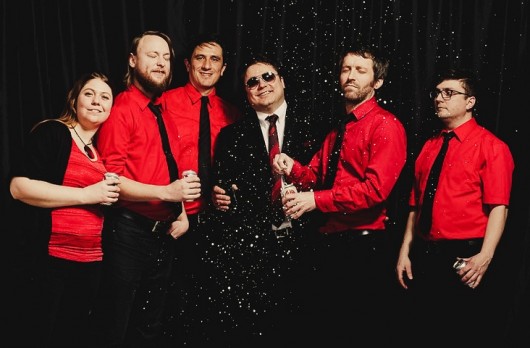 Changing your band name in mid-stream success is a decision that should not be taken lightly. There are perils.
Playing Friday night at the Arden Theatre in St. Albert is a band getting popular around these parts, formerly known as Jeff Stuart and the Hearts – and now called only The Hearts. Which is very confusing. There's another indie band from South Wales called The Hearts. We're told there's a doo-wop group from the '50s called The Hearts. There may be a lot of bands called The Hearts. Also the Heartbreakers, The Bleeding Hearts, and Heart. Sort of obfuscates the search engine there.
But let it be known that there is only one The Hearts from Edmonton, from all of Canada as far as we know. Which leaves one question: Where's Jeff Stuart? Don't worry. He's still there, singing as always. The band merely dropped the frontman's name to reflect a more collaborative creative force, as can be heard their most recent recording, Equal Love. This Edmonton band mashes up singer-songwriterly material with electronic groove stirred in with a little Bowie and David Byrne for an overall "indie new wave" effect. Cold Connection is a cool new song.
See all the 'splaining you have to do with such a seemingly insignificant change in your band name?
Tickets to the 7:30 pm show, also featuring The Provincial Archive, another great local band, are $28 advance.
Thursday 25
The Velveteins – We seem to be hung up on band names here, but the name makes the band, and also the other way around. These guys are indeed like velvet: smooth yet fuzzy, comfortable yet stylish, and in the local indie spotlight thanks to a snappy debut EP released last spring, A Hot Second With the Velveteins. More to come. They play at 9910, with Morewine, and Jesse and the Dandelions, 9 pm, $10 at the door.
Friday 26
Cradle of Filth – Yes! Another band that lives up to its name? Not this time. These guys are clean and mean, almost classical in their precise approach to aggressive heavy metal music – with a logo so menacing as to be illegible. Respected veterans of the extreme metal scene, these British lads have been flogging out their gothic hard rock sound for more 25 years. That makes them classic. Should be a treat at the Starlite Room, with the warm up acts Butcher Babies, and Ne Obliviscaris (Australian violin metal combo). 8 pm, $32.50 advance
Arlo Maverick – It would be hard to find a rap group from Edmonton as determined, and as determined to stay in Edmonton, as Politic Live. These guys have mixing jazz and soul into the hip hop milieu for decades. On this night at the Mercury Room, their main MC will perform tracks from a concept album he's been working on, called Maybe Tomorrow. Sounds weird. Weird is good, don't forget. With The Honor Roll and Sydney Love, 9 pm, $10 advance
Jeremy Dallas – This Edmonton country singer has the perfect manly name. He's got that deep scoop of baritone voice commonly heard in guys like Paul Brandt or Garth Brooks. Drives women wild, apparently. And he's got this "badass" image, though calling oneself badass kind of blunts the point. It's OK. All he needs now is a song. After some years pounding covers, Mr. Dallas is gearing up for the release of his first video single. The stage is the true test at Shaker's Roadhouse – the venue formerly known as Big Al's House of Blues – for a two nighter this weekend. Tickets $5 advance, also Saturday.
Saturday 27
Winter Killer – There's nothing like driving down a scary dark icy back road to some obscure hall in the middle of nowhere to see a metal show. It's an Edmonton experience! This one at the Wye Hall (151 – 22559 Wye Road, Strathcona County, here's a map) features the speedy 'n' heavy Red Skull Ritual, with the like-minded Tides of Kharon, Driven to Exile and Juliet Ruin. Bands at 8 pm, $12 at the door.
Troy Turner – Or take a better lit drive to another unfamiliar hall – the sexily-named German Canadian Cultural Association, 8310 Roper Rd. – for a smokin' blues party with this New Orleans guitar whiz slash blues shouter, who tours upon his fourth studio album, Whole Lotta Blues. A bit corny, a bit obvious, but good. 8 pm, $10 for Edmonton Blues Society members, $15 for guests.
Tuesday March 1
Johnny Reid – It's not much of a stretch to imagine a Scottish-Canadian Nashville country superstar. There's a kinship, if you study your history. Johnny Reid's popularity has not dimmed one bit since his breakthrough album Kicking Stones in 2007. He's stretching musically on his latest album, What Love is All About, featuring a duet with the rapper Kardinal Offishall. No word on if there will be a guest rapper at the Jubilee Auditorium. Three nights – Wednesday and Thursday also. Why doesn't he just play Rexall Place? Opening the show will be fiddle queen Natalie MacMaster, with JJ Shiplett and Aaron Goodvin, 7 pm, tickets from $55.