MUSIC PREVIEW: Cowpuncher hitting hard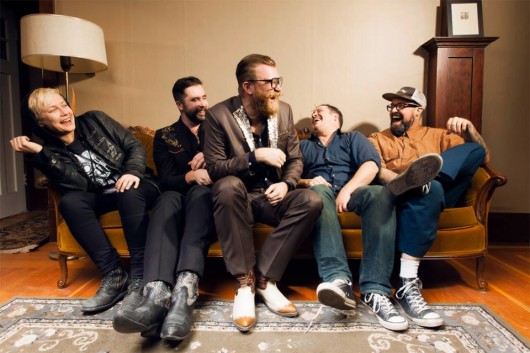 Calgary's Cowpuncher has been hitting on all cylinders lately, making a big name for themselves on the Alberta indie country rock scene.
Started in 2009 as a fairly loose and large collective under the leadership of singer-songwriter Matt Olah, the project kept gathering steam after 2011's Call Me When You're Single and a paring down of membership from seven to five. Two years later the band crafted their most well-known album to date, Ghost Notes. Partially recorded at some abandoned warehouses in their home town, partially in the Masonic Hall in Nanton, Alberta, the result was an intriguing and reflective cultivation of the indie rock meets alt-country scene.
For their newest album, Hustle, the band decided to be a little more traditional, and recorded it in a studio with an actual producer – Derek Downham – who's also worked with The Woody Allens and Young Running. It's due out soon.
Cowpuncher plays this Friday at the Mercury Room, with Tombthemusician and Hazeldean also on the bill. Show at 8 pm, $10 advance, BUY
Thursday 3
Lauren Joseph – This local singer-songwriter began performing at the age of seven, and has developed into a spectacular musician and singer. Since releasing her debut full-length in 2011, she's played innumerable music festivals and other live gigs, and through that time her music has evolved to a new full-length, Overdressed, for which this gig is the official launch. Small Town Regular is also on the bill. Mercury Room, 7 pm, $12. BUY
Nightwish – This symphonic metal act hailing from Kitee, Finland, was formed back in 1996. Since that time they've accumulated eight full-length albums, including last year's Endless Forms Most Beautiful, on the back of which they're currently touring. It's not often one gets to witness a metal band in a venue that's as stunningly acoustically amazing as the Winspear Centre; it will undoubtedly prove to be a great show. With Sonata Arctica and Delain. 7:15 pm, $41.50 and up. BUY
Friday 4
The Bills – The New Moon Folk Club's stellar inaugural season closes this weekend with this folk-roots five-piece from the West Coast. Previously nominated for two Junos and winners of multiple West Coast Music Awards, the group's newest album, Trail Of Tales, comes out March 4. Ken Stead opens. New Moon Folk Club at St. Basil's Cultural Centre, 8 pm, $18 advance.
Theo Fleury and the Death Valley Rebels – Some hockey players end up in the broadcast booth after retiring from the NHL. Not Theo Fleury. Not only did he write a book, but he also decided to try being a country musician. A big part of his childhood was centered around music, so he took vocal and performance lessons for six years, and then, together with his bandmates, wrote 30 songs, which were whittled down to 10 for the project's debut album. Should be interesting, there's definitely been some interesting buzz around this project – how much of that is because of his history in the hockey world and how much because of the music itself? Only time will tell. Century Casino, 8 pm, $36.70. BUY
READ: Interview with Theo Fleury
Counterfeit Jeans – Definitely on a buzz-tear around the city, this lo-fi indie three-piece, featuring Jed Gauthier, Spencer Heykants, and Tyler Bedford, is set to release their debut full-length later this year. With Quasar and TV People. Filthy McNasty's, 8 pm, $5 at the door.
Saturday 5
Hewson Grey – This indie rock band is part of a spectacular local bill featuring three other crazy-good projects, Arkavello, The Vanas, and Tophie Davies. Bohemia, 9 pm, $10.
Van Gohst – The city had another bit of a venue hiccup recently, as DV8 shut down their Whyte Avenue location, and has moved all previously booked and all future shows into Mama's Pizza over in Forest Heights, 7317 101 Avenue. Van Gohst, a trippy fantastical take on the hardcore sound, are regulars at DV8. Opening act Rogue Theory is a new punk band featuring members of Guardians of Power. The Whyte Ave Womp Rats are also on the bill. 8 pm, $10 at the door.
Sunday 6
Frank Turner – It sort of seems like Mssr. Turner was just here, doesn't it? The English singer-songwriter is back, supporting his album from last year, Positive Songs For Negative People. It's received some mixed reviews, both from the critics and the general public, but the fact is he's been putting out such spectacular music for so long that perhaps it just didn't live up to his prior releases. Regardless, Turner always puts on an amazing show, with breathtaking guitar and vocal work. With Sleeping Souls. Union Hall, 7 pm, $28.50. BUY
Del Barber – This Winnipeg folk/folk-rock/Americana/alt-country artist has an incredibly loyal following in these parts; his shows are always incredibly spirited and lively, and leave a lasting impression on all that attend. Buckingham, 8pm, $15. BUY