REVIEW: Black Sabbath goes out like a lion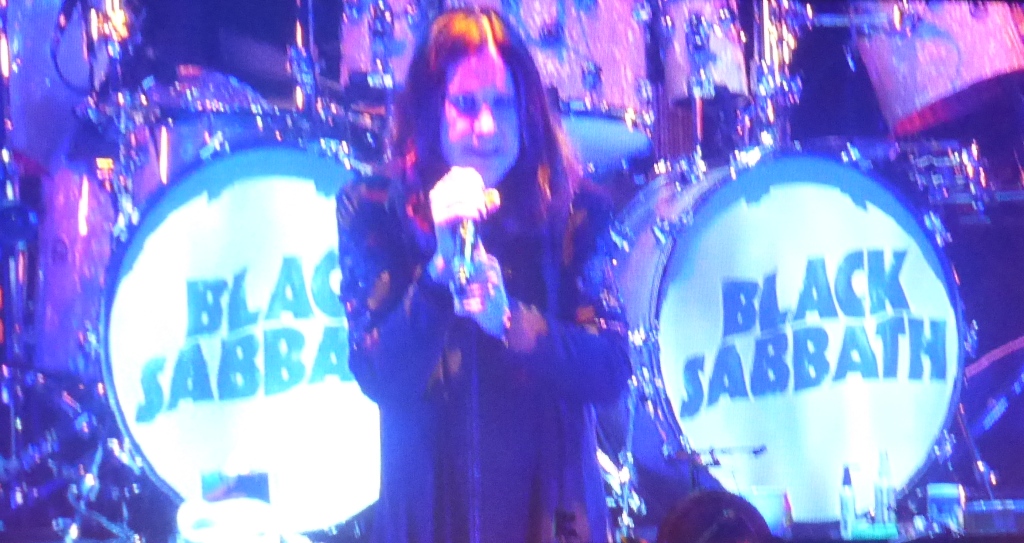 Is there a man whose heart beats so cold that he cannot cheer the lion in its final victory lap?
Something poetic is called for to honour The End of Black Sabbath – witnessed in Edmonton by more than 12,000 fans at Rexall Place on Wednesday night. They will never come again.
Some bands wait too long to retire, becoming a pathetic shell of their former selves while milking and cheapening their legacy for all the cash it's worth. Talking to you, Motley Crue. Also KISS.
Not Black Sabbath. These kings of metal have gone out on a high note. They delivered a solid, dependable, satisfying and above all honest metal show. At the end of an evening of light among the darkness, Paranoid was the encore, performed like we heard it the first time, and the last we'll ever hear – live – of these lions of heavy metal. Their legacy will remain intact.
The great thing about Sabbath is that don't make a big deal about being great. Their performance was raw, simple, powerful, nothing fancy, serving above all the ferocious riffs of classic metal songs that span almost 50 years. Man, that's a long time. Accordingly, the crowd was – OK, let's admit it to ourselves – old. Mainly middle aged, black-shirted guys with electric guitars lurking in their basements, rocking out to youthful metal fantasies reproduced perfectly by three of the original Black Sabbath members. Can't ask for more.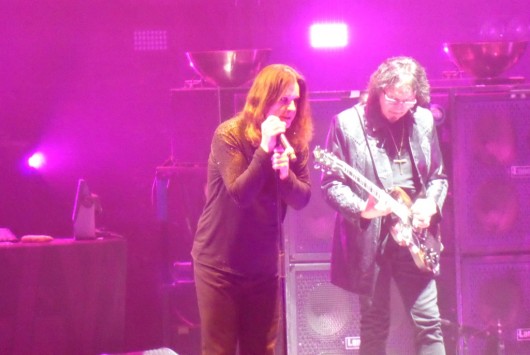 It takes a lot to get Baby Boomers to remain standing at a rock concert – and Sabbath did it.
The main emotion seen here was joy. Edmonton loves Sabbath and Sabbath loves us right back. Ozzy Osbourne said, "WE LOVE YOU ALL!" about a million times – it's his mantra – and also "I CAN'T FUCKING HEAR YOU!" Turn up your hearing aid, Ozzy! He even blessed us a number of times. Isn't he supposed to be the Prince of Darkness? Frankly, it's a miracle he's still alive (which people have been saying for decades). Ozzy was cheered merely for showing up. He had a health scare from "extreme sinusitis" that forced the band to cancel the original Edmonton date in January with just a few hours notice. They'd even done the soundcheck. We can only imagine how hard it was for him: "Bloody 'ell, Sharon, I feel like (beep), but I can't let me fans down! Oh, God, I can't (beeping) sing, bloody (beeping) hell, (beep, beep BEEEEEP!) …"
Poor guy.
"But I'm over it now," Ozzy told the crowd happily. He was in fine form at the show – a jazzed-up Herman Munster overjoyed to sing his songs to Edmonton fans one last time, even if this was just another gig on the way to a comfortable retirement. It never sounded like they were going through the motions. Ozzy sang pitchy at times. War Pigs, for all its epic instrumental glory, was a vocal train wreck – but not one cared! It's nice to witness a real human moment at a modern rock concert, to know for certain there was no Auto-Tune or tracking used (though there was an extra musician in the wings doing extra keyboard and guitar parts).
After an opening set from The Rival Sons – which sounded like a cross between the Black Crowes and a very good Led Zeppelin cover band – Sabbath opened with the sludgy dirge named after their own band. No one can pull off slow metal grooves like Sabbath. Songs like After Forever, Into the Void, Behind the Wall of Sleep and Hand of Doom followed. Seems to be a theme here.
For all of the attraction of Ozzy looking and sounding good for an Iron Man of his age, most of the heavy lifting was done by guitarist Tommy Iommi – whose metal-capped fingertips were seen in sharp resolution on the big screen, a mesmerizing sight as his fingers flew over the fretboard. His rhythm lines were the driving force of the band's trademark powerful, tempo-shifting grooves, and his blistering solos thrilled. Bassist "Geezer" Butler, meanwhile, held the foundation of the pummeling rhythms without ever showing off. Except in his turbo-charged bass solo.
The secret weapon of this last version of Sabbath was drummer Tommy Clufetos, a hired gun of the highest order and one of the heaviest hitters in metal-dom. His 10-minute drum solo was a show-stopper – giving the band members a much-needed break.
Black Sabbath has clearly picked the right time to pack it in, going out with a bang – literally, too – when they can still blow their fans away. Far better to burn out than to fade away. Or something like that.