Slayer drummer drives order from chaos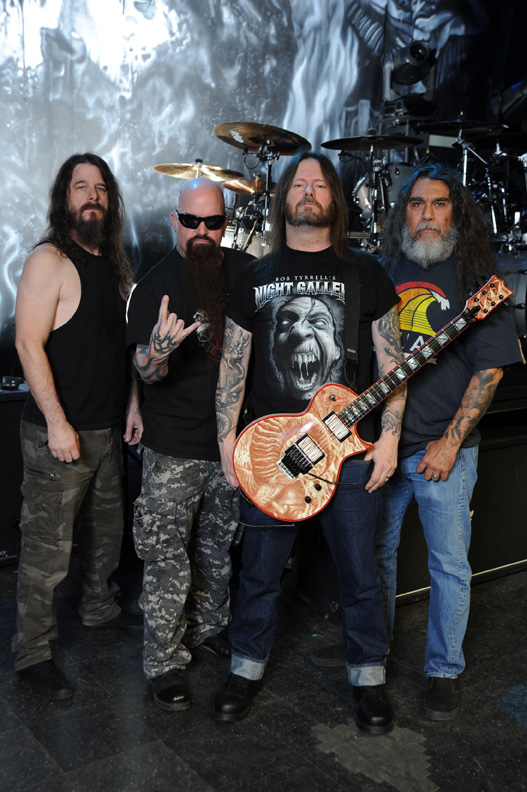 Let us take a moment to salute the humble heavy metal drummer.
Part trained percussionist and part professional athlete, heavy metal drummers are a special breed apart from peers who work in less demanding musical styles. No offense, other drummers. Do you lose a pound of sweat at every show? Folk music can even live without drummers. But heavy metal music could not exist without heavy metal drummers. It would be a senseless wall of noise with no form or function. No one wants that.
It is Paul Bostaph (in photo, left) who shall bring foundation and order to the chaos that is Slayer in Edmonton at the Shaw Conference Centre on Tuesday, March 15. The band tours on its 12th studio album, Repentless, the first since the death of original guitarist Jeff Hanneman in 2013.
In a complicated business where the best doublekicksmiths are valued like Special Ops mercenaries and traded like first round draft picks, Bostaph started working for Slayer in 1992 after founding drummer Dave Lombardo quit for the first time, left in 2001 before Lombardo was invited back, and then returned when Lombardo quit again in 2013. Clear? In short, Paul Bostaph is both the new guy and the old guy.
"I kind of have to win people over again, and I know that," he says. "But I did it once, and I gave it my maximum effort, and I'm going to do the same thing this time. I was very excited to be back. It's really strange. The style has stayed with me throughout all this time. And I just feel like a I'm a better drummer than I was before."
He talks like an athlete before the big game.
Bostaph first honed his chops with a band called Forbidden in San Francisco. He remembers the first time he saw Slayer, which was plagued by accusations of Satanism almost as soon as they emerged from the bowels of the California thrash scene in 1981.
"The best part was the mystery," he says, "not knowing what it was all about. What got me is that I didn't get the feeling it was all about being a Satanic band. There's so much more depth to it than that. For me, I accepted the imagery as part of the aesthetic, and part of the music – the songs, the feelings …
"You could be happy every day and listen to Christian music on the radio, and then there are other things that are not very popular and very scary – and these can also be represented in music."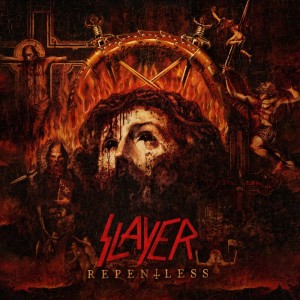 Paying attention to the topics aside, speed metal time-keeping is an athletic trade. It takes special stamina and skill to whomp out 16th notes on double kick drums at 200 beats per minute for a solid hour. It should sound – and feel – like one of those bigass .50 caliber machine guns whose bullets are the size of bananas and can take out a tank. It's no coincidence a lot of extreme metal music deals with war.
There's evidence heavy metal musicians are particularly well-adjusted people because of this. They can exorcise their evil humours on stage. Off stage, they may well spend their time in the company of fluffy kittens.
"It definitely keeps me mellow," Bostaph says. "I think I've always kind of been that way anyway. When I'm on stage I'm tapping into that part of myself that I don't want off stage, and when that energy is exhausted, the only thing that's left is, yeah, wanting to pet the kitty."
Hanneman was likewise a pretty mellow guy, Bostaph remembers.
"I think he hated being on the road. Everything about being a a quote unquote rock star he wasn't interested in. He wasn't all about people blowing sunshine up his ass. Jeff loved to play music, he loved watching hockey games, he loved to have a laugh and good time. "
Like a prank he played on the "new guy," getting a crowd of fans after a gig to chant, "Bostaph sucks!"
The drummer adds, "It was fun to be on stage with him."
There was no doubt Slayer would continue in the wake of death. Shit gets real when people die.
Bostaph says, "When confronted with death, when your mortality is challenged, you realize how fragile life is and that it can be gone in a second. Then it becomes clear to you that the things that aren't important to you, you have a tendency to throw them out the window. When you're an artist of any kind, I think your art is part of you. It's not just a job. You're in it for years. It's your art, it's what you do, it's part of you. To have someone to take that away or to just give up, well, that's not something this band is about."