Queens of Sheba also Queens of Rock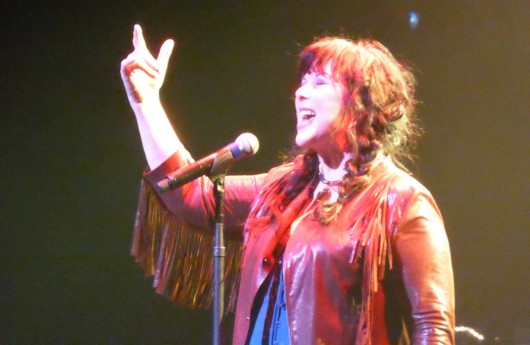 It's a mystery why Heart decided to end its show at the Jubilee Auditorium in Edmonton on Sunday night with three Led Zeppelin songs. Much appreciated, but weird. Maybe because Ann Wilson is the female Robert Plant? She sure can hit those high notes – at the age of 65.
It's not like Heart doesn't have enough songs of their own.
So does the co-headliner Joan Jett. She and her Blackhearts didn't do any covers, just the songs that people wanted to hear: Bad Reputation, I Hate Myself for Loving You, Do You Wanna Touch Me?, simple, solid, three chord, three minute rock songs that speak from an assertive woman's perspective. I Love Rock 'n' Roll, a tale of seducing a 17-year-old boy by a jukebox when jukeboxes accepted dimes, and there were actually jukeboxes, was a little more Mrs. Robinson than when it came out, but the hit of former teen dreams had no less impact on this crowd. Joan Jett remains true to form: punk but not too punk, sings pop songs that are dressed in leather and swagger, and has a great voice still in fine form – at the age of 57.
These women are calling themselves the "Queens of Sheba" for this tour, and no one's going to argue with one of the highest concentrations of rock chick power ever seen in one place.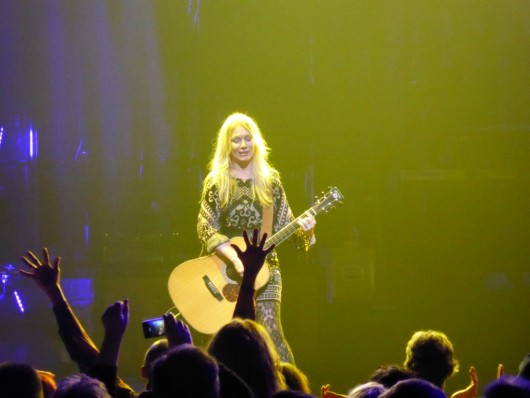 Heart, meanwhile, could've turned into a pure nostalgia schtick filled with safe balladry like What About Love and These Dreams were it not for a few interesting wrinkles. Figuratively speaking. Like the cool Zeppelin covers. Ann wailed her guts out on The Immigrant Song, experimented with electronic stank on the obscure No Quarter, and brought the house down with a very Heart-like rendition of Misty Mountain Hop that she made her own. What?! No Stairway to Heaven? Heart got a huge boost after they performed the song at the Kennedy Center Honors in 2012, and Robert Plant himself was reportedly so moved that he wept. Sadly, audiences on the Queens of Sheba tour are denied Stairway to Heaven. Maybe they don't want to turn into the world's greatest female Led Zeppelin cover band.
Heart have their own songs to deal with – new songs. Some of the best moments of the show included a hard-rocking tune called Beautiful Broken, and more wailing from Ann in Sand, from an upcoming album. Sister Nancy took over lead vocals for something completely different, a slow and soulful song called Two that deals with a couple not caring that other people might think they're not well matched. It was written by Ne-Yo for the TV series Empire, which passed on it, so "I grabbed it," Nancy says. Very much unlike other Heart material, and the band obviously digs it. Nancy has some pretty formidable vocal chops as well. When the sisters sang together the effect was spine-tingling, as it's been for almost 50 years.
Heart is all over the map, and all over a big chunk of rock history. They have hippie roots, a Canadian connection, delved into 1970s rock, 1980s pop and in the 1990s turned out to be the step-sisters of the grunge rock movement. They are from Seattle, after all.
Mid-set, they pulled out Even it Up – the 1980 song about equality. There weren't very many female rock singers around back then, Ann told the crowd, "But there are more now!"
Maybe from where she stands. Hopefully Heart and Joan Jett can be an inspiration for a new generation of "rock chicks" – the term used with the highest respect and admiration.