MUSIC PREVIEW: Raygun Cowboys zap DV8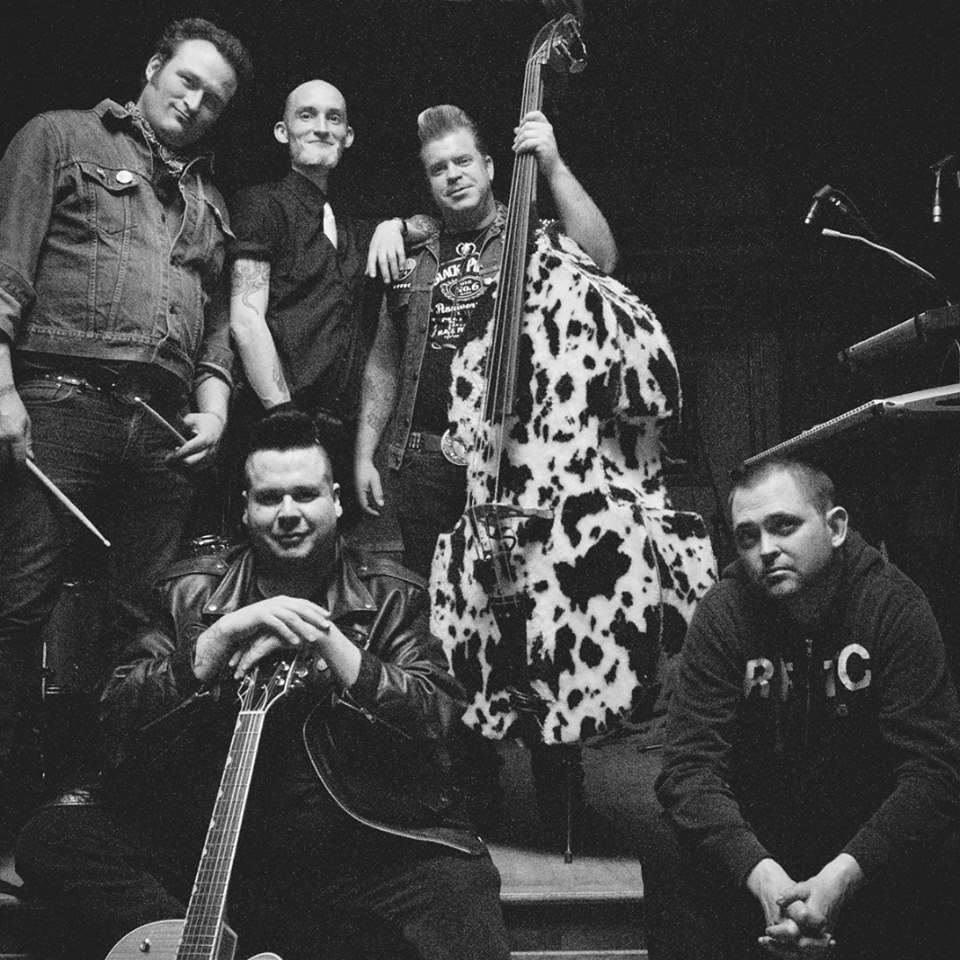 The Raygun Cowboys look like they stepped out of a casting call for a punk rock version of Guys and Dolls – and sound like a horny fusion of Buddy Holly and the Sex Pistols. How could you possibly go wrong?
The growling singer Jon Christopherson, who sports a burly 1950s pompadour to match his imposing physique and booming pipes, plays a big-ass hollow-body guitar through an amp set that seems to be set permanently on "big country fuzz." Horn players, meanwhile, blow their brains out over the high-energy rockabilly grooves. Of course the bass player thumps one of those big butch bass bull fiddles – this one painted like a cow. They even lit an old double bass on fire for a music video – which brings us to this weekend's featured gig: the band's video shoot Friday night at DV8 Underground, now located in Mama's Pizza at 7317 101 Avenue.
DV8 is an interesting example of a venue that lost its building yet continues to produce shows in their adoptive home. A lot of shows in established rooms are rentals from outside promoters anyway. There's a discussion going on whether it's better to have a place that's exclusively for bands, empty otherwise, or a place where people actually want to hang out when there's no music, because of, say, pizza. Maybe there's room for both business models to support Edmonton's live music scene.
Opening for the Cowboys at the punk rock pizza place are The Mange and Calgary's The Press Gang. 8 pm, $15 at the door.
Thursday 24
Mike Plume – This Albertan singer-songwriter whose career was launched at the Sidetrack Cafe had a helluva good run in the 1990s before being hired to join the elite, shadowy cabal of professional country songwriters. In Nashville, the Brill Building Era still holds sway. Plume also recently landed a gig as the host of the CMT reality show Mississippi Snake Grabbers – and you can't make this shit up. On this night, he does what a lot of unsung Nashville songwriters do in the little cafes of Nashville: Play an intimate gig to show why he makes a good living in Nashville. The Almanac, 7 pm, $20 advance
The Offspring – If the world needs wannabes, then why do we denigrate them so? Isn't "I want to be" one of the most powerful expressions of human will there is? Argue all you like when these California legends of punk's second wave (or was it the third), returns to headline the Bear's annual "Thaw at the Shaw" event – at the Shaw Conference Centre, of course. GOB and Pigeon Park open, 6 pm, $60 advance
Friday 25
Rah Rah – This up-and-coming Regina indie band sounds a little like Mother Mother: a basis in rock with both female and male vocals on brisk, poppy songs that betray some hidden issues. It's another great act from the great prairie province. Needle Vinyl Tavern, 7 pm, $15 advance
Saturday 26
Let it Be – This is more than a mere Beatles tribute, and Lord knows there are a lot of them. This touring troupe taken from the Broadway show does the usual reverent covers with authentic sound and look, but in the second act will "imagine" what a 1980 Beatles reunion might've been like. Two performances at the Winspear Centre, 2:30 pm and 8 pm, advance tickets from $45
Monday 28
Sean Paul – It's nice to put a face to the hit when top-40 radio is so generic. Performing live at the Ranch Roadhouse, this Jamaican-born artist has enjoyed a string of hits since Gimme the Light in 2002, staying more or less true to the dancehall reggae style of his roots. 8 pm, $50 advance, $120 for meet 'n' greet
Between the Buried and Me – Metal comes in all shapes and sizes and ridiculously meticulous sub-genres and from all corners of the world – including North Carolina, where these guys hail, pummelling out a ferocious fusion of melodic metal and death metal that some call progressive metal, as can be heard on eight studio albums, including the latest Coma Ecliptic. With August Burns Red, Union Hall, 6 pm, $32.50 advance
Tuesday 29
Metric – No offense to Metric, but they've been here an awful lot, so there may be more excitement over the co-headliner (though someone always has to play last) Death Cab for Cutie, whose devastating ballad I Will Follow You Into the Dark has been played at many a memorial. Other songs likewise hit the emotional mark, Soul Meets Body, I Will Possess Your Heart and the haunting Black Sun from their latest album, Kintsugi. Metric, meanwhile, tours on its latest release, Pagans in Vegas. These two bands are friends, so expect one or more guest appearances throughout the night, maybe even a collaboration. Rexall Place, 7 pm, from $60 advance