Metric makes manic musical magic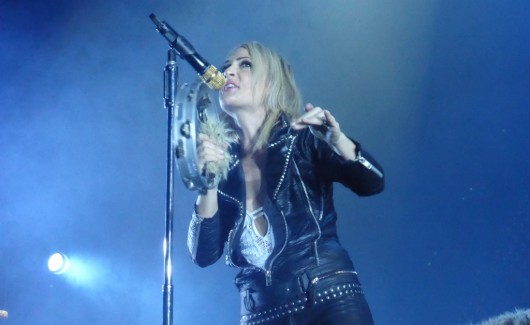 Metric has become a strangely serious band since its roots in the fun times – when the new wave of the old new wave was new again, back in the good old days of the late 1990s, before 9-11, before radio hits thrust this Canadian synth-rock band to medium level stardom. They were merely giddy then. They're much deeper now.
There was one awkward – and human – moment during the band's show at Rexall Place Tuesday night. Singer Emily Haines stopped the show cold when she announced she wasn't feeling very well – part of some planned patter, obviously, yet it felt sincere. Nothing physical. Just a spiritual, existential malaise, it seems, brought on by paying too much attention to the media. Popular problem.
"I'm not doing well in the modern world," the singer admitted to the crowd, explaining how world news is bumming her out, and "I really need to play music … so help a sister out." With the introduction of the several dozen strong "Edmonton Choir" behind her, Metric launched into a slow jam in a song called Dreams So Real. The Edmonton Choir was inaudible – except for one kid brought up to the microphone. The mantra drilled into our heads was more bewildering: "Shut up and carry on, the scream becomes a yawn." It went on and on.
Later, in the middle of Metric's 2015 hit The Shade, Haines felt compelled to explain that the line "I want it all" did not refer to any trivial or materialistic things, but things like "the stars above, eternal love." Later came Gold Guns Girls, deadly combo, and the final blast with Metric's biggest hit of all, Breathing Underwater, which deals with feeling a little overwhelmed by one's emotions. This was deep stuff – for a cute Canadian synth-rock band whose first big song was called Monster Hospital. Come to think of it, these guys have always had a dark side.
From a musical standpoint, Metric's show was a pleasant surprise: an artful melange of alternative rock and electronic music that was equally as progressive as so-called progressive rock. At one point, the band members all donned glowing sunglasses while Haines waved a large white scarf in fog and green light, accompanied by a throb of sci-fi EDM. Elsewhere, more conventional guitar rock ruled the sound, often punctuated by big phat blats of old-school analog synthesizer.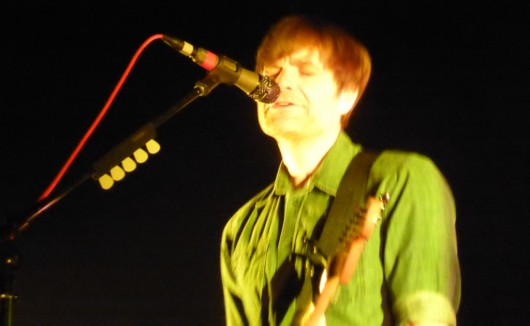 It was refreshing to see a pop concert at Rexall Place where production wasn't piled on to the breaking point. Metric's arrangements were simple; they didn't waste any notes. Many times Haines sang a cappella, or with minimal accompaniment, on haunting lines expressing much of the existential despair mentioned earlier. There were even touches of folk music. Metric can go in a lot of different directions already and still sound like themselves; it's going to be interesting to see what they do next.
But no one can lay on the ennui like Death Cab for Cutie. Metric shared a double bill with these Seattle nerd-rock heroes, the ultimate couples' band, not as odd a pairing as it would seem when you consider both bands seem to share a glum worldview. With despairing songs like Black Sun, an early highlight in an otherwise occasionally tedious show, and the vaguely sinister I Will Possess Your Heart, typical was singer Ben Gibbard's comment about spending a nice day outside in Edmonton.
"It brightened my mood," he said, which got a laugh, "And now here's a song about the opposite."
Sadly, these two bands combined did not manage to draw much more than 5,000 people to the Edmonton hockey arena. This show would've been a lot better in a concert hall.