Marianas Trench not so deep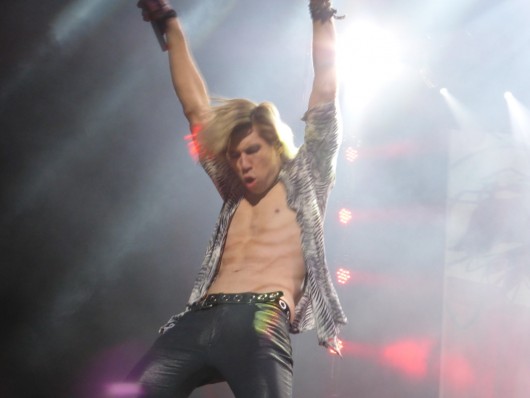 Hearing the high-powered candy-coated pop-rock-hyphenated anthems of Marianas Trench at Rexall place Friday night and finding it all so strangely familiar, it's easy to imagine there exists a sinister cabal of songwriters responsible for every hit you hear on the radio.
Not so far fetched, is it?
Linda Perry, Max Martin, Paul Anka, and Diane Warren are all at the monthly secret meeting. At the head of the table sits chairman Chad Kroeger from Nickelback, who in fact discovered Marianas Trench at the bottom of the ocean and signed the fellow Vancouverites to his label 604 Records, and once proclaimed he knew beyond a shadow of a doubt what it took to make a hit song. He turned out to be correct.
Marianas Trench knows, too. They have hits coming out the ying yang – pretty much all of them played loud and proud at the show.
"I remember we played to 10 people! A quiet eight years of hard work – and now look at this shit!" shouted frontman Josh Ramsay to a roaring crowd of 8,000 or so.
He is of course the primal force of this band, a manic, magnetic frontman with a killer falsetto and a penchant for both ham and cheese. He loves being a rock star, and he's rather good at it. Vocally he's a combo of Steven Tyler and Prince. His voice seems to get higher every year. It's so uncanny he even commented on it. "It's embarrassing," he told the crowd. He didn't look – or sound – embarrassed.
People, I think we've found our next singer for AC/DC.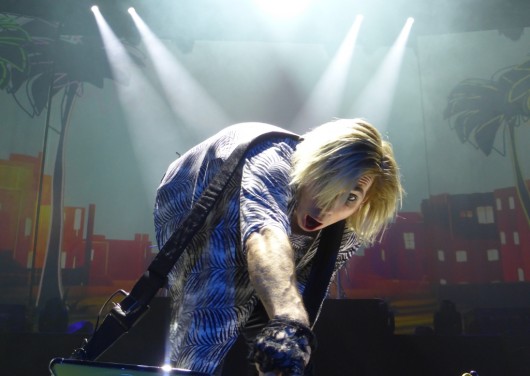 The largely female crowd loved Josh Ramsay – singing along to every lyric, hanging on his every word, grasping for a touch or a selfie as he strode shirtless and sweaty through the audience at one point. He was on his way back from a small piano on the "B" stage to belt out One Love, as in "What if the one true love's the only one that you get?" Good question. The arena was asway with cellphone lights, the modern version of Bic lighters, the real fire that real rock demands. Was this real rock? It was the modern version.
What does this mean? Backing up the firebrand of a frontman was music that sounded like a diabolical Frankensteinian creation of stitched-together genres – one part Nickelback, yeah, you can hear it in the melodies, one part Aerosmith, one part Simple Plan, and one part Weird Al Yankovic. Some of their songs are practically novelty hits. A classic example coming early in the show was Pop 101 – a catchy pop song about how to write a catchy pop song, a parody of a parody of a parody of itself. Very meta. It was corny and brilliant at the same time.
There was lots more like it where that came from: Desperate Measures, Shut Up and Kiss Me, Cross My Heart, Haven't Had Enough. Theme. Here.
At least Marianas Trench doesn't pretend to be something they're not – unless they're pretending to be everything for everybody, that is. Sometimes it's hard to know when fantasy ends and reality begins. But this band seems to know what their fans want, so everybody's happy.
Opening the show was a terrible confusion of a band – speaking of fantasy trumping reality. Walk Off the Earth was at times an energetic and amusing Arcade Fire-meets-Mumford-meets-Bon Jovi sort of thing that came off like the LMFAO of the pop-folk world. Huge fun. Genre smash to the max. At other times, they were the world's worst cover band. A butchery of Adele's Hello was the worst of it, with Somebody That I Used To Know a close second. Why? Because they're a cover band, apparently.
Most galling was the overuse of canned back-up vocal tracks, pitch perfect, way too perfect, especially when the band members seemed to have pretty serviceable voices. Marianas Trench may be guilty of many things, but they didn't used canned vocals. One guy also appeared to use a banjo as a prop – a deadly sin.
Walk off to Vegas with you, Walk Off the Earth.