INTERVIEW: Coleman Hell and his Monster hit
It's too early to say if Coleman Hell is a one-hit wonder. Then again, anyone who owns a wireless radio must've heard his hit 2 Heads about 1,000 times before they even knew who the hell Coleman Hell was.
This is typical of the current climate of a music business that breeds one-hit wonders. We can now become sick of a song before we ever see the band perform it.
So what does this suddenly-successful 26-year-old singer-songwriter think?
"Don't jinx it, dude! I haven't even put out my next song," Hell says in a recent phone interview to promote his opening show for Twenty One Pilots at the Jubilee Auditorium on Thursday, fresh from a stint performing at the Juno Awards in Calgary.
Subjects get touchy when the topic of one-hit wonderment comes up. Totally understandable. These artists may feel umbrage from the assumption that their best work is already behind them, moreover that their success is measured by hits. Still, being a one-hit wonder whose song will outlive its creator is far better than being a no-hit wonder.
Coleman Hell – a great stage name that turns out to be his real name (and his middle name is Richard) – is not worried.
"First and foremost I consider myself a songwriter," he says. "If you ask me where most of my confidence lies, it's in writing songs. I've got so much more music I haven't released yet and I'm excited to put it out. I can't look into a crystal ball, but I know I have a lot more songs in me, and I know I write great songs."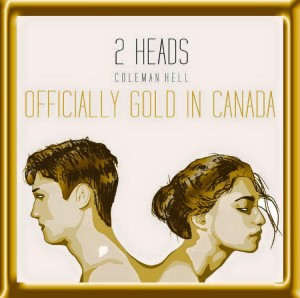 The rapid rise of 2 Heads to mainstream supersaturation took everyone by surprise, including its creator. "It was out of my control," says Hell, echoing a common feeling among artists who suddenly score huge hits that take on a life of their own and even sometimes become an albatross around one's neck. (Hell knows that reference because he earned an English degree before he went into music). The reality is that it's sad to see half the crowd leave out after some band's one big hit is performed.
"That's why you leave it to the end," Hell says with a laugh.
These songs are life-changing events. Hell, who moved from hometown Thunder Bay to Toronto six years ago, says he knew 2 Heads was his best work yet, but he had no idea where it would go from there.
"At the time, me and my friends were living together in this apartment, and we would make music and release it under different names on the internet," he says. "In my mind, I was like, oh, yeah, the internet's going to like this song. I didn't expect that it would hit radio and everywhere. It was exciting. Everyone wanted to fly me out, or buy me dinner, and everybody's telling me they heard my song on the radio. I didn't anticipate that."
His routine changed drastically from eight months ago – from spending all free time writing, recording and posting music to the internet, to having the days filled with travel, performing and doing interviews. Hell hasn't even released his first full-length album yet (by summer is the plan).
"It's a different lifestyle than I was used to, for sure," he says. "But it's something I've always aspired to and dreamed about."
And it's all thanks to one hit … and hopefully more where that came from. He says, "I'm going to keep doing it either way."