Family business: The Raven Age opens for Iron Maiden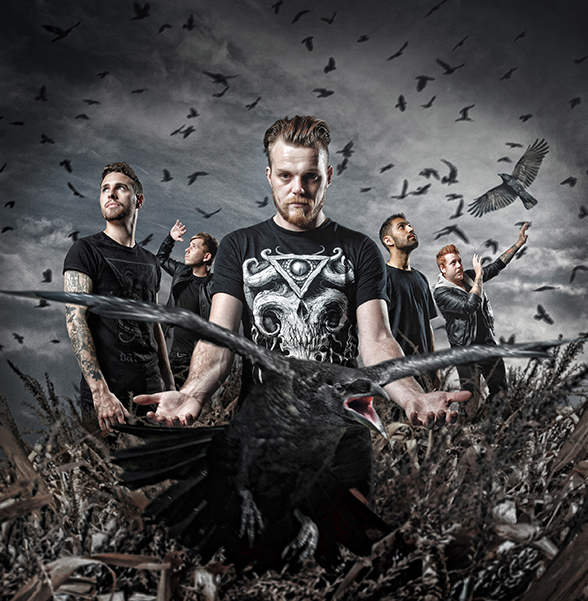 Let's get this straight off the top: The Raven Age would not be opening for Iron Maiden if guitarist George Harris weren't the son of Iron Maiden bassist Steve Harris. This is rock 'n' roll nepotism at its finest.
The proper response is: Yeah, so what?!
"Of course that's how we got on the tour," George says in a phone interview from a tour stop in Brazil, "but we wouldn't be on the tour if we were a terrible band. He's very straight with us, my dad, he tells us what he thinks. He doesn't lie. He would never do that – and he wouldn't put his own neck out there to put us on the tour if we weren't good enough."
Besides, when he says how "unbelievably exciting" it is for a young and hungry band be touring with one of the world's biggest metal bands, you have to believe some of that unbelievable excitement will translate to listeners. This isn't just some run-of-the-mill opener. It's a special thing. It's a family legacy.
The apple doesn't fall far from the tree, as they say. With one EP to their name, The Raven Age could be called "melodic metal" for the fact singer Michael Burrough doesn't scream or growl like the Cookie Monster, with a touch of thrash and other modern metal alloys thrown in there. They'd already been playing to crowds in the thousands (or at least large hundreds) around Europe when Iron Maiden hired the band to open for the Book of Souls world tour. It comes to Edmonton at Rexall Place on Friday, April 8. They all fly together on a private jumbo jet flown personally by Maiden singer Bruce Dickinson (who often tells jokes or recites football scores over the pilot's intercom, George reports).
The first show was February in Ft. Lauderdale, Florida – "And we were really thrown into the deep end," George says. "More than 20,000 people. But I think we handled it well. We got a great reaction from the crowd."
The 25-year-old guitarist of course is no stranger to the rock star lifestyle. It was normal for him: Dad would leave for a couple months at a time – and almost always fly back home if they had a day off and it was close enough – and during summers would often pack up the whole family on the road for a working rock 'n' roll holiday around North America. It makes sense that George would go into the family business. He was never forced into it.
"I picked up a guitar one day when I was 14, and just started playing and writing my own music," he says. Simple as that. Dad liked it, encouraged his son, undoubtedly furnished him with the finest gear money can buy. A few years down the road, George began collaborating with his mate, fellow guitarist Dan Wright, and put in years of work that's revealed in The Raven Age's trademark wicked double lead solos. They formed the band out of high school in 2009, and released their self-titled debut EP, which did rather well on its own without much awareness that this was the Iron Maiden kid's band – though it couldn't have hurt in getting press attention.
"We've been getting a lot of great reactions, and a lot of people say they didn't even know I was Steve Harris from Iron Maiden's son," George says. "It doesn't seem to overcome the music." It's also not like he's Jakob Dylan or Julian Lennon or other rock star sons who struggle to forge their own identity in the shadow of an iconic father – though Iron Maiden is a pretty big icon taken together.
Sons are supposed to rebel against their fathers. How do you do that when you're dad's in a heavy metal band? George jokes that if a reality show were made at the Harris household, it wouldn't be anything like The Osbournes.
"I always got on with my dad really well," George says. "We play tennis and football. I didn't really have that rebellion period. Maybe I'm a late bloomer."
See how the tour goes.