MUSIC PREVIEW: Iron Maiden fantasy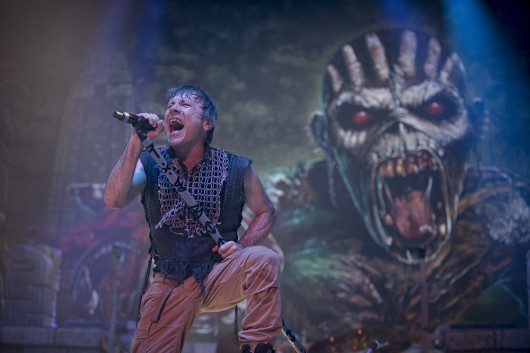 What is it with British metal bands and their sinister fantasies? Demons, dragons, wizards, watery tarts distributing swords as a system of government, dead albatrosses hung around the necks of doomed sailors foolish enough to have shot the wrong bird – it's not like the British people don't have enough real violent history that they have to invent more on top of it.
Iron Maiden returning to Rexall Place Friday night, is one of the greatest practitioners of fantastical metal. Their very name is a torture device. The Number of the Beast launched an illustrious career in 1982 – both the number and the beast being imaginary, the career very real. Frontman Bruce Dickinson – a learned man who is also licensed to pilot the band's private jumbo jet – is gifted with an operatic style and is fond of quoting the great poets of yore. They once did a homage of Rime of the Ancient Mariner that stretches to more than 10 strange minutes. The new album, Book of Souls, deals with life after death – also imaginary. Sure is fun to imagine, though.
Iron Maiden doesn't get hits on the radio. They don't need them. Yet they continue to fill arenas – with mainly male audiences. It's a cult following of testosterone. Why? Because their songs sound like they were ripped from the pages of some ultra-violent historical epic, or perhaps a rousing game of Dungeons & Dragons – and thus a huge draw to the nerds of the world. No shame in nerd-dom! It's a thing these days. Iron Maiden with all its demons and doom was well ahead of its time. And while they sometimes veer into Spinal Tap territory, it's all delivered without a shred of self-consciousness or self-parody: fearless, bold, proudly celebrating the dark side, reveling in fantasy.
It remains to be seen if more women will be at the show this time around.
Opening the 7:30 pm concert will be The Raven Age, featuring the son of Maiden bassist Steve Harris. Advance tickets from $30 still available.
READ: Interview with George Harris from The Raven Age
Thursday 7
Twenty One Pilots – A huge song out of nowhere – specifically by a talented duo of poet-musicians from Columbus, Ohio – and a reminder that sometimes the cream does rise to the top of pop radio, Stressed Out has hit a nerve with people of a certain age. It's a millennial anthem, a young people's lament: "Wake up, you need to make money!" Coleman Hell, speaking of big hits out of nowhere (in this case Thunder Bay), will open the show at the Jubilee Auditorium, 7:30 pm, from $35 advance.
READ: Interview with Coleman Hell. Yes, that's his real name.
Maria Dunn – Of a number of CD releases occurring this weekend is one by Edmonton's queen of folk – a sweet-voiced, accordion-wielding, politically-conscious folk singer who hews to the old ways as she moves forward with her sixth studio album, The Gathering. Backing her up will be members of the Juno-winning McDades at Festival Place. 7:30 pm, tickets from $28
Friday 8
Concealer – Yet another delightfully eccentric Edmonton project,  these guys combine singer-songwriter tendencies with electronics for an effect that's both chilling and somehow warm at the same time. Who messed with the air conditioner? This must be what happens when you give synthesizers to folk musicians. This gig at The Almanac is the 2nd birthday party for the Cups N Cakes podcast, with Pyramid//Indigo, Stark Martin, and Moving Bodies, 8 pm, $12 advance
The Rockin' Highliners – This is like the Smalls slight return reunion – except with the blues. Despite the fact its members were flown to flinders across Canada, one of Western Canada's powerhouse jump-blues units reformed after a nearly 10-year hiatus for a benefit concert in 2013 to help Amos Garrett with his flooded house near Calgary. The Rockin' Highliners have been rockin' ever since, off and on, playing older material from four studio albums, with some new original songs to show off. This weekend, the sex-in-sextet plays Friday and Saturday for the grand opening of Shaker's Roadhouse, formerly known as Big Al's House of Blues but pretty much the same room as before, in the Yellowhead Inn. 9 pm nightly, $20 advance
The Paul Collins Beat – Turns out this Beat has been going on for quite some time. "Indie" before indie was cool, this New York musician played drums for The Nerves in the 1970s before forming The Beat in 1977 (not to be confused with The English Beat), which released five records before breaking up in 1989. Collins continued to tour and record to this day, both solo in an Americana vein, and with his own Beat – pure power pop. 9910, with Dany Laj and The Looks, and Thick Lines, 8:30 pm, $12 advance
Saturday 9
Tallest to Shortest – Veteran rootsmith Sean Brewer is the leader of this local indie rock power trio, whose promised full-length debut should be coming any time now. Filthy McNasty's, with Toques and Beards, and Darrek Anderson, 9 pm, $5 at the door