Twenty One Pilots a stress relief in Edmonton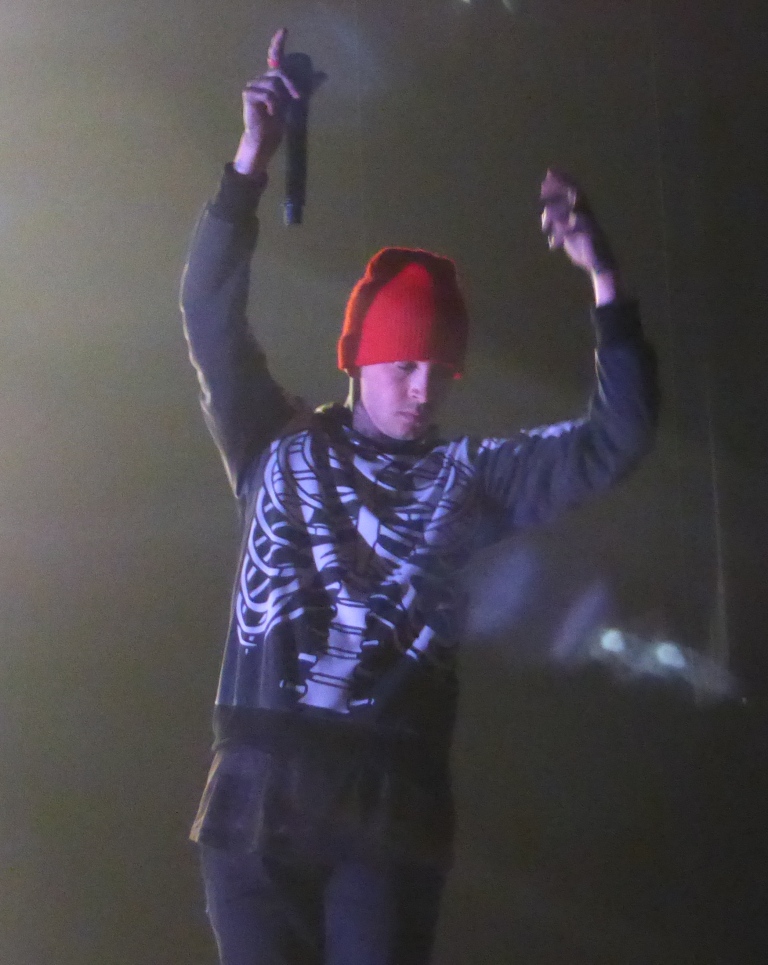 The huge impact Twenty One Pilots has made on young people was proven beyond a shadow of a doubt in Edmonton on Thursday night. These guys are the new real deal. It behooves old people to pay attention.
A full house of teenagers and 20-somethings at the Jubilee Auditorium know this music by heart and soul, and sang along to every gut-wrenching word to every song of this amazing and ridiculously eclectic duo from Columbus, Ohio. Not something you see every day. Not from a new band. Not every song. The band was loud. The crowd was deafening.
There were a lot of things you don't see every day at this show – a passionate circus spectacular that smashed together every genre of music imaginable in a nuclear blender set on "frappe." Somehow, beautiful, intelligent and strikingly original songs shone through the blithering chaos. From rock to reggae to soul to folk to flat-out hard house, you literally didn't know what was going to happen next. If popular music could be afflicted with Attention Deficit Hyperactivity Disorder, Twenty One Pilots would be it. Much more interesting left untreated.
Singer Tyler Joseph and drummer Josh Dun – just the two of them on stage, the rest was tracked – pulled off many stunts to prove their showmanship. First song in, Joseph ended with a dramatic moment and let himself fall flat on his back. A trust fall with no catcher. Later on, both of them whomped on drums while standing on platforms supported by the increasingly unsteady hands of the lucky fans in the pit. The crowd literally did the heavy lifting at this show. Dun also did a backflip off the piano. Joseph, when he wasn't leaping around, played ukulele, piano, bass, sang like a bird, howled like a hard rock singer, and rapped in street style, Jamaican dancehall and his own brand of spoken word. He killed on a version of Elvis Presley's Can't Help Falling In Love – a song that was written before most of the audience's parents were born. And the kids still sang along to every word. Jesus, this was a weird show.
Flagrantly violating the "save the big hit for the end" rule, Twenty One Pilots knocked off Stressed Out in the second song – and this is the hit that has struck the biggest nerve with kids today. The band played their other quirky, genre-busting favourites to great rejoicing – including Tear in My Heart and Car Radio near the end – but Stressed Out stands apart by an order of magnitude. It's an Anthem for Millennials, a lament, a sad eulogy for lost childhood. That theme is nothing new, but it has rarely been delivered with this level of empathy and elegance.
Wearing a cloak, Joseph treated the verses like a poem, over a simple melody, light reggae beat and spooky space sounds on top: "I was told when I get older all my fears would shrink, but now I'm insecure and I care what people think." He sang the chorus with more than 2,500 voices in the crowd: "Wish we could turn back time, to the good old days, when the mama sang us to sleep, but now we're stressed out." Who among us hasn't thought that? The kicker was the line that all kids hear from all parents, or words to this effect: "Wake up, you need to make money!" The rafters of the Jube reverberated with the shouted words.
Considering the alarmingly high rates of anxiety and depression among young people these days, it's no wonder so many kids love this song. And the band.
So this concert was a huge stress release on a school night, a blast in more ways than one. It's also heartening evidence that sometimes great things come from pop radio, and hits or no hits, it's very clear that Twenty One Pilots will be a force to be reckoned with for as long as they want to keep doing whatever it is they're doing.