Iron Maiden blows mighty wind in Edmonton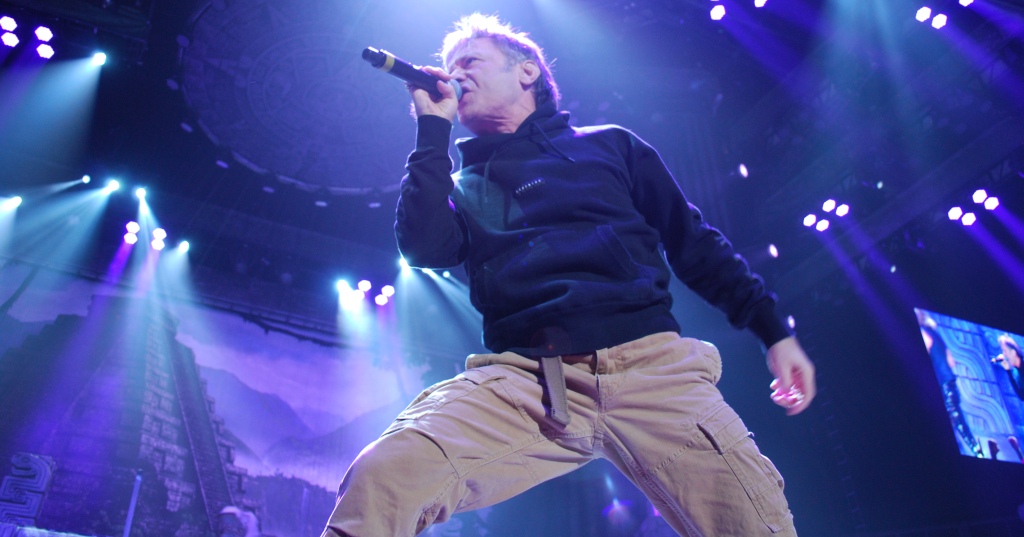 Aside from sports, there is no better place for male bonding than a heavy metal concert – and there is no band with a bigger testosterone cult following than Iron Maiden.
Why this is so remains a mystery. Perhaps it has something to do with nerd culture. Maiden is basically a horror comic set to music.
Nerd culture is considered a bastion of manhood, or protracted boyhood, anyway, yet has lately been attracting lots of women, so who knows? Could be tradition. Yes, that's it. Tradition. Iron Maiden has been delivering the same concert for years. Friday night in Edmonton was more of the same.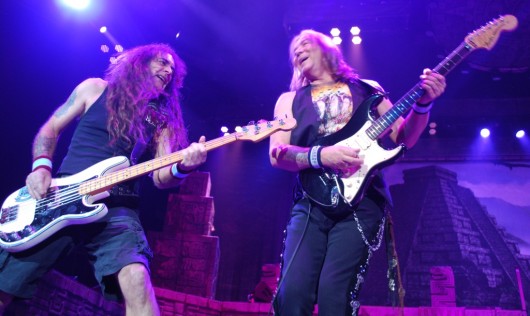 Sure, there were some women spotted among the 14,000 at Rexall Place, but it was the sea of black-shirted men who hollered out all the "whoa-oh-ohs" in their favourite songs with the most gusto. The arena echoed with chants. Much appreciated was frontman Bruce Dickinson's comparison of the doomed Rexall Place to the Berlin wall. Save a chunk after they tear it down, eh?
The rule that one shouldn't wear the T-shirt of the band you're seeing is suspended for Iron Maiden, because there is simply no other band that can touch them. They exist in their own universe. A universe filled with devils and doom. You know, guy stuff.
It's easy to see where Spinal Tap got its ideas. Or is it vice versa? There is no self-parody in Iron Maiden. They're dead serious. Pardon the pun. So are their fans. In the opener, If Eternity Should Fall, from the new album The Book of Souls, Dickinson appeared wearing a wizard's cloak, posing above a steaming cauldron. A little Eddie came out later on (little as in merely 10 feet tall because a much larger fireworks-spewing balloon mascot arrived during the song called Iron Maiden). Bruce and Little Eddie fought a heated battle, in which Bruce ripped out Eddie's beating heart (had a little trouble with the prop there, but he got it) and threw it into the cauldron seen earlier, which then caught fire. Eddie didn't look very pleased at this turn of events.
Meanwhile, relentless riffage ensued from the rest of the band – thanks to the troika of hard-working guitarists Dave Murray, Adrian Smith and Janick Gers, with bassist Steve Harris, and drummer Nicko McBrain holding down the big bottom end. Generous time was allowed for these seasoned metal veterans to unleash Maiden's trademark triple-guitar assault, instrumental breaks over three or four chords that seemed to go on forever, tedious to the uninitiated, allowing time for Dickinson to rest – because he was really wailing out there – or make a costume change.  Along with various vests, he played a Union Jack-waving soldier in The Trooper, a Mexican wrestler in Powerslave and a condemned man with a noose around his neck in Hallowed be Thy Name. Eat your heart out, Alice Cooper. Oh, right. Already did that.
In an evening of melodic metal featuring the opening act The Raven Age (featuring Steve Harris's son, and they were OK), there were only about 12 songs in the main set – but each was about 10 minutes long, so do the math. Epic is the word. With rotating backdrops of Eddie in various gruesome incarnations, the songs felt more like acts in a play – Children of the Damned, Death or Glory, Fear of the Dark, the stuff of nightmares.
What's next, Stonehenge? Nope. Just a giant devil in the encore, The Number of the Beast. Naturally.
Maybe Iron Maiden is rite of passage to manhood. You have to see them at least once to get the idea.