REVIEW: Shumka tells uplifting tale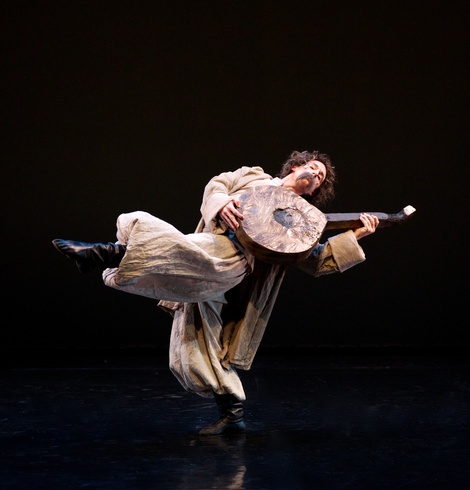 In their first years in the early 1960s Edmonton's Ukrainian Shumka Dancers were known for their bucolic rural dances, colourful costumes, broad folksy humour and their signature hyper-athletic style of dance.
But the company's ambitions reached far beyond that. They expanded their horizons by pushing forward the art of ethnic dance. They fused ballet and Canadian-Ukrainian influences, while developing a world famous and much-traveled stage spectacle. They commissioned new music, sets and costumes and strengthened their storytelling.
There is nothing quite like them anywhere in the world.
In their Return of the Whirlwind tour in 1990 they took their art back to a resurgent Ukraine and were triumphantly hailed across the country for their efforts at keeping alive a culture that had stagnated under Russian oppression.
The Shumka Dancers' new production, Kobzar, which opened Saturday night in a world premier at the Jubilee Auditorium, might be regarded as the apotheosis of all that has gone before. There is no doubting the production's roots in the rich Ukrainian cultural soil, but it benefits from the years of developing a highly polished sense of timing, spectacle and general show business savvy aimed at capturing and entertaining a wider audience.
What creative director John Pichlyk has done, inspired by the words of Taras Shevchenko (1814-1861), Ukraine's beloved poet and national conscience, is create a vast canvas that encompasses the hopes and yearnings of an entire people. Kobzar is named for the medieval traveling bards of Ukraine, and begins in visual artist Valeriy Semenko's borderless star-filled cosmos where the people stare up in wonder. The wishes of a child summon forth the mystical, blind minstrel, who will accompany them on their journey. But in this gripping and powerful allegory, they will be beset by darkness that will try to overcome and smother their spirit – sometimes until it is almost extinguished.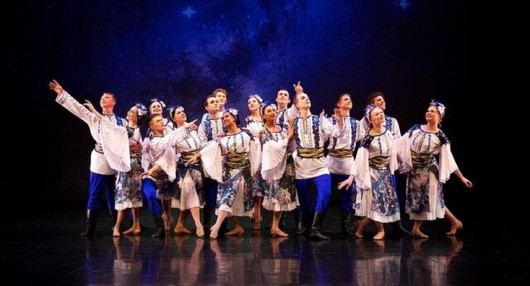 If all this sounds morose and heavy – it is not. It is the classic, universal and uplifting story of a people overcoming the dark forces of the universe with conviction, courage and hope.
The production is obviously heartfelt, as the 47-member cast is (mostly) composed of descendants of the original Ukrainian-Canadian settlers. The buoyant choreography is by Ukrainian master Viktor Lytvynov and the glorious original music, with its roots in an accessible pre-Stravinsky European romantic mode by Yuri Shevchenko, is delivered by a (pre-recorded) 68-member symphony orchestra and 42-voice choir. The eye-filling costumes are designed by National Artist of Ukraine, Maria Levytska (and only arrived on opening day at 6 am, which meant a group of seamstresses spent the day sewing dancers into their costumes).
For the second part of the show the company reaches back into its repertoire for an old favourite called Travelling Chumaky. It's a playful tale about itinerant salt sellers, thieving brigands and fun-loving locals. It's a great frolic and performed with the usual precision and humour the company is famous for.
And, of course, the evening ends with Shumka's traditional acrobatic set piece, the "Hopak" – with beautiful maidens spinning gracefully like dervishes and male dancers lifting you out of your chair with high-flying choreography, virtuoso split-jumps, gravity-defying leaps and deep squats that would destroy the knees of lesser men.
It doesn't matter if you are Ukrainian. Shevchenko's longing for freedom for his people and this soaring modern-traditional dance theatre company combine to present an entertainment that will lift your spirits while honouring the journey.
Kobzar will play one more matinee on Sunday, April 10, at 2 pm in the Jubilee Auditorium.