Insane Clown Posse invading Edmonton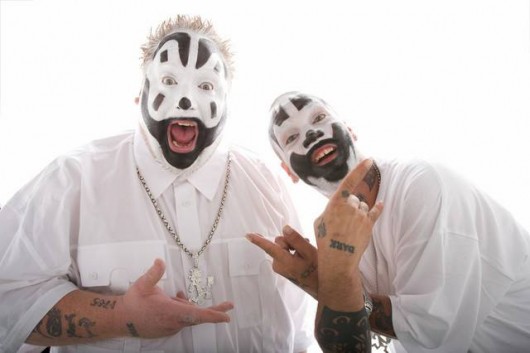 To name them is to know them: Insane Clown Posse – and they are coming. Beware.
Clowns are scary, gangsta rappers are scary – how can you possibly go wrong? This infamous duo of grease-painted Detroit rappers will perform at the Union Hall on Saturday, July 9. Tickets are $37.50 and are on sale as of noon on Tuesday, April 12.
This will be ICP's first appearance in Edmonton, so they might need a bigger building as there has been much rejoicing on social media among area Juggalos (or Jugglettes, depending) which is what their fans are called. It's more like a movement than a fan base. The annual Gathering of the Juggalos that has drawn thousands of people over the years. Just imagine Eminem in a street fight with KISS rapping lyrics from death metal records with that bad clown from the Stephen King novel, and you'll get the idea. Call it "hip hop horrorcore."
ICP's reputation precedes them. Since their formation more than 16 years ago in the suburbs of Detroit, by two guys named Joseph (Joseph Bruce and Joseph Utsler), who promptly named themselves Violent J and Shaggy 2 Dope for an outrageous brand of gangsta horror comedy rap, they have stuck to their guns with a vengeance. Their latest recording is The Marvelous Missing Link: Found, released less than a year ago, the sequel to The Marvelous Missing Link: Lost. First they were lost and then they were found – and we're not going to get into the deep spiritual implications addressed in the dark lyrics of a vast repertoire of music told from the point of view of a posse of insane clowns. We're not going to get into alleged violent incidents, including an alleged feud with fellow Detroit white rapper Eminem. ICP makes Eminem look like Michael Buble. We're also not going to get into explicit and violent content that once got these wicked clowns banned from their own record label, which happened to be owned by Disney. They've been on their own ever since, on Psychopathic Records.
Really, what else would one call it?