MUSIC PREVIEW: Sloan ranger, away!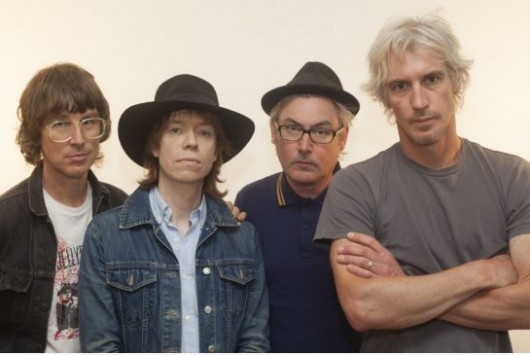 The revered Halifax act Sloan brings their One Chord To Another 20 year anniversary tour to Edmonton this weekend, playing a sold out gig at the Needle Vinyl Tavern on Friday. The indie rockers have managed to retain their four member roster throughout their evolutions and devolutions, from their debut full-length Smeared in 1992, through 2014's Commonwealth.
One Chord To Another holds a special place in the hearts of many Sloan fans, of course. Their third full-length, it included such hits as The Good In Everyone, Everything You've Done Wrong, and The Lines You Amend. It was during the release of this album, and the next, 1998's Navy Blues, that the band hit their peak popularity. The latter included arguably their biggest ever hit, Money City Maniacs, which is still regularly played on any number of radio stations across the nation to this day.
Indications are that the band will play the entire album in a first set, and then play a second set featuring songs from other albums, including some deeper cuts that Sloan hasn't typically played live in some time, if ever.
The band will also be re-releasing One Chord in a deluxe package sometime this year to further commemorate the anniversary.
Thursday 14
Joe Nolan – This acclaimed singer-songwriter's most recent album, 2014's Tornado, was everything you could imagine from this artist. The former Canadian Folk Music Award winner was at his finest, with emotive, heart-felt, bright lyrics, and extraordinary melodies and guitar work. With Lucette and Swear By the Moon. Mercury Room, 7 pm, $8, BUY
Friday 15
Matthew and Jill Barber – These two incredible sibling performers are touring to support The Family Album, which featured a number of original collaborations between the pair, as well as some cover songs. The Barbers each last released solo albums in 2014, and it's expected they'll dig into their own catalogs to supplement the 11 tracks on the album. Two shows at the Arden Theatre, Friday and Saturday at 7:30 pm, $40. BUY Friday / BUY Saturday
Bear Mountain – This electronic dance band from Vancouver started as a solo project by Ian Bevis, and quickly caught the ear of his long-time friend Kyle Statham. The band now includes four members, who are touring to support their debut full-length, called XO. Starlite Room, 8 pm, $20. BUY
Fire Engine Red – These Calgary indie rockers, who were the phoenix at the center of the city's mid-90's alternative scene, have reunited, at least for a few shows. Yep, all three members – James Hayden, Lorrie Matheson, and Lee Shedden, are back. And joining them is a venerable favorite of the Edmonton scene, Pal Joey. Almanac, 9:30, $15 at the door
Saturday 16
Our Good Wolf – This local band recently released their sophomore full-length called The Changing Of the Season. Their sound is an intriguing blend of the influences of the five members, somewhere between folk, indie, alternative, and pop. Millie will also perform. Naked Cybercafe, 7 pm, $9.
The Story So Far – This California pop-punk act formed in 2007, and now have three studio albums to their name, including last year's eponymous release. Regulars on the various Warped Tours, the band was also in the news earlier this week when frontman Parker Cannon kicked an audience member in the back after she climbed on the stage at the Mod Club in Toronto and proceeded to take selfies with the band in the background. A video of the incident (see below) has been viewed almost 1 million times, and the Mod Club has banned the band from returning, but no charges were laid. They play the Starlite Room on this night with Comeback Kid and Culture Abuse in support, 7 pm, $28.50, BUY
Cayley Thomas – This beloved local singer-songwriter is hosting a release party for her newest full-length, titled Weird Love. With most of the tracks starting as voice memos into her phone, Thomas had a bit of a setback, and a pretty big scare, when in the fall of 2015 prior to recording the album she started losing her speaking voice and ended up requiring surgery. Thankfully, she's fully healed now, and is back in pristine singing form. The Archaics, and Bud Frasier and the Electric Razors, will also perform. Needle Vinyl Tavern, 8 pm, $15. BUY