Rihanna shines bright like a diamond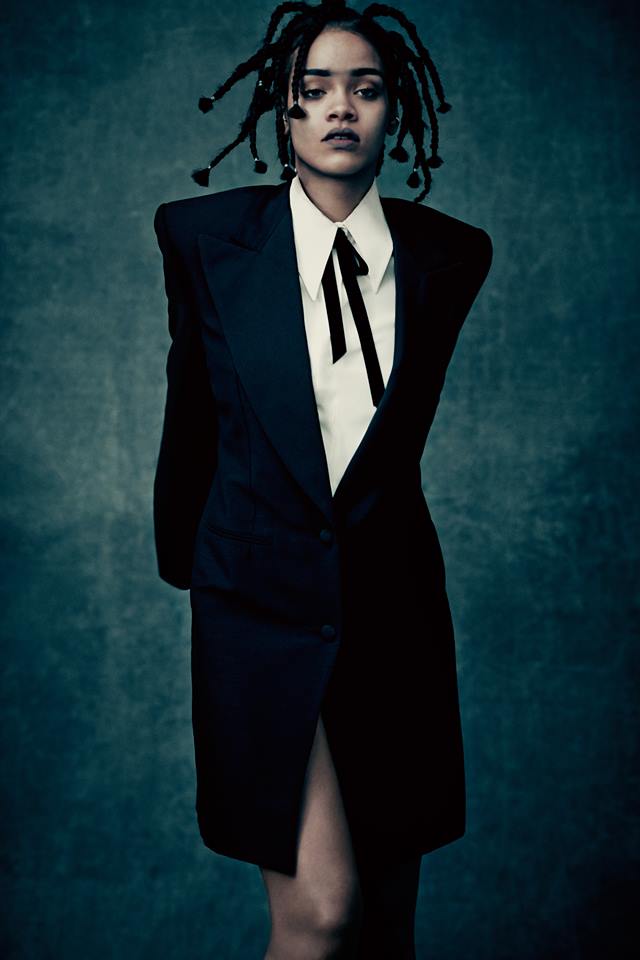 Funny how Rihanna didn't talk about playing Edmonton on 4/20 – seeing how it's no secret she's into weed.
Maybe because in such a tightly-scripted Cirque du Diva spectacular there's no room for empty patter about ridiculous redundant weed holidays. Maybe for some people, every day is 4/20. Who cares? Can't we be mature about this?
Besides, there were a lot of young people who showed up to cheer on this Barbadian triple threat at Rexall Place Wednesday night. Won't somebody think of the children?! That's the cry rising in the wake of Justin Trudeau's announcement that marijuana shall be legal in Canada by next spring – nice timing breaking the news on 4/20. Oh, dear. And this coming with news of the demon weed's negative effects, one "snort" causing death, and reports of creeping dementia, psychosis and … and where were we now? That's right, hungry.
Rihanna sure didn't look stoned as she wailed her way through a set of futuristic space pop that blasted together the sounds of her Caribbean roots with boombastic electronic grooves shined up with catchy hooks. Now you'll never get "shine bright like a diamond, shine bright like a diamond, shine bright like a diamond" out of your head. Rihanna bid the fans light their cellphones during that song, and the former hockey arena did indeed shine bright like diamonds. She was sharp, as much as the confines of the tight production allowed, every step, every move planned.
Many of her other hits were truncated, mutilated, giving more time for songs from her new album Anti. But what could've wound up as that most dreaded of all musicological phenomenon – the medley – was refreshed with inspired arrangements, including a mash-up of How Deep is Your Love with her own song Where Have You Been. Rihanna kept a sly grin on her face as she wound through the wordplay of two songs at once. Disappointing were shortened versions of Love the Way You Lie, her great old tune Umbrella and later on, FourFiveSeconds, the song she did with Paul McCartney and Kanye West – one of the best things any of them have ever done. OK, maybe not Kanye. If Rihanna's show lacked anything, it was superstar duet partners. At the very least, she missed the boat on that particular song. It would've been far more effective with a simple acoustic guitar and two of her back-up singers brought up front. Too much work?
But there was business to attend to: The Diva Spectacle, a special live music genre unto itself. Formidable resources must be brought to bear to show the star in the best possible light – and it did. Rihanna sounded and looked great – thanks to her wardrobe people she gave a shout-out and also her large band, stationed on a white stage dressed in white playing white instruments. Stark.
Perhaps the set designer was high? Flanking the back of the stage for the start of the show were piles of what looked like untidy plastic tarp, which then took an entire song to inflate to resemble giant glowing queen termites, which then deflated and were removed shortly thereafter. Weird. Later on, suds cascaded down another plastic tarp at the back of the stage. Interesting.
Just an example of the rampant experimentation going on here, visually and musically. Trying so hard to be different resulted in some missteps: Parts of the show made no sense at all, like a daffy routine in Birthday Cake where dancers that looked like synchronized swimmers cavorting aimlessly as a thrum of massive multi-tracked instruments shook the arena. And where was Rihanna? Costume change. Later on came a pair of double-jointed dancers who were able to dislocate their shoulders. Geez!
But there were also some brilliant moments. Rihanna's talent prevailed through the over-production and muddy sound. And it wasn't weed she was selling up there. It was love – and sex! After a chaste opening with the tender ballad Stay on the "B" stage – gutsy move opening with a slow song – a floating catwalk appeared, on which she sang a song called Sex With Me while twerking. Way to set the tone.
Opening act Travis Scott had no qualms about mentioning 4/20. The rapper did it about 100 times, as excited as a kid at Christmas. His relentless cheerleading enthusiasm was exciting, infectious, the most fun in a set that musically was just dreadful. What would he sound like without that damned Auto-Tune that makes him sound like the male vocaloid? We may never know. It's his "brand" now. God, it's awful. Robotic, unmusical, anti-rhythmical, and so clearly serving himself far above any sense of artistic communication. No amount of weed will make it better.