Cheap Trick review: We're all alright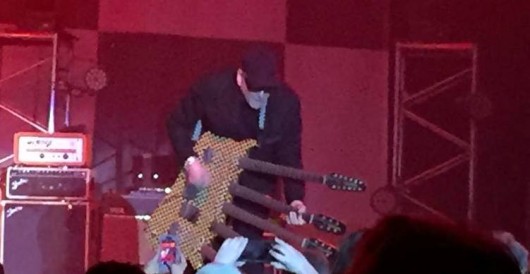 Rock 'n' roll took a devastating blow a few days ago, leaving fans heavy with sadness at the abrupt shock of it all.
But, the rock has got to roll. For a couple of hours Saturday night at the River Cree Casino, fans respectfully traded purple for black and white checkerboard – because Cheap Trick was in Edmonton.
The checkerboard stage was softly lit before the show, affording audience members the opportunity to ogle their gear. Honestly, it was a gear head's beautiful, wet dream. Amp porn: Orange, Fender, Vox, Hi-Watt, whatever was inside the huge checkerboard stack on Rick Nielsen's side of the stage.
They opened the show with Heart On the Line from their new album Bang, Zoom, Crazy… Hello as the sound crew spent the song sorting out some important issues. They got it together in time for the band to launch into the classic Hello There, Ladies and Gentlemen, followed non-stop by Come On Come On, and Big Eyes.
Bassist Tom Petersen then took center stage to get a rhythmic groove going on his 12 string bass. His sound is unique, and explains a few of the amp choices on the stage. Suffice to say he is a huge chunk of the Cheap Trick's sound, a fact that was clearly illustrated as he led the band into California Man, one of the band's earlier rockers.
By this point it hadn't escaped anyone's attention that Rick Nielsen had played a different guitar on every song. That trend continued for the whole show. The crowd was treated to a parade of selections from Nielsen's famous guitar collection. There was a perfectly square, mustard yellow Cheap Trick guitar; a Les Paul featuring the Beatles' faces; and a few oddball looking things that appeared to have been inspired by car parts. Perhaps the most amazing of them all was the 5 neck Stratocaster. No joke, this thing had five guitar necks on one body – all seemed functional, and the thing appeared to be pretty heavy. A lot of music fans had seen photos of this guitar, but it's 20 times as absurd in person. And a hundred times as entertaining!
Singer Robin Zander's face might reflect the years a little, but his voice sure doesn't. He was rocking everything just fine, almost sublime at moments when he sang songs like Speak Now (Or Forever Hold Your Peace). He got heartfelt applause when he hit (and held) the crucial "big" note when they played Cheap Trick's 80's hit, The Flame. Zander made a point of mentioning Cheap Trick's first time in Edmonton was in 1977 opening for Kiss, and judging by the crowd reaction, Cheap Trick weren't the only ones at both shows.
Sadly for fans (but apparently not the band), there was no Bun E. Carlos on drums. Although that may really suck for some, Daxx Nielsen (son of Rick) was more than capable and exciting behind the kit, even managing to somehow pull off a non-boring drum solo. He's got Cheap Trick DNA, so who else to replace Bun E?
Legend has it that I Want You To Want Me was an abandoned song used only as a last minute time filler to complete the Live At Budakon set list. Well, it became a monster hit, and also probably the greatest singalong the River Cree has seen since Smokey Robinson was there a few months back. The singalong continued with Dream Police, which, without all the uber production, is a great rock song. That ended the set proper, with everyone feeling good.
After the obligatory few minutes of cheering the band returned to the stage to finally give one of the moments the crowd had been waiting for: Surrender, that brilliant anthem for those about to decide to go their own way. This time no one waited for the choruses; they sang all the words. Towards the end of the song the band had themselves and the fans singing "We're All Alright"… because at that moment, we were all "all right," and one could believe singing those words helps with all the burdens in life. There we were, bearing our burdens and singing with Cheap Trick.
Photos by Juliette McDonald