Eagles of Death Metal: The Rock Must Go On
Posted on April 29, 2016 By Mike Ross Archive, Entertainment, Front Slider, life, Music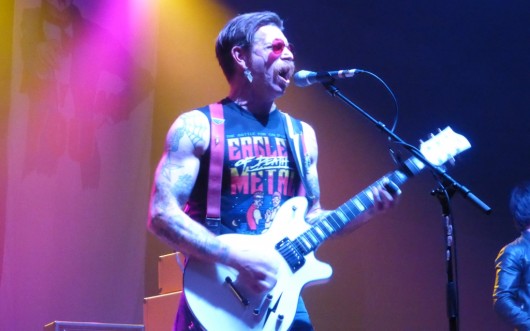 At the Eagles of Death Metal concert in Edmonton Thursday night, frontman Jesse Hughes didn't say much about the Paris terrorist attacks that killed 90 of the band's fans in November of 2015. Their merchandise man Nick Alexander was among the victims.
"It's been a weird couple of months – and we needed you tonight!" Hughes told a crowd of 2,000 cheering fans at the Shaw Conference Centre.
He showed it. The crowd obviously felt it. He said all that needed to be said. The show must go on. The rock must roll. They bravely continue after a terrible trauma, so soon; while to quit must've been unthinkable. Hughes had called a return gig to Paris "a sacred responsibility." They are determined to keep rocking.
It's always inspiring to witness a band that doesn't merely want to make music. They need to do it. Important difference.
It's also tempting to view Eagles of Death Metal as a changed band, but it really wasn't evident during this show – yet another non-stop barrage of swampy, simple, rockin' goodness unmarred by fancy synthesizers or screwed up by blatant attempts to be "radio friendly." It was pretty much the same show they did at Sonic Boom in the summer of 2015, give or take a Josh Homme. These guys still sound like hard rocking redneck poets whose sexy party anthems are pounded home by twin distorted guitars that rip your face off, at speeds that approach rockabilly. Neither Eagles nor death metal, perhaps something right in the middle.
The whole night was like that. This was a double bill with the Canadian power duo Death From Above 1979, also featuring a dramatic warm-up from a cool new band called Biblical. Not a synth or shiny pop hook in the bunch. No offense to the Eagles' excellent hard rocking stompers like Save a Prayer or the less sobering Whorehoppin' (Shit, Goddamn). The spirit of Motorhead is strong in this one.
Hughes has talked about the terrorist attacks before – reported in an interview on French television in which he criticized French gun control and said that arming more people might be the best way to fight the terrorists and save lives. He said that "maybe until nobody has guns everybody has to have them." The angry American argument.
Having gone what he and his guys went through, it's no wonder he feels this way – walk a mile in his shoes – though it has also been widely reported that Hughes already leaned somewhat to the right on certain political issues. The notion that all rock musicians are liberal hippie tree huggers who toe the party line is just flat-out wrong. Alice Cooper, Dave Mustaine, Ted Nugent …
Enough of this. The Eagles of Death Metal is not, and has never been, a political band. They're a fun band, this was a fun show. The closest they came to making a statement was an old Duran Duran song mutilated almost beyond recognition, and better for it, Save a Prayer: "Don't say a prayer for me now, save it 'til the morning after."
Feel free to read new meaning into that.
Despite a slight thinning of the crowd after the first act, Death From Above 1979 proved worthy of the honour of getting to play last. Two guys – singer-drummer Sebastien Grainger and bassist Jesse Keeler; literally drum 'n' bass – pumped out a huge sound that sounded like a fleet of monster trucks, filling the sonic spectrum between throbbing bottom end and shredding lead guitar, shaking building and bones therein.
Metric had a big hit with a great cover of Death From Above's song Black History Month – barely recognizable when they pounded it out at the show – with its haunting line, "Hold on, children, your mother and father are leaving."
New meaning? It's kind of obvious. Both bands have the word "Death" in their names.