MUSIC PREVIEW: Hedleyheads heart Hedley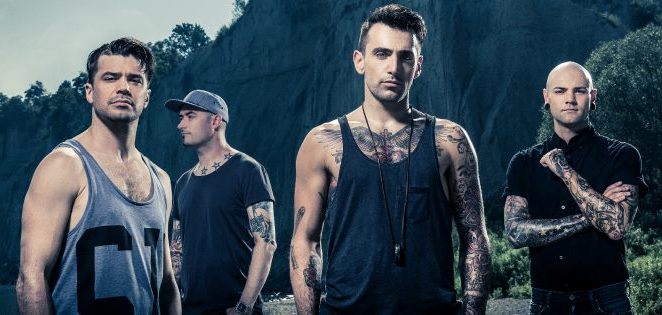 It's always both a blessing and a curse when your favourite band plays a show at Rexall Place. On the one hand, you get to share the experience with a lot of other people. On the other hand, you're going to have to pay arena concert prices to see them, and pray to the gods that the band's engineers can wrangle the sound system to somehow combat the many acoustic issues that are inherent at the aging venue.
Such is the case for fans of Hedley this weekend, as they bring their brand of mainstream pop-rock to Edmonton on Saturday night, supporting their most recent album Hello (from last November). Previous albums have spawned a number of top 10 hits here in Canada, including Never Too Late, Cha-Ching, and Kiss You Inside Out. This album's singles have not seen nearly as much success, but that won't dissuade any serious fans from having a heck of a good time.
Also set to perform for your evening's entertainment are Carly Rae Jepsen and Francesco Yates. The former, of course, is the British Columbian native who came to fame as part of a Canadian Idol competition, after which she ended up getting a label deal, and has since sold 20 million albums worldwide whilst accumulating three Juno awards on the back of her big hit, Call Me Maybe. Her most recent album, last June's Emotion, hasn't fared quite as well, but did spawn one song that hit the charts, I Really Like You.
Lots of seats remain unsold for the show at this time, including floor and first level tickets. For Alberta and B.C. shows, Hedley is donating proceeds from T-shirt sales and specially-priced tickets to victims of the Fort McMurray fire. The Red Cross is still accepting donations.
There is some good news on the horizon for concert goers. Rogers Place has promised that they've given careful and significant consideration to the concert acoustics of the new venue opening in the fall. The jury, such as it were, will definitely be in measured deliberations for the first few shows there – which will include Keith Urban (Sept. 16), Dolly Parton (Sept. 17) and the Dixie Chicks (Sept. 29).
Thursday 12
Cantoo – This cool little local psych-pop act is playing a no-cover set at the Needle Vinyl Tavern. Definitely worth a little walk down the street if you're downtown. Definitely. 5:30 pm
Old Man Canyon – This Vancouver band combines modern folk and indie influences with an innate sense of melodic pop. Always a popular draw here in the city, Jett Pace and the rest of the group just released a new album in January titled Delirium. With Moonmuseum and Black & Bleu. Mercury Room, 7 pm, $12. BUY
Miesha and the Spanks – This frenetic garage-punk act presents a wall of emotion and sound at their live shows that, quite honestly, can't be put into words. The effervescent Miesha is a whirling dervish of energy and poetry, and their shows are always – ALWAYS – an insanely good time. With Contracode and Joy District. Buckingham, 8 pm, $10. BUY
Friday 13
The Mants – Hailing from Victoria, these "creatures" perform in suits and rubber ant heads, matching the music they play, a crazed, boiling and agitated soup of rock and B-movie sci-fi flicks. It sounds crazy, but it works. Ball and Chain and Counterfeit Jeans also perform. 9910, 9 pm, $10.
Saturday 14
Bif Naked – Calling this artist a rocker is undoubtedly doing her a bit of a disservice, but it's probably the best moniker you'll find. She's equally at home in the blues, pop, alternative, and experimental worlds, and her songs are emotionally exploratory and revealing. With Jonathan Roy. Needle, 3:45 pm, $20. BUY
Capital City Burlesque Moustache Pride – If you're looking for something just a bit off the beaten track, Edmonton's Capital City Burlesque will be performing to the live music of Amy Van Keeken's new band, Viking Fiasco. The band features not only Amy, but also Gravy from Shout Out Out Out Out, and Curtis Ross of Bebop Cortez. The girls will be dancing to the music of such 70s luminaries as Alice Cooper, Led Zeppelin, and The Scorpions. Citadel Theatre, 8 pm, $30 and up. BUY
Belvedere – This band is hosting a CD release party along with Grizzly Trail, Point Place, and Fire Next Time. They first came to prominence in the mid-1990's, playing well over 1000 shows in 25 countries, and then reunited in 2011, culminating in this new album, The Revenge of the Fifth, their first album since the reunion. Starlite Room, 8 pm, $18. BUY
Bands As Bands – These gigs are always highly entertaining, as some of Edmonton's favorite bands perform a set as one of their significant influences. Or, maybe they just feel like doing their music. Either or. Saturday's entrants include The Introverts (performing as The Doors), Debutaunt (Teenage Head), Backwoods Superfreak (CCR), and Puzzled Minds (Black Sabbath). Bohemia, 9 pm, $10 at the door
Sunday 15
Freak Heat Waves – One of the craziest, most insane alt-punk-shoegaze bands in the western provinces. Their performance at the Wunderbar a couple years back is still talked about to this day. Definitely not to be missed, and you should also check out their last album, Bonnie's State of Mind, if you get a chance. Actually, make sure you get the chance. Insanely good. Rhythm Of Cruelty and Electricity For Everybody also perform. Buckingham, 8 pm, $12.