Selena Gomez a star above her music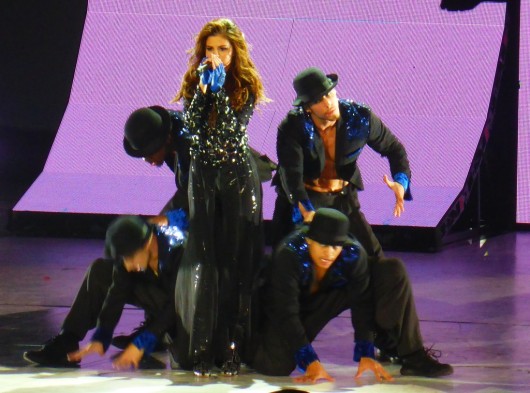 In a world of love songs about love and dance songs about dancing, Selena Gomez is a pop star about being a pop star.
They spent a lot of money and energy making her look great at Rexall Place Monday night – more effort than was spent on the songs themselves, so great was the Selena effect, despite what she says about how much they mean to her.
"My words, my life," she told a crowd of 10,000 young girls who hung on her every word. She better not be lying.
Giving a bad review to Selena Gomez is like kicking a puppy. Let it be said that she's 23 years old, that she was thrust into stardom and the arena stage before she was ready (her last show here was pretty weak), and that she seems to genuinely enjoy the attention of her fans, for whom she is a good and wholesome role model.
"I get to live my dream every single day because of you," she said.
"We love you!" came a chorus of response.
Amid a fairly generic pop-dance-rock-folk-love-ballad hybrid wall-of-sound that felt tracked even if it wasn't, the high points included the opener Same Old Love, plus hits like Hands to Myself, and Love You Like a Love Song, and later a blast of Stefanian fun with Me and My Girls. Later came a fairly faithful rendition of Sweet Dreams by the Eurythmics. The raciest thing about Selena's music is that insanely catchy hook "I can't keep my hands to myself" that 10,000 young girls sang along to. Also heard was Feel Me, a new one not included on her latest album Revival. "Every time your lips touch another, I want you to feel me," she sang.
But it all took a backseat to the visual effects, the incredible eye candy – the main one being Selena Gomez herself. Interludes to allow costume changes displayed a myriad of high fashion images of the Pantene spokeswoman, including a nude shot that drew a mighty "OOOO!" from the crowd. If you're wondering why female artists flaunt their sexuality for a 90% female audience, it's because it's instructional: to compare and inspire. Perhaps it's something deeper than that, something men are not meant to know.
The production was flawless, Broadway quality. Gilded chariots glided across the stage, drawn by gaily-costumed warriors. There was illuminated scaffolding, gigantic inflatable roses, huge glowing triangles, and lots of "laser beams." Selena's team of hard-working dancers literally did a lot of the heavy lifting in this spectacular show. The star, meanwhile, in one high-fashion get-up after another, was always striking just the right pose at just the right time for the perfect camera shot in front of a perfectly positioned fan blowing her mega hair into gorgeous disarray.
This was all just a warm-up for Beyonce at Commonwealth Stadium on Friday.
The opening act DNCE, featuring Joe Jonas, brother of Nick, was good fun. A short set, but packed with funky pop-rocking goodness. They played the role of a rock band really well, and did in fact seem to play their own instruments, and this while jumping around like maniacs. Points for the attempt if not the execution of a medley of recent pop ballads in a punk rock style, while the names of real punk rock bands showed on the screens. The arena erupted with joy with the closing number Cake By the Ocean, and everyone wondering what the heck that's supposed to mean.