MUSIC PREVIEW: Is Edmonton a Beyonce kinda town?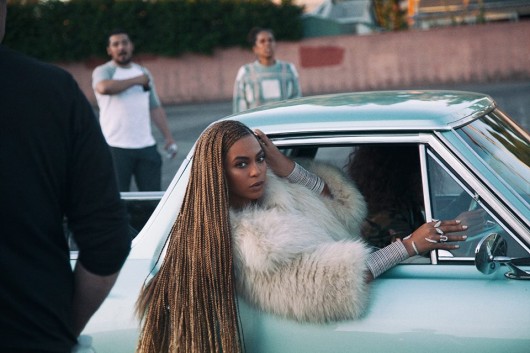 Is Beyonce any bigger a draw than she was in 2007 or 2009? Because she played Edmonton those years, and neither show sold out. That was in Rexall Place – and now she's at Commonwealth Stadium on Friday.
Granted, this is only one of two dates in Canada on her Formation World Tour. She certainly is a huge deal in the pop music world, star of stage and screen and merchandising and one of the few artists who have earned the right to be known by one name only, like Madonna.  Edmonton is lucky to have her. Like Madonna (who did two shows in a row at Rexall, which did not sell out either).
She's got some "buzz" this time. On the heels of what was said to be a "controversial" performance on the Super Bowl that sparked some discussion of race relations in America, the 34-year-old singer apparently put the boots to her cheatin' husband on her new album Lemonade – which is filled with no-so-subtle jabs at a certain someone. No names, please. Sample: "If you try this shit again you're going to lose your wife." Good advice.
On top of Lemonade is a towering catalogue of music, a more or less unbroken string of hits since Beyonce launched her solo career in 2002. Prior to that, of course, she was in the R&B hit machine that was Destiny's Child, whose 1997 single out of the box No, No, No, expressed the exact opposite sentiment of Meagan Trainer's new song, which is just the one No.
Times sure have changed in 20 years!
Friday 20
Brian Jonestown Massacre – What is it with San Francisco and its so-called "psychedelic" rock scene? Is it the water? The cool shoes at which one gazes? Is it the drugs? Drugs. It's the drugs. Ask Anton Newcombe, the frontman of this particular trippy rock band. He overcame heroin addiction to bravely continue the grand musical tradition of a city that brought us the Grateful Dead – in another inspiring story of triumph over adversity. The BJM tours upon its latest album Mini Album: Thingy Wingy – yes, that's what it's called – adding to an impressive catalogue of psychedelic (and yes, sometimes admittedly drug-induced) music dating all the way back to 1990. Starlite Room, with Arkavello, 8 pm, $27.50 advance
Jack Semple – This guy is a stone cold fer-real scary monster guitarist and soul singer, hailing from that unlikely hotbed of Canadian soul mojo, Saskatchewan – where it is definitely the water. He's a clean, mean groovin' machine. With eight albums under his belt, including a Gordon Lightfoot tribute, Semple was a favourite act at the olden Sidetrack Cafe, and high expectations remain for his gig Friday and Saturday at Shaker's Roadhouse. Tickets $20 advance
Tales Of The Tomb – A death metal band writes a concept album about murder – now there's a stretch. Hey, write what you know! This local combo is so good at their craft that they have been deemed worthy by the very forces of Wacken, the annual German metal festival that sells out years in advance and represents the finest examples of metal from all over the world. Part of it is a global contest to showcase new bands at the event. Tales of the Tomb won the prairie finals, and shall battle for the Canadian championship in Toronto on June 11. Meanwhile, they play a free "send off" gig at Filthy's. With Woldrik and Mostly Wanted. Doors at 8 pm, NO COVER
Saturday 21
Kimberley MacGregor – The Cask and Barrel hosts something called Garage Band Saturdays, on this day featuring a local singer-songwriter whose latest album speaks for herself, I Am My Own. 3 pm, NO COVER
Hip Hop in the Park – This festival is always a lot of fun: Seeing dozens of emerging and established Edmonton rap artists strut their rhymes in the great outdoors, up close and personal, keeping it real by sheer necessity. So what if it's going to rain on a weekend where these outdoor events are scheduled? Anyone interested knowing the "word on the street" could learn at lot here. There are 20 scheduled acts in all, plus break dancing, graffiti artists, a barbecue and more. Boyle Plaza, 9538 103A Ave., from 10 am on, FREE admission
Not Enough Fest – Have you lately encountered or at least heard about more transsexual people than you ever have in the past? It's not an epidemic or a coincidence. These people have been keeping it a secret all this time, but not anymore. This festival over two days (Saturday and Sunday) at Ritchie Hall will feature a wide variety of live music from artists in the local trans and LBGTQ community. Find all the information at their website.
Boreal Sons – Music critics hate it when a band describes itself better than they ever could. "Cinematic art rock" is the perfect description of this amazing Calgary piano band, which sort of sounds like a slowed-down Coldplay mixed with Radiohead plus Mike Oldfield (anyone remember Mike Oldfield?) with lyrics along the lines of this: "You wear your scars like they're who you are." Heavy. Needle Vinyl Tavern, with Swear by the Moon and Lusitania Lights, 8 pm, $12 advance