MUSIC PREVIEW: Oh Wonder lives up to name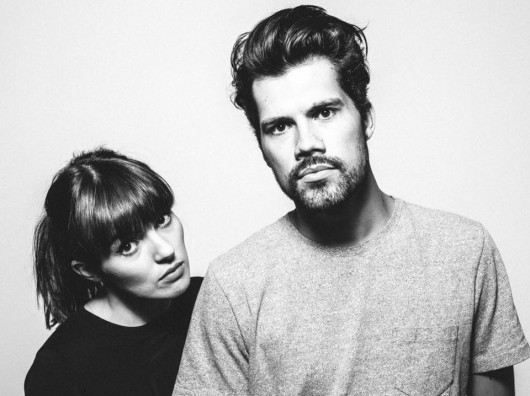 The aptly-named band Oh Wonder continues to to support their standout 2015 eponymous release on an anything-but-traditional rise to fame and glory – and Edmonton is lucky to get them on Monday night at the Starlite Room.
The British duo Josephine Vander Gucht and Anthony West crafted the album by writing, recording, and releasing one song a month for a year. Shortly after the release, which by then had built buzz up to a chaotic crescendo, they played their first shows ever, selling out venues in London, Paris, Los Angeles, Amsterdam, and New York City. The pair, who are often rumored to be a couple but who have never confirmed it, continue to lead the world of indie-pop with their jangly, upbeat boy-girl sound.
And now, a few more months out, and they're doing a full-fledged North American tour, and are scheduled to perform at some of the largest festivals in North America, including Osheaga and Lollapalooza. Oh, how the music business has changed.
Meanwhile, Lany, a dreampop trio out of Los Angeles, will perform opening duties. The group has released a number of songs on a number of EPs over the last few years to critical acclaim, and signed to Polydor Records in December. This summer, they'll also play the major festival circuit, with stops at Bonnaroo, Firefly, and Outside Lands. Starlite Room, 8:30 pm, $25 advance
Thursday 26
Mohsin Zaman – This local indie-world singer-songwriter is releasing his newest album on this eve, a tantalizing display of his immense talent called Fly Home. Mohsin's first recording, Waking Up, paralleled his journey from Dubai to Canada (he first arrived in 2008), then on to Edmonton (2013). He recently quit his full-time job to focus solely on music – let's hope it works out, he certainly deserves it to. With Lucette and Braden Gates. Needle Vinyl Tavern, 8 pm, $15. BUY
READ Interview with Mohsin Zaman
Friday 27
Baroness – This heavy metal band out of Georgia features frontman John Baizley (who also does all of the band's artwork) as their only original member. The other longest-serving member is guitarist Peter Adams, who joined in 2008. The band has released a quartet of albums, from 2007's debut Red Album, through December 2015's Purple. Heiress will also perform. Starlite Room, 7 pm, $25. BUY
Crystal Gayle and Lee Greenwood – The recent recipient of the Cliffe Stone Pioneer Award at the Academy of Country Music Awards, Gayle truly needs no introduction. The Indiana country-pop star had 20 No. 1 country hits during the 1960s and 1970s, as she mesmerized and bewildered the hearts of many all across North America. Lee Greenwood is no slouch either, probably best known for his hit God Bless the USA. River Cree Casino, 8 pm, $41.50 and up. BUY
Repartee – This synth-pop project from St. John's released their debut album All Lit Up at the end of last month, and are now touring to support it. Their cheerful, upbeat sound is sure to entrance all who attend. Mercury Room, 8 pm, $10. BUY
Saturday 28
Lucas Chaisson – This Cochrane native is already a revered singer-songwriter, having played almost all the big folk festivals in the last few years, including the granddaddy of them all, the Edmonton Folk Music Festival. His most recent release, Telling Time, is as captivating lyrically as it is musically. And, he's been busy recently recording videos for each of the songs with an all-star cast of Edmonton and Albertan musicians. They'll be released throughout the spring and summer. Black Dog Freehouse, 4 pm, no cover.
Swear By the Moon – Also on the docket for a free Saturday afternoon show is this cool little indie-folk-jazz duo featuring Zachary Moon and Meagan Loves. Jay Gilday will also perform. Cask and Barrel, 4 pm, no cover.
Mad Bomber Society – These local legends, who've managed to combine a whole slew of genres into their sound, from reggae to ska to punk, are performing a 20th anniversary show. Needle Vinyl Tavern, 8 pm, no cover.
Brother Octopus – This quirky little band features members with names like Golden Boy, Sea Bass, and Little Guppy, and their music is equally off the beaten path, a mad indie-synth-rock beast that can't seem to be contained within four walls. They're releasing their newest album at this gig, called Connected Through Corals. A Gentleman's Pact and Ego the Jackal are also performing. Almanac, 8:30 pm, $7 advance BUY
READ: EXCLUSIVE Aqua-Phone interview with BROTHER OCTOPUS
Rebecca Lappa – This acclaimed singer-songwriter and performer has written seemingly libraries worth of songs – with a sound that's nestled into the folk-pop world, but with substantive influences from blues, jazz, and world music. A jaw-dropping sensation, she'll no doubt be a prominent name in the local music scene for a very long time. Abandon Your Town and Underhouse will open. Arcadia, 8:30 pm, $8.
Frolics – It's been six months since these lunatics have performed locally. Noisy Colours will open. Filthy McNasty's, 9 pm, $5.
Withermoon – This foursome recently dropped a psych-rock eponymous EP that will, quite simply, leave you breathless. Fuzz pedals and bass grooves gather steam and catapult through your skull; bassist Devin Murphy-Hopp's vocals seem to be a perfect foil against said backdrop. Holgans open. 9910, 9 pm, $10.
Sunday 29
Fake Shark – Previously known as Fake Shark – Real Zombie!, this freak-pop project out of Vancouver last released a full-length in 2013 (Liar) – but did release a pair of singles in 2015, likely as a prelude to an album sometime soon. Their fans are certainly hoping, anyways. Uncle Outrage and Dad Jeans are also on the bill. Mercury Room, 6 pm, $10. BUY