Burger Baron has beef with Twitter Troll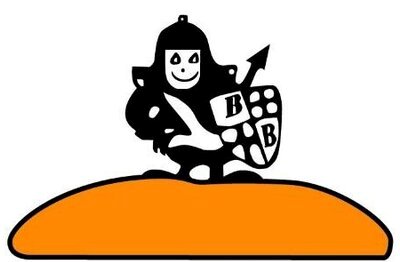 Most local media people agree that the Bogus Burger Baron Twitter Takedown of Graham Hicks was EPIC. Even Hicks himself liked it.
The Edmonton Sun columnist had written up the venerable burger joint in a March 2016 piece rating Edmonton's best fast food burgers: "The patties were reminiscent of '60s TV dinner steakettes. The vaunted mushroom sauce wasn't bad, but squirted out all over. The fried onions were okay, the mushrooms ho-hum. Independently owned and operated, with no franchise enforcement, quality must vary from Burger Baron to Burger Baron. The outlets are old and rundown. Yet brand loyalty is obvious. Burger Baron customers keep coming back."
The Twitter account @Burger_Baron erupted with a torrent of insults:
"Hey @hicksonsix did the little baby have too much delicious 'squirt' on to his precious pleated khakis and sweater vest? THE HORROR."
The review is blasted line by line.
" . @hicksonsix 'the outlets are old and rundown.' I HAVE THE SAME COMPLAINTS ABOUT MS HICKS BUT I DON'T AIR THEM IN A NEWSPAPER FANCY ASS."
" 'The five guys had a big, juicy, meaty patty – besides Jacks the best of the bunch' @hicksonsix MIXED HIS REVIEW WITH HIS PENTHOUSE LETTER."
"TUNE IN NEXT WEEK WHEN @hicksonsix REVIEWS THE SOUR FARTS OF THE HOUSWIVES OF SHERWOOD PARK #SUBURBAN SCUM"
Then he gets mad: "FEEL THE WRATH OF GRAVY NATION YOU ELITIST SUBURBAN SCUM! MAY ALL YOUR SHITS BE @CarlsJrCA SHITS – EACH ONE MORE EBOLA-FUL THAN THE LAST."
There were dozens more.
Of course this is NOT the real Burger Baron or anyone authorized to speak on behalf of the company. It's a prolific little troll who's been "promoting" the humble fast food chain in his own twisted alternate reality since he joined Twitter in 2013. It's not clear if local hipsters have started developing a taste for mushroom burgers because of this alleged comedy gold – some local locations say yes – but there's obviously a devious, delirious comic mind behind these almost 6,000 tweets (to date) that write a funhouse novella of Edmonton culture. Burger Barons are part of the historical landscape.
The Bogus Baron takes the piss out of everything local, from the Oilers to Avenue magazine. He expresses a passion for sports, strippers, inner city culture and of course the delicious sauce that "Carlos" slathers on all Burger Baron mushroom burgers. (There is no one named Carlos employed at any of the six Burger Baron locations in Edmonton. I checked.)
The Bogus Baron's Twitter profile gushes, "BEST FUCKING BURGER IN THE WORLD!! FUCK YEAH BEEFEATERS! #yolo #meatslut #GravyDistrict #yeg."
Graham Hicks, taking it all in stride, says, "He (she?) is crude, lewd, has terrible tastes in hamburgers, but is hugely entertaining."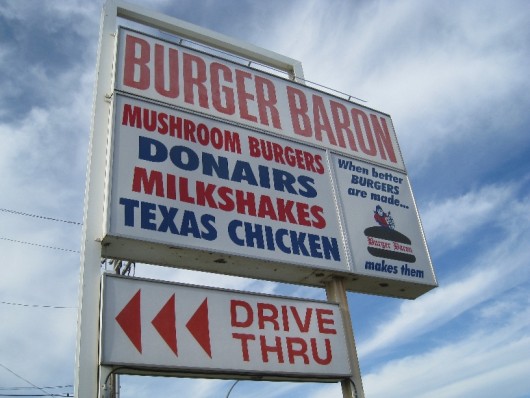 Sadly, the butt of the joke – the Kemaldean family that has run the franchise for 52 years – doesn't find it funny at all.
Spokesman Sergio Kemaldean wants to make it clear that the Twitter Troll has no connection whatsoever to the real Burger Baron, whose headquarters are in Lethbridge. "It's not consistent with how we run our business," he says. "These are family restaurants. It's not how we like to represent ourselves. It's rude, it's disrespectful, it's inconsiderate and it's definitely not something we want to be associated with. We don't agree with it or find it funny in any fashion."
He adds later, "I'd love to find out who it is."
There's the problem. Internet anonymity confers a certain, shall we say, "freedom of expression" that real identifiable people don't enjoy. While it's stupidly easy to create a troll Twitter account, it's almost impossible to get it removed or find out who's behind it.
"It's not easy at all," says Mack Male, local software designer and notable blogger. "A tweet doesn't give you information about where the user originates. There's no meta-data getting posted inside the tweet, no IP address." He suggests posted pictures can sometimes contain hidden information. Somebody ought to look into this.
The Kemaldean family has been trying shut down the troll since he started, but Sergio says the Twitter company has not been very cooperative. A complaint is made, the account gets blocked, but it somehow pops up again. They'd need to have their own account – and @Burger_Baron is already taken.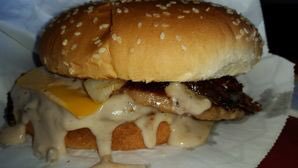 The situation is complicated by the fact that Sergio's father Rudy Kemaldean didn't bother to do any franchise paperwork when he started the chain back in 1964, giving handshake deals to members of his extended Lebanese family; only in the last year, Sergio says, have the proper documents been filed, with standard policies for all Burger Baron restaurants in Alberta being implemented. Part of the housecleaning is getting rid of the Twitter Troll, he says. Their main beef isn't so much his crude comedy or disrespect against the Kemaldean family as it is his repeated take-downs of other burger restaurants.
"I'm not begrudging anybody their fun, but when it comes at someone else's expense, that's when it crosses the line," Sergio says. "There's a mean undertone to what he's doing. Cutting down other businesses doesn't help anybody, especially in this economy."
So who is this guy? We know this: The Bogus Baron knows Edmonton very well, stays on top of the news, loves/hates the Oilers and may or may not hang out at the Gas Pump. A tweet request for an interview (the only way the Bogus Baron could be contacted) was granted an instant response: "Meet at Milla Pub at midnight tomorrow. Wear a cowboy hat. Order two Transylvania burgers and ask for Big Chief. Then wait."
That sounded a bit stabby, so another request was made. He responded, "Not sure you noticed, beef buddy, but business is booming. Barely enough time for flipping meat and stirring ladies' gravy!"
He called me beef buddy! I tweeted him once more: "Who are you and why are you doing this?"
The only answer was a clip of Arnold Schwarzenegger in Kindergarten Cop: "Who is your daddy and what does he do?!"
There was no further contact, and the relentless tweets have continued: "ATT #YEG ALL BARON LOCATIONS OPEN. RAIN DOESNT SCARE BARON BUT DOES SCARE CARLOS. COME IN AND SPEND MONEY PLEASE." And so on, on and on.
This may has started as irony, but as anyone knows, the longer you remain ironic the less ironic you are until you actually become the very thing you're making fun of. In short, the fake Burger Baron actually seems to love the real Burger Baron.
We're going to miss you, man.