MUSIC PREVIEW: Pride, in the name of love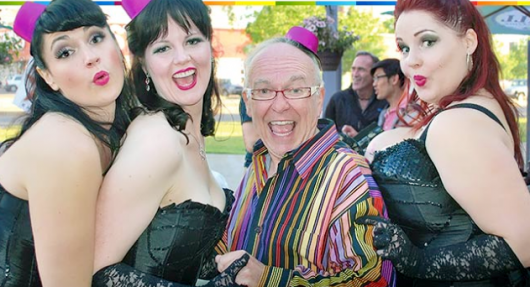 "Pride" has come to mean so many different things since it was shortened from "Gay Pride."
It's pride for your own sexual identity, be you gay, bi, trans, somewhat curious or simply straight and supportive of the rights of all of the above in a lengthening cluster of LGBTQQIP2SAA consonants become so unwieldy that only the word "Pride" should suffice to include us all.
The whole month of June has been proclaimed Pride Month around the continent. Obama said so, so it must be so.
Of course there's the old argument that if everybody's special then no one is, but why not go the other way and say that if everybody's special then EVERYBODY IS SPECIAL. If you treat everybody you meet like they're special, without hate or judgement, the world would be a better place – at least we wouldn't have to worry about which bathroom to go in.
The Edmonton Pride Festival – starting Friday and running through most of June – can also simply be a time to fly one's freak flag, whatever flavour of freak that might be. Blues on Whyte is hosting an outdoor BBQ and Pride party with live music all weekend. The Pride Parade starts Saturday at 11 am from Whyte Avenue and 108 Street, while live music is featured on two stages, including a beverage garden at the End of Steel Park until 9 pm, with acts like Sister Gray, Gentlemen's Pact, and many more.
Edmonton Pride continues through June 22. Other highlights include a Pride night at Yuk Yuk's June 9, the Mayor's Pride Brunch Sunday, June 12 at the Shaw Conference Centre; and smaller events like the Bears in the Park BBQ, Sunday, June 5 at Victoria Park. Adult bears only. Other events are family-friendly. All information at the Pride website.
Friday 3
No Sinner – Scorching blues-rock so righteous you'd think they come from Saskatchewan – where most of Canada's soul music mojo is stored in sealed seed vaults – but no, these guys are from Vancouver. Should be a fun night of close-up magic at the Almanac. 7 pm, $16 advance.
Dayglo Abortions – If you're going to have a name like Dayglo Abortions, you'd better back it up by being as offensive as possible – and indeed these Victoria, B.C. punks have faced (and beat) some obscenity charges in their almost 40 years of rockin' on the wrong side of political correctness. The new album Armageddon Survival Guide builds upon a rich history that includes Holy Shiite (2004), Stupid World, Stupid Songs (1998), Two Dogs Fucking (1991), Feed Us a Fetus (1986) and their debut album Out of the Womb from 1981. These guys weren't born yesterday! Filthy's celebrates its "relaunch" on this night with this band, featuring openers Skully and the Hypocrites and Rhubarbs. Doors at 7 pm, tickets $20 ONLY at the door.
Prince Tribute – Some of Edmonton's most funktastic musicians are gathering at the Needle Vinyl Tavern for a tribute to their dearly departed hero Prince. Representing all facets of his amazing career, performers include Souljah Fyah, Maracujah, Krystle Dos Santos, Jeff Hendrick and more – all schooled in the College of FunkySexyLoveGod. Also MacEwan and McGill. 8 pm, $15 advance, $10 from every ticket sold goes to the iHuman Youth Society.
READ: Interview with Edmonton's funkiest Prince fan
Saturday 4
Burton Cummings – Canada's Elton John – yes, I said it – suffers a long estrangement from his former partner Randy Bachman, and there is some confusion as to who wrote what, but both of these old rockers' solo careers have proven beyond a shadow of a doubt that they each have the gift. Can we all get along? Cummings is doing great on his own anyway. With a staggering catalogue of hits, most of them about having fun or rock songs about rocking, he's kept up his piano chops, too – 'cause he'd look like a nitwit if he messed up the ending in My Own Way to Rock, eh? River Cree Casino, 9 pm, from $50 advance
Music for the Mac – Local rock bands Tgera, Grounded Star, Slant Six and Dog's Mercury gather at the Rendezvous Pub, 10108 149 Street, for a food bank benefit specifically for Fort McMurray fire victims. Admission is $10 or equivalent food bank donation, at the door.
Packingtown – You know that eerie smokestack they're finally getting around to fixing up on the North end? Those ruins in Mill Creek? These are remnants of Edmonton's once-thriving meat packing industry, long gone – another chapter in Alberta labour union history that local folksingers Maria Dunn, Shannon Johnson and others explore in this FREE afternoon of musical-political Edmontonia. Runs 1 pm to 7 pm, Ukrainian Centre, 11018 97 Street. There is also free food. Register by email so they know how much to make.
Sunday 5
Lamb of God – For a metal band to name an album after an 18th Century German literary movement is a sign of underlying drama that needed to come out. A lot of dramatic musicians have summoned the so-called "Sturm und Drang" (full album title VII: Sturm und Drang), which literally means "storm and stress," and this Virginia metal quintet has seen their share over its two decades – exorcizing it in fine form in what turns out to be their most successful album to date. Coincidence, you say? Shaw Conference Centre, with Clutch and Corrosion of Conformity, 7:30 pm, $53 advance
Tuesday 7
James Taylor – What a comeback this guy has had. His June 2015 record Before This World – his 17th – hit No. 1, and he's been touring at a pretty high level ever since. Just like the old days. The man who elevated soft rock to an art form will be donating all proceeds of his concerts in Edmonton and Calgary (Wednesday, June 8) to Fort McMurray fire relief. 8 pm, from $35 advance