REVIEW: New Lemoine an absurdist delight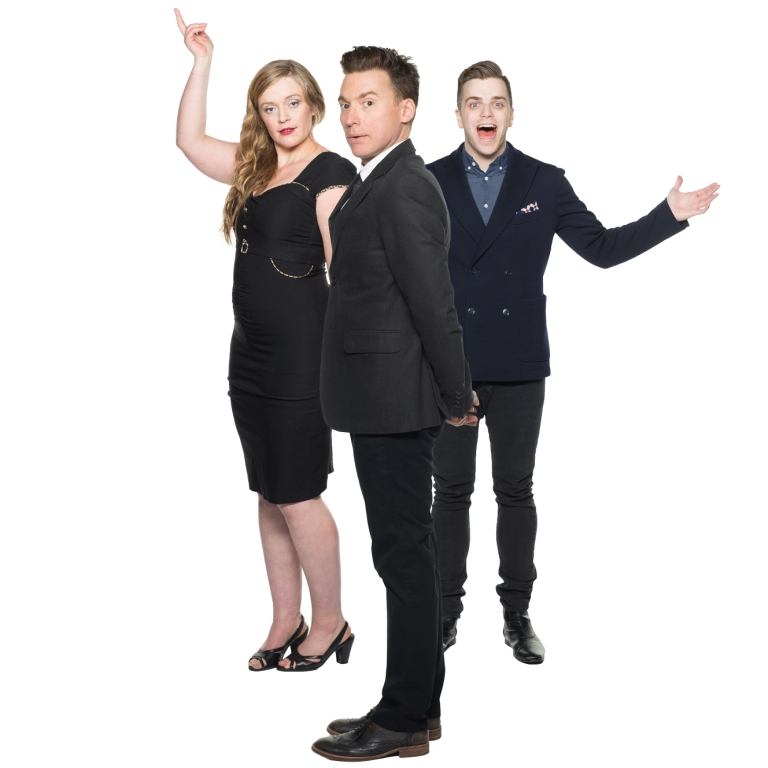 I'll bet you didn't know there was a tiny, forgotten kingdom, called Cynthia, near Lodgepole, Alberta.
It's only about 50 acres but it functions as a real principality. There's a King, a Chancellor of the Interior and a small population of Cynthonian citizens. The kingdom was discovered by a Canadian census taker in 1956.
All this may sound a little far-fetched, but it is the setting of For The Love of Cynthia, a new comedy from the creative writing machine that is Stewart Lemoine. It opened Thursday night at the Varscona Theatre.
Lemoine has set many of his plays in out of the way places in Alberta including Jasper National Park, St. Albert and Gateway Boulevard – so a lost 19th century European-style micro-state about 130 km. southwest of Edmonton is not an alien concept from the inventive playwright.
Lemoine uses his ingenious setting to provide a base for a whimsical, witty and well-written fantasy involving waggish characters, convoluted plot lines and playful dialogue. His actors are quite at home with dialogue like, "An interesting confabulation was taking place in the kitchen," or a sustained 10 minute bit of comic nonsense about what the consequences of answering a doorbell might entail. (In a Lemoine play, answering the door is the last thing you'd think of.) His characters are courtly toward each other, cheerfully accepting the most preposterous of premises and running with them.
For The Love is Cynthia is a world premiere for the Varscona's fine new revamped theatre. Lemoine has assembled a large cast (10) of players combining, as is his custom, a number of familiar faces from his usual stock company, with some new ones just out of local arts schools.
The census taker is Hutton Hayes (Ben Stevens). Stevens wears a bow time, a snap brim hat, a gee-whiz smile and an attitude of benign wonderment. He is welcomed into the Kingdom as a distinguished visitor from abroad ("I'm from Hinton, actually," he offers) and is to be given a state dinner.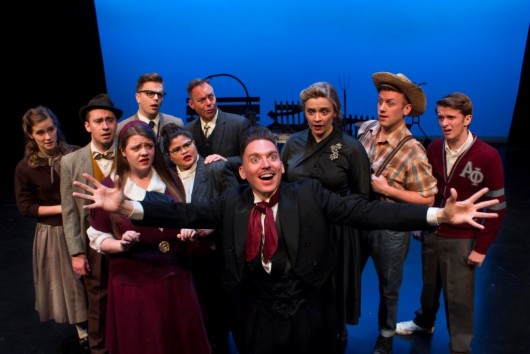 In a court of courtiers, princesses and various officials, he meets the Ambassador from Norway, Baron Ebbje Froml (Mathew Hulshof).
"When we set up the kingdom I wrote every country in the world and only Norway replied," explains the Chancellor, played by Teatro regular Jeff Haslam.
Lemoine always writes the parts for his actors and Haslam feasts royally on his character, delightfully ranging from haughty martinet to smarmy observer. His mobile face is an
entire Greek chorus commenting on the events before him.
Long-time Lemoine performer (and one-time featured player on Fox's MAD-TV) Ron Pederson is King Philo, who has so much going on that it's hard to take your eyes off him. Regally tricked out in a gold dressing gown, with ascot and red velour slippers (costumes: Leona Brausen) he commands all around him. His hair is slicked down – except for an errant cowlick that sticks straight up in the back, he has a John Barrymore pencil moustache and just a hint of manic madness lurking behind his eyes. There is no comic morsel of Lemoine's writing that goes undevoured by this superb farceur.
With a cast of 10, the characters in the play just keep coming at you but Lemoine gives each of them their moment and there is no confusion as to who is doing what to whom. Or why.
About half way through I looked around and realized that most everyone in the sold-out audience had a smile on their face – when they weren't bent over with laughter. Lemoine has proven he is quite able to write serious plays, but except for a few choice moments near the end sympathetically rendered by Pederson and Haslam sitting alone in a spotlight in front of the curtain, this play is not one of them.
As usual, Lemoine's music is impeccably chosen, representing the sounds of the Royal courts of the 19th century. Special mention should be made of the startling fidelity of the Varscona's new state-of-the-art sound system.
For The Love of Cynthia plays through June 18.
Top photo: Ryan Parker, middle: Andrew MacDonald-Smith