REVIEW: One drummer down, show must go on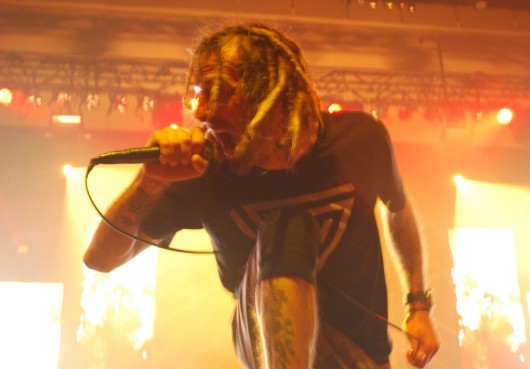 The Lamb of God concert in Edmonton was a classic demonstration of how the show must go on – even with one drummer short.
Shortly before opening band Corrosion of Conformity was set to take the stage at the Shaw Conference Centre Sunday night, drummer Reed Mullin reportedly suffered a seizure after "prolonged, extreme and unhealthy levels of alcohol consumption," bassist Mike Dean said in a statement. Mullin was taken to an Edmonton hospital, where he remains while the tour continues its way East, playing in Saskatoon tonight. Lamb of God's Chris Adler and Jean Paul Gaster, drummer from the other support act Clutch, will be filling in until a replacement can be found.
This isn't the first time this has happened. CoC shows in Pennsylvania were canceled five years ago when Mullin collapsed from what was said at the time to be a "heat-related medical emergency." Dean's statement continues, "Reed has been unwell for awhile and we are praying he gets the help he needs and that he seek treatment for alcohol and drug dependency, not to mention general lifestyle assistance." He asks for fans to pray for Reed's recovery, and thanks people understanding the band's predicament.
Meanwhile, the show will go on. With literally minutes to go until show time on Sunday night, Adler and Gaster quickly learned Corrosion of Conformity songs – and the band pulled it off with hardly a noticeable wrinkle. This is amazing when you consider how complicated some of this music is. It's not like 12-bar blues where anyone can just sit in. CoC tends to fall more into the trippy, bluesy, jammy style of so-called "groove metal," but there are still a lot of tempo shifts and rhythmic gymnastics therein.
This sounds obvious: Without drummers there would be no heavy metal – unlike other genres where drummers are sometimes even optional. Metal drummers are the engines of the heavy metal machine, one part technical musician, one part athlete – and Adler is one of the best. Frequently came impressive demonstrations of polyrhythms that would rival a jazz concert, coupled with the thunderous power of Lamb of God's distinctive flavour of extreme metal. In a word: Dramatic. They're touring now behind their latest album VII: Sturm und Drang, which translates to "storm and stress," which dramatic musicians have tapped into for hundreds of years.
Leaping around on top of the furious din – literally and figuratively – was singer Randy Blythe, howling, screaming, growling relentlessly as Lamb of God roared through their set, while images of destruction both natural and unnatural displayed on video screens. He was also a genial host, praising Edmonton as a bunch of rowdy motherf—ers, adding, "Give yourselves a big hand!" At another break, he said, "Fuck all the pop bullshit – these are the beautiful people."
The most noticeable thing about this crowd of 3,000, aside from being 90% male, was how many were wearing Lamb of God t-shirts – heedless of the rule you're not supposed to wear the shirt of the band you're seeing. It is possible to read too much into seemingly insignificant events like seeing so many heavily tattooed guys in Lamb of God t-shirts, but maybe it suggests a certain insularity to this band and its following, like they are the only metal band in the world, and are indeed the king of metal bands, though many others could claim the title with no argument.
However, Lamb of God proved worthy of repeated mass chants of "Lamb of God! Lamb of God!" before the show even started. It helps to have a chant-able name. The band hit the stage with a vengeance, opening with Walk With Me In Hell, a song that never cracked the hit parade yet every fan in every black t-shirt knew all the words. Fans knew all of the words to most Lamb of God songs – Engage the Fear Machine, Now You've Got Something to Die For, Blacken the Cursed Sun, theme here – even as Blythe rendered them all into a monstrous gargle of glorious insensibility.
Drummer Jean Paul Gaster of Clutch was no slouch, either, serving as a finely-tuned, nitro-fueled engine for the lead screamer Neil Fallon and his venerable hard rock speed racers. Fallon, who's like a blues shouter turned up to 11, also praised the Edmonton audience: "You kick Calgary's ass!"
You know, one of these days, someone's going to put up YouTube clips catching some lead singer saying each of the rival cities in whatever province or state kicks the other's ass. Then there's going to be trouble.