Music fest dips toe in comedy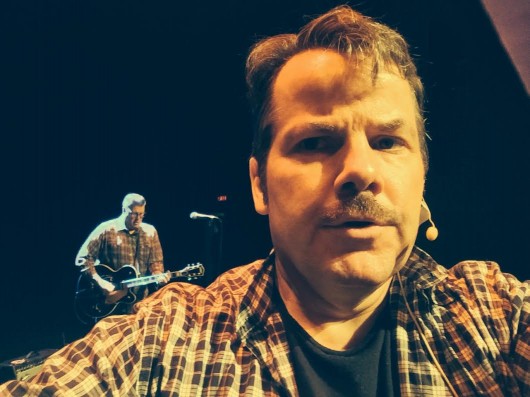 The original Drunk Young Punk is coming back to the stompin' grounds from whence he came – to perform at Edmonton's biggest club-hopping music festival this fall.
Kids in the Hall's Bruce McCulloch, who went to Scona High in Edmonton (he says he doesn't remember much), will return as one of the headliners at the annual Up + Downtown Music Festival Oct. 7-9 at venues around downtown Edmonton. His TV series based upon his life and work, Young Drunk Punk, has since been cancelled, but McCulloch has written many, many songs as the most musical of the Kids in the Hall members. Now you'll never get These Are The Daves I Know out of your head.
Also performing at the festival are venerable instrumental magicians Shadowy Men from a Shadowy Planet – who provided the theme music for the original Kids in the Hall series. No coincidence this time.
"I've just always been a Kids in the Hall fan," says UP+DT artistic director Brent Oliver. "We're dipping our toe in the comedy water, and we can do that with Bruce and the band that did the music for Kids in the Hall. Music was a big part of the show."
An impressive slate of headliners will be filling the stages at 17 different venues, all within walking distance of one another: Winspear Centre, CKUA's room, the Needle Vinyl Tavern, Starlite Room, and many more. Other name acts include Basia Bulat and Tokyo Police Club. All genres are represented: Mutoid Man and If These Trees Could Talk for metal; White Lung and Drive By Punch for punk; electro from HUMANS and Sabota; N3K and Mitchmatic for hip hop; more comedy from Vancouver stand-up artist Kathleen McGee; plus more indie rock bands and folkie singer-songwriters than you can shake a ukulele at. There are more than 60 acts in all, balancing favourite indie bands from both Edmonton and Calgary, names music fans should recognize from their many appearances at local venues in recent years, with acts from all over the world. The experimental rock band Carsick Cars appears to be the one that's furthest from home – from Bejing, China.
Wristbands conferring access to all events go on sale Friday.