James Taylor's got a friend in Edmonton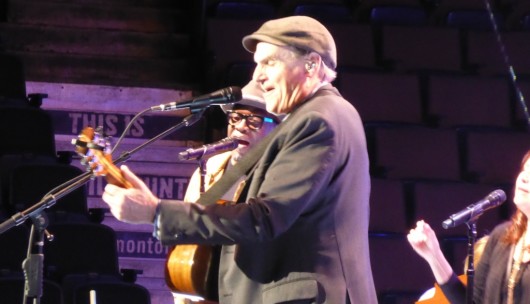 If an artist can ruin his music by acting like an ass – we're looking at you, Kanye – would it follow that good conduct could actually improve an artist's music?
It's all very subjective and personal, of course, but it's worth thinking about. Think about the easy listening legend James Taylor, who donated proceeds of his concerts in Edmonton on Tuesday night (and in Calgary Wednesday), to Fort McMurray fire relief.
Talking about the "all star" band behind him – and it was – he joked about it.
"When they heard they weren't getting paid tonight they decided to get drunk," Taylor told the crowd of 8,000 baby boomers at Rexall Place. "They might be a little loose."
We can assume that Taylor will only be giving up his own cut for the cause. Artists don't usually talk about this sort of thing, but after all the people who need to be paid (rental fee, musicians, roadies, production, building staff, security, etc.) it could still wind up being a nice six figure sum.
Bonus points: Taylor worked "Fort Mac" into You've Got a Friend.
So you could say there was a little extra love in a room already chock full of an entire 1960s worth of peace and love. The crowd may have been even more inclined to love the show – which turned out to be a tuneful, relaxing and mellow yet pungent slice of American (and some Canadian) lore: Baseball, the experience of Latino immigrants in a cold climate, family and friends, nature as religion, country roads in North Carolina, you know, "hippie bullshit." His words. That got a big laugh.
Taylor was a very funny host, and in fine voice for 68 years old. A few notes fallen off the top and bottom of his range were of no concern. The emotion he brought forth was the important thing. He closes his eyes when he sings. Proof!
With new tunes sprinkled in, the old hits still hold up while being redolent of the time they came from. The honest, personable delivery completed the package. Songs like Carolina on My Mind, Fire and Rain, and Your Smiling Face brought forth spasms of joyous nostalgia from the crowd, or at least it appeared that way. Pretty rowdy audience for soft rock. By the time the encore rolled in with a scorching rendition of Knock on Wood that forgives all the bad bar band versions you may have heard, Taylor had been given dozens of shouts of "I LOVE YOU!" – from both men and women – along with five spontaneous standing ovations. The first was just for showing up. It takes a lot to get baby boomers to stand up.
This really was an all star band. On drums: The great Steve Gadd, whose rhythms are part of the very fabric of American culture on recordings from Paul Simon to Steely Dan. Blowing sax, but mostly flute at this gig, was "Blue Lou" Marini from The Blues Brothers. Percussion was handled by Luis Conte, the Cuban ringer who's toured the world with a who's who of superstars who happen to need a great percussionist. And he was. The rest of the group, including back-up singers and a violinist, were equally gifted: Never overplaying, serving the songs first and creating a smooth country-flavoured sound suited perfectly to Taylor's peaceful easy mojo. It was sparse when required, rocking out in small but meaningful doses. Taylor even did a little Chuck Berry duck walk – during a Chuck Berry tune.
Yes, the band was loose, no drunkenness apparent. Loose and tight at the same time, if such a thing is possible. Great musicians, rehearsed to perfection, real instruments, not a pre-recorded backing track in the lot. Five out of five for that alone.