Young cast soars in Rent revival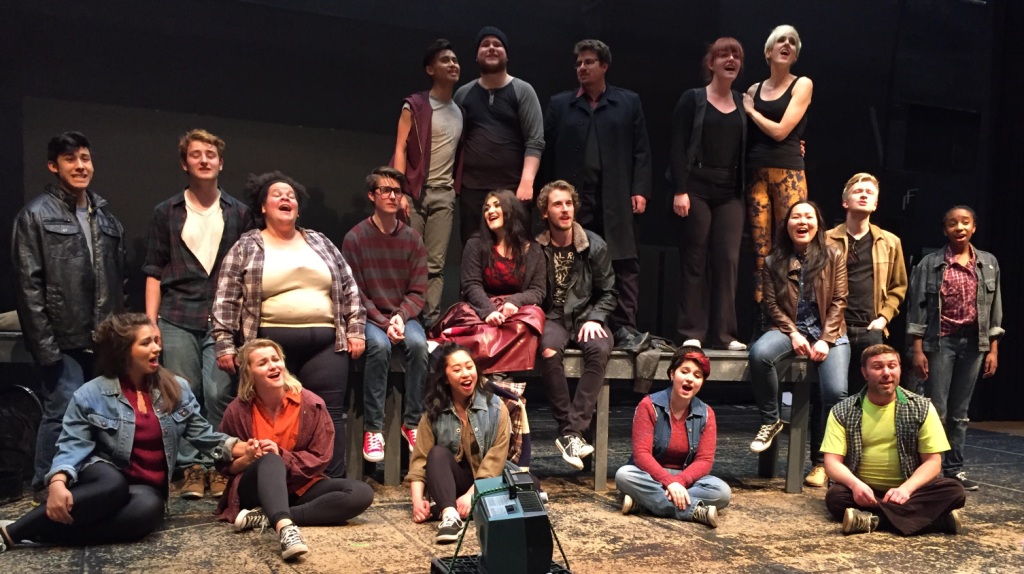 The story of the first night of the rock musical Rent in 1993 could be an opera on its own.
The music, lyrics and book were all written by Jonathan Larson, whose day job up until opening night was working in a fast food joint in New York City. He died of a heart attack the day his show opened. He never heard the ecstatic reaction of the audience, never read the rave reviews the next morning, never saw it become one of the biggest hits ever on Broadway – running some 12 years – and never saw the Pulitzer Prize his show went on to win.
Two ONE-WAY Tickets to Broadway, Edmonton's plucky pro-amateur producer of familiar Broadway shows has its own historic relationship with Rent – they began their first season 10 years ago with Larson's masterpiece.
The company is back with an energetic and assured new production under the direction of the busy Linette Smith. (This is the second production of Rent this year for the seasoned director.) It plays June 16-26 at La Cite Francophone.
Larson loosely based his show on Puccini's La Boheme and shares with the great operatic composer a tale of poverty-stricken bohemians living in the big city. Puccini romanticized his marginal band of Parisian artists. Larson strips off the tatty-glamorous veneer of the original to set his gritty street-level musical among struggling, homeless, AIDS-ridden residents of a flop house in Manhattan's East Village.
The plot is difficult to explain because the bare bones of the thing, something about blocking a protest, is just an excuse on which to hang a series of relationships that grow out of a hostile, unforgiving environment.
Sexuality is ambivalent, HIV is rampant and drugs are everywhere.
Roger (Brian Christensen) is a recovering addict who is returning to his first love: music. One night, the doomed Mimi (Hanna Skibin) comes into his room looking for someone to light her candle. (That's not a metaphor – she just wants her candle lit). His roomie is Mark (Josh Travnik) who keeps turning his back on a lucrative job to make home movies about his friends. Tom (Matt Graham) is an amiable dude who stumbles into (an) Angel (Mark Sinongco) on Christmas eve and begins a transforming, sexual-crossing relationship.
And so it goes as the show chronicles the passage of one year – or as it observes in Rent's big hit song Seasons of Love, "Five hundred twenty-five thousand six hundred minutes – how do you measure a year in the life…?"
Despite how you may feel about the show there is not a second of doubt about the commitment of the large cast, 21 strong. Young, intense and favoured with quite remarkable voices, they carry the show with a protracted jolt of electric emotion for the entire two hours. I don't want to slight anyone in a cast that exhibits such abilities, from the leads to the most minor supporting characters, but there are a few stand-out moments.
The loving relationship between Angel and Tom is summed up in the touching romantic duet, I'll Cover You. And not since Anything You Can Do I Can Do Better in Irving Berlin's Annie Get Your Gun has there been such a love-hate duet between two lovers as between Amanda Neufeld (Maureen) and Mackenzie Reurink (Joanne) in, Take Me Or Leave Me. Neufeld also tears into a performance art piece aptly titled, Over the Moon. The sad love story between Roger and Mimi is supported by the two big stage voices of Christensen and Skibin.
Christensen is an immensely likeable stage presence and Skibin has a voice that could shatter tempered steel. Travnik with his Clark Kent glasses and nasal-nerdy delivery makes an excellent guide through this underworld of lost young people living on the edge and trying to make a connection. The entire cast is particularly effective in the big choral numbers.
Director Smith brings her signature metal gantry over from her usual haunts in Strathcona High (where she teaches). The wood and metal platforms are found in the distant back of the gym where she stages most of her work. But in the closer confines of La Cite Theatre, the structure pushes the performers right up against the audience and you can feel the excitement.
Smith certainly knows how to move great groups of young people about the stage and her choreography often verges on the inspired. The small five piece band rocks.
Rent plays in La Cite Francophone through June 26.