Justin Bieber a mannish boy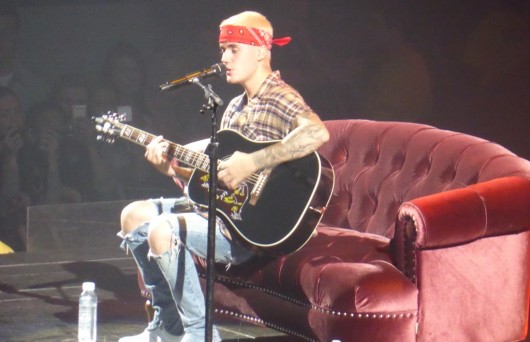 Justin Bieber has matured – yet the boy inside the man still likes to play.
At the show on Tuesday night in Edmonton, there was a slide, swings, monkey bars, a trampoline and a water park! Justin even appeared to be dressed in play clothes.
His fans have matured, too. The 13,000 women who turned up to swoon and scream at Rexall Place were mainly between the ages of 16 and 22. How do we know this? Justin did a poll. He asked late in his Cirque du Broadway spectacular, "How many 21-year-olds here?" Loud screams. He went through all the ages from 13 to 25. 13: High-pitched screams. 25, not so much, and not so many. 16-22 was loudest. Justin has nailed his target demographic beautifully.
And with his newly mature songs, too. From his new album Purpose, for everybody has one, comes matters of the heart honestly expressed. While most of the live show was pre-recorded pop bombast of the highest order, more dance display than actual musicianship, he did Love Yourself by himself. As he strummed his acoustic guitar, he gave the song a complete harmonic overhaul by casting it in a minor key. Weird. The fans sang along to every word anyway. "My mama don't like you and she likes everyone." Great line. There were more songs like it where that came from, songs that show the human, vulnerable side to Justin Bieber; no longer a boy, but a man who's had his heart broken.
In short, Bieber is shaping up to be the male Taylor Swift.
So he's mature, no longer the little turd who eggs people's houses and gets into minor teenage trouble with the law. Hey, we all did that stuff, right? Of course you probably didn't have millions of dollars to spend and hundreds of people whose employment depends on you either.
Time to move forward. Bieber delivered his show like a pro, business-like in his playful antics, confident, charming, on point the entire time, though a bit distant and robotic (he did mention a turkey sandwich that didn't agree with him). He did it all within the confines of a formidable arsenal of stage production: an incredible dance team, steam blasters, sparkler curtains, laser beams, transparent video screens, rising platforms, descending pits, strangely appearing couches, holes that shoot out dancers, monkey bars, cages, slides, wire acrobats, and so on. They did a fun song on the B stage on what appeared to be an elevated boxing ring in the middle of which was a trampoline. Justin did two back-flips to general approval. In the encore Sorry came the water show. Didn't Cirque du Soleil have a water show? Bieber and a dozen dancers hoofed it in a wading pool as a rain shower cascaded down. They even had a water fight as he sang about making amends with a woman he done wrong. "'Cause I'm missing more than just your body," he sang. He kicked water onto the lucky fans in the pit.
Many times it wasn't clear who or what was singing. There seemed to be many voices with no visible singers, a surplus of Biebers – but at least he didn't insult the audience by pretending to sing. When he had the microphone, he was really singing – in unison with himself on tape, sometimes. By now modern concert goers accept tracks as part of the game. Oh, well. But let it be said that doing the sort of dance moves Bieber did with his amazing squad, there's no way he could sing. He can do a lot, he even played a decent drum solo – but he's not Superman.