MUSIC PREVIEW: Porkapalooza serves gravy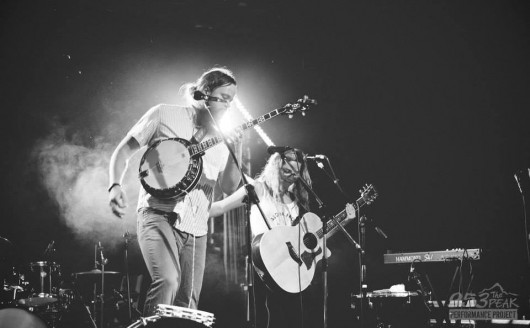 In one of the most interesting evolutions of a festival that's been seen in quite some time, the musical offerings of this weekend's Porkapalooza went from a three-day ticketed event to being "admission by donation" in the blink of an eye.
That being said, proceeds will go towards assisting Fort McMurray, so it's a great cause, and there's some extraordinary talent set to be on the stages at the Clark Stadium Field.
Friday night is what the organizers are calling their "modern rock" night, with Rolling Stone magazine cover darlings The Sheepdogs as the headliner. The Dudes, Wet Secrets, and Royal Foundry will also perform. The Royal Foundry (pictured) is currently one of the city's standout acts in the indie rock scene, and if you can manage to see them at Porkapalooza everything else after that is gravy. Which there will probably be plenty of regardless.
Saturday is the festival's homage to the country scene, featuring Gord Bamford, Diamond Rio, The Washboard Union, and Trevor Panczak. Bamford recently released his eighth studio album, and has four Canadian Country Music Awards to his credit. Hey Romeo is a local trio who has considerable coverage and acclaim based on their three full-lengths to date.
Sunday, which also happens to be Fathers Day, will feature a trio of classic rock bands, with Loverboy, Headpins, and Prism on the bill. Loverboy continues to put out new albums, including 2014's Unfinished Business, but let's face it, they're best known for their 80's hits like Working For the Weekend and The Kid Is Hot Tonite.
Yep, all that and barbeque and food trucks for as far as the eye can see. Kind of hard to go wrong, isn't it? The festival takes place at Clarke Stadium Field all weekend. All information on their website.
Thursday 16
Voivod – This Quebec metal act, now celebrating their fourth decade, is on tour to support their 2013 album Target Earth. Two of the band's four members, drummer Michel Langevin and and vocalist Denis Belanger, have been with the outfit more or less since the start (Eric Forrest took over vocals from Belanger from 1994-2001). With King Parrot and Child Bite. Starlite Room, 7 pm, $26. BUY
Friday 17
CKUA Party in the Park – Speaking of barbeques and parks, music at this downtown event (in the park next to the new CKUA building) starts at noon, and includes Marlaena Moore, Chloe Albert, Bobby Cameron, and Danny Michel. The latter also has a gig Friday night at the Needle in case you want to see more of him. A trio of food trucks, tours, and a whole host of speakers from various local festivals, are also on the menu. Admission is free.
Beaumont Blues & Roots Festival – Friday is also the opening day for this festival, a short drive southeast of the city. The opening night's lineup focuses on Edmonton talent, with Savage Playground, REND, and Royal Tusk on the bill. 5:15 pm, $45. BUY
North Country Fair – So many festivals! Here's a popular music, camping and good vibes festival that opens Friday at the site near Driftpile, at the South shore of Lesser Slave Lake. The drive may be worth it, with some intriguing acts on tap, including the great Buffy Sainte-Marie (whose recent album won the Polaris Prize), Bend Sinister (Vancouver prog-indie act), Brother Octopus (always a sight to behold), Harpoonist And the Axe Murderer (with one of the best harmonica players in North America), Joe Nolan and the Dogs, Matinee, White Lightning, Swear By the Moon, and Fuzz Kings (who also have a set at Beaumont late on Sunday), plus many more on a number of different stages. Tickets no longer available online, but will be available at the gate, $180 for adults and $120 for youths, camping included. Info and directions here.
Tops – Another Quebecois band, though vastly different from Voivod, both in terms of their life cycle (Tops are only five years old), and genres (most definitely indie rock). Three-quarters of the band were previously in Silly Kissers, along with noted indie rocker Sean Nicholas Savage. Faith Healer is also on the bill. Brixx, 8 pm, $12. BUY
Hewson Grey – One of the city's up-and-coming bands of the year, these indie rockers host a release party for their very first vinyl single, a split 7" with the Tophie Davies Band. The band's working towards a full EP sometime later this year. Also on the bill are Arkavello and Sam the Living, at the Aviary (did they clear up all their red tape?), 8 pm, $10 at the door
Saturday 18
Beaumont Blues & Roots Festival – The second day of this event is capped off with a performance from acclaimed psych-folk act LeE HARVeY OsMOND. Noon, $45, BUY
The Pack AD – This frenzied duo from Vancouver features Becky Black on guitar and Maya Miller on drums. The act continues to attract major attention across the nation for their raucous quasi-punk-slash-garage sound, thanks to such hits as Sirens and Haunt You off their 2011 album Unpersons.  Their most recent release was last year's four-track EP titled Meta Animal, and included a cover of one of their favorite bands, Thee Oh Sees. Starlite Room, 8 pm, $20. BUY
Besnard Lakes – Yet another Quebec band visiting the beautiful capital region this weekend, this psych-shoegaze project now has five full-length albums to their credit, with this spring's A Coliseum Complex Museum adding to their musical arsenal. Perhaps their best yet, the band focused on focusing their songs a bit more, reigning them in if you will, resulting in slightly shorter song lengths than fans are used to. The previous album, Until in Excess, Imperceptible UFO, didn't have any songs shorter than 5:24. Jom Comyn opens. Needle Vinyl Tavern, 8 pm, $15. BUY
Sunday 19
Beaumont Blues & Roots Festival – The third and final day features Jr. Gone Wild, and returning to the city after a gig earlier in the spring, and also Sloan. From 11 am, $45. BUY
Of Montreal – This experimental indie band not from Montreal but Athens, Georgia, likes to surprise its listeners, zigging one way when expected to zag, then zagging the other direction soon after. They started releasing music in 1997, and have done so ever since, their most recent last year's Aureate Gloom, the follow-up to critically acclaimed and the most buzzed about album in the band's history, Lousy with Sylvianbriar. Their next album, Innocent Reaches, is due out in August. Needle, 7 pm, $30. BUY