Meat Loaf recovers from stage collapse in Edmonton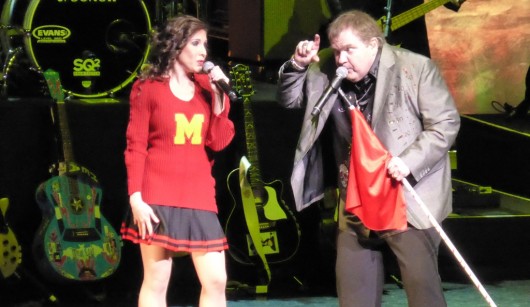 The audience thought it was part of the act – a theatrical rock legend laying on his back to perform his big encore – but it soon became horribly real. Meat Loaf had collapsed on stage at the Jubilee Auditorium Thursday night.
UPDATE: He's going to be OK. A statement released Friday morning said the 68-year-old singer's collapse was due to "severe dehydration."
"He was admitted to a nearby hospital to undergo routine tests. His vital signs are stable and normal — additional tests are being performed but he is responsive and recovering well. He extends his heartfelt thanks for everyone's support and well wishes, and is expecting a speedy and full recovery. Any concert postponements/rescheduled dates will be announced at a later time. Thank you for your support and understanding."
Meat Loaf had previously had to cancel three shows – including Calgary – due an unspecified illness.
The scene on Thursday night was surreal. It happened in the middle of I'd Do Anything For Love (But I Won't Do That), just as the song got going – and he just keeled over. The band stopped instantly and the lights went up. Fans were stunned as he lay there motionless on stage, attended by his crew.
It slowly dawned on fans that this was real. The house lights came on and the stage manager ordered everybody out. There was much frantic rushing around. Roadies pulled a black scrim in front of their fallen star, so no one could see. People wanted to applaud, as they had just seen a terrific show – despite noticeable weaknesses and shakiness Meat Loaf bravely overcame. The people clapped, awkwardly, and left the auditorium as instructed. Some people were in tears. In the atrium was a huge line-up at the merch table with the fire truck and lights flashing outside the main entrance.
Meaf Loaf had given his all for his fans at this show. Paradise By the Dashboard Light was turned into an extended tragic operetta with his amazing female foil, vocalist Cian Coey. They even necked on stage. There was much more grand rock 'n' roll where that came from the very master of this sort of thing – from Bat Out of Hell onward. He got in a good line, "What do you mean you can wait all night? I'm 68 year old!" He added to her, "I can give you the best you've ever had – for 25 seconds."
While clearly in a weakened state, Meat Loaf performed like he lived for this, the very definition of a trouper. While softer notes were raspy and nearly inaudible (all members of the band singing to prop him up), the well-chosen big notes were bang on. Like the old days.
Meat Loaf felt the love from his fans, drank it in. He told the crowd at one point, passionately, "If it weren't for all of you, there would never, ever have been a me!"
As he came back for the encore, just minutes before collapsing, he talked about Fort McMurray, saying that he personally donated to the cause and urged fans to do the same. Just a dollar, he said. "Please, I beg you," he said. "Please give!"
Love back at you, Meat Loaf: Please get well.