MUSIC PREVIEW: Jazz fest a MacEwan affair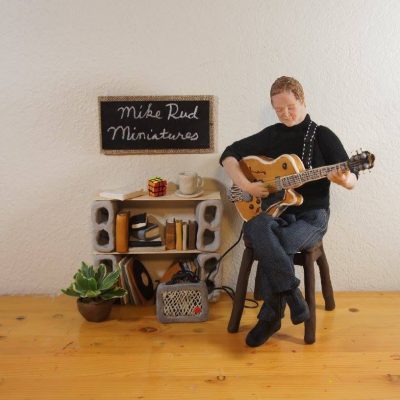 Did you know that Edmonton is crawling with monster jazz musicians on par with any in the world? It's true.
Why this is so is no mystery. Most of the heaviest local jazz cats in town make their living by teaching others to follow in their path, most at the famed MacEwan University music program – from whence many of them came.
So amongst the big names at this year's Edmonton International Jazz Festival – running June 24-July 3 at venues around town – are many local MacEwan ringers plying their craft. Some are no longer among us. They loved away: to Montreal, New York. But they come back. There's something about jazz bred in Edmonton, at MacEwan. These shows can be just as good, sometimes better, than the main stage acts (which this year include Joe Lovano, Gregory Porter and Oliver Jones). Remember, this is not a competition. It's an exhibition.
Here are five picks:
1. Mike Rud
This Juno-winning current Montrealer (pictured, in clay form on his new album Miniatures) is no Buble on the vocals, but he is superb on his trusty semi-hollow body electric guitar – super fast, jangly, Django-ey, perfect technique and expressive soul, lots of notes, none of them wasted. This guy is serious star in Canadian jazz for good reason. He was schooled at MacEwan.
2. Magilla Funk Conduit
To name this band is to know it. Singer-saxophonist Brett Miles leads this combo named after his father Rollie Miles, the Eskimos football hero for whom an Edmonton sports field is named. Rollie's nickname was "Magilla." His son's band is a funky conduit connecting to that particular tower of power. It all works.
3. A/B Trio
These are what we call "heavy cats," which is to say they play pure, hardcore, "real" jazz with the most basic of instrumentation: Saxophone, acoustic upright bass and drums. None of them fancy chord-playin' instruments, eh? Needless to say, such an elegant set-up confers a certain "freedom" to these highly-schooled musicians.
4. Hey! Listen!
This instrumental septet consisting of recent MacEwan grads renders favourite melodies from Zelda, Super Smash Bros, and many more of your favourite video games into live action soundtracks, treating each piece as though it were a jazz standard. Accept it: Video game music is a thing.
5. Charlie Austin
Since he retired from being the longtime Head of Keyboards at MacEwan, this jazz sensei has been playing live more than ever, finally getting around to recording his own records that showcase his playful way with lush, crunchy chords, trademark creative solos that are by now second nature to a man who's been playing jazz for at least 50 years. Austin gives Oliver Jones a run for his money in the piano sweepstakes this year.
6. Berner Brothers
Not too many examples of jazz playing brothers in the world, but you happen to be jazz playing brothers yourselves, in this case Don and his brother Doug, it's a no brainer to stage a tribute to the Brecker Brothers – one of the preeminent horn-blowing jazz fusion groups of the 1970s and 1980s that included a who's who of New York's late night talk show band scene.
7. Mallory Chipman
Old school jazz chanteuse with new school attitude (MacEwan Class of '15) balances her original music with favourite vocal standards, with a voice that's one half Joni, one half Ella and one half her own. That's three halves.
Oops, that's seven. We could go to 10, or 20. It's harder this year than it was last year. The list could go on and you might still agonize over which worthy MacEwanite to miss.
All show information can hopefully be found on the frustrating festival website, but many local acts are playing free in Churchill Square daily from noon to 2 pm. Happy hunting!
Friday 24
Doug and the Slugs – There is something both wonderful and sad about seeing a rock band continuing to play despite the death of their namesake. Filling in for the late Doug Bennett in a band which sprinkled the 1980s with good-time songs is master rock showman Ted Okos, who might be best remembered for his role in the party band Nick Danger. Good times at Century Casino, 8 pm, $35 advance
Savage Henry – Full name: Savage Henry and the One Pounders – now just let that band name sink in. Bridging the fine line between punk rock and comedy comes a group of guys who wear wrestling masks on stage and write songs like Two in the Pink and One in the Stink. Mama's Pizza (DV8), with The Cutoffs and The Danger Thrill Show, 8 pm, unspecified cover at the door.
Tuesday 28
Diana Ross – The queen of … what is Diana Ross the queen of? Soul and pop and rock are already taken, but maybe "Queen of Divas" fits. This 72-year-old artist enjoys an incredible legacy from being one of the original members of the Supremes to thriving solo career, star of stage and screen and a true legend in the annals of pop culture. River Cree Casino, 8 pm, tickets from $73, going fast
Wednesday 29
Alberta Fire Aid Benefit – Can we stop banging on Nickelback now – or at least declare a ceasefire? This was their idea: A massive event at Commonweath Stadium to donate all fees and proceeds to Fort McMurray fire victims. Nickelback are pals with Corb Lund, Alberta's coolest country star, so that must mean something, too. Now don't all ya' haters feel ashamed? Also on the bill are Blue Rodeo, Randy Bachman, Ian Tyson, Dean Brody, The Rankin Family, Dallas Smith, Brett Kissel, Alan Doyle, Dear Rouge, and High Valley. Show goes rain or shine, "but we're praying for rain" and gets underway at 5 pm. Tickets from $35