REVIEW: Rustic, dated comedy pokes middle age marriage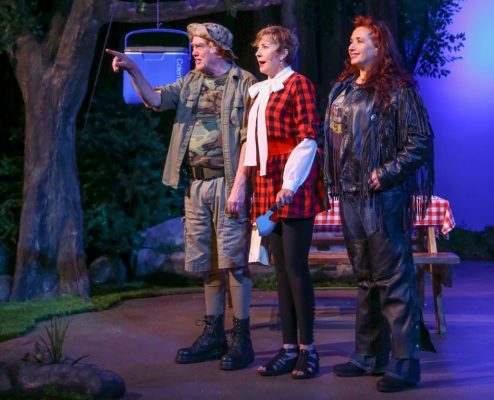 Watching the Mayfield Dinner Theatre's new production of Henry & Alice: Into the Wild, you may find the ear worm theme for the 1960's rustic sitcom Green Acres rattling around in your head.
"Green Acres is the place to be! Farm living is the life for me!" sings a former Wall Street millionaire – while his glamourous Hungarian wife Lisa (Eva Gabor) answers, "New York is where I'd rather stay. I get allergic smelling hay!"
Running until July 31, Henry & Alice…  is a sequel of sorts to Vancouver writer Michele Riml's hilarious Sexy Laundry, her take on Alice (Coralie Cairns) and Henry's (Glenn Nelson) attempts to pump some life, sexual and otherwise, into their middle age.
This play finds the two on hard times. At 56, Henry has been fired from his high-paying job and so their posh European vacations are gone. Remembering the happy times of his youth, he insists they go camping. Burbles Henry, "Ahhh, the great outdoors. What more could you ask for?" Observes Alice sourly, "Room Service." She wails, "Why is my bottom sinking into my air mattress?" He observes helpfully, "That's because your bottom is bigger than your top." There is no one working today who gives better curmudgeon than actor Glenn Nelson.
The story charts their often comical, fish-out-of-water efforts to cope with assembling tents, neighbours who play loud rock music and the culinary delights of meals-in-a-bag, with a copy of Camping for Dummies their only help, He wants to "get real" – she wants to go back to the life they left behind. The real problem is that there is no how-to book on coping with the new reality of their lives.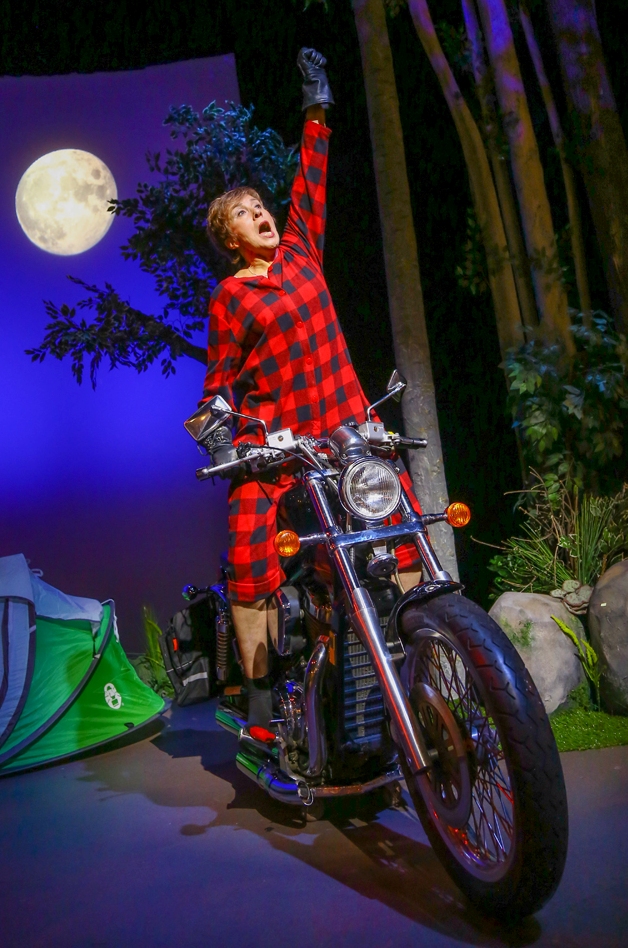 To complicate the situation, who should move into their camping space but Alice's free-spirited biker sister Diana, played by Cathy Derkach. She is the anti-Alice. Whereas Alice is bound by the upper middle class mores of her previous life, she has always and somewhat mistily envied her sister's adventurous lifestyle. Henry grumps, "Getting a tattoo is not a life plan."
Derkach gives a really telling performance as an exuberant and unremorseful free spirit taking on middle age and enjoying every minute of it. Cairns and Nelson have long histories in our theatre scene. They are both consummate pros who are as much at home in stark drama as they are in this light-as-a-firefly concoction. As in Sexy Laundry, nothing much new is said here that wasn't said by Lucy and Desi in the 1950s, but the two conspire with director John Hudson to give a performance anchored in some kind of reality. By bringing their own finely tuned sensibilities, they go beyond Riml's words to find bittersweet vulnerability. Their joint timing and obvious joy in performance is a constant delight, and without such warmth the squabbling could easily slide into an aging couple bitterly ragging on each other.
The playwright had worked hard to break out of the sitcom mode, but even Hudson's practiced hand can't paper over the weaknesses – obvious TV sitcom situations and dated sexual politics.
"We had a deal," the curmudgeonly Henry tells his wife. "I made the money – you spent it."
He feels that men are better than women in the great outdoors – while she natters on about how homemakers are devalued in our society. Finally she faces him and sadly observes, "Something in our relationship is broken. Really broken."
But the soap factor is a guiding principle and a happy ending is mandated so we know the two are fated to remain together. After all, this is dinner theatre.
Photos by Ed Ellis