Fire Aid so Alberta it hurts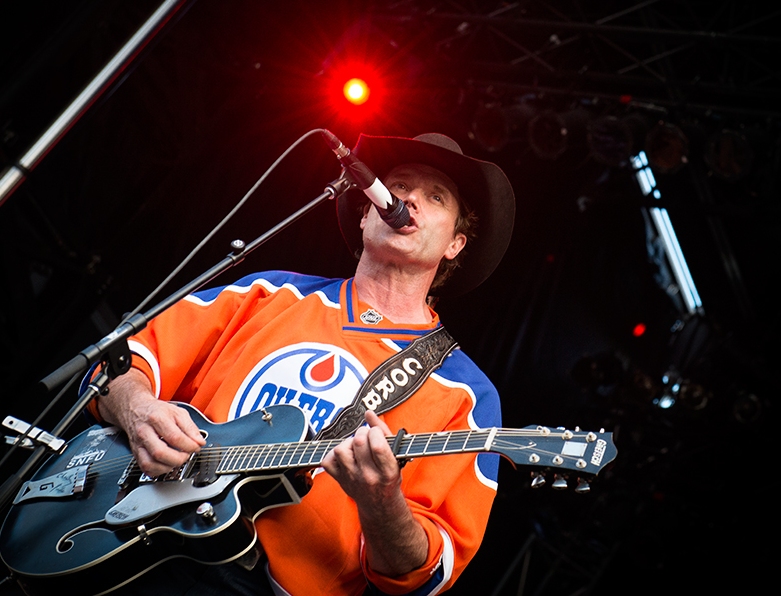 There's something about Commonwealth Stadium that makes Edmontonians nostalgic for all of the big events held there throughout their lives. There's the long list of Edmonton Eskimos' games (are we ever going to change that name?), Grey Cups, the 1983 Summer Universiade, Oilers Stanley Cup Parades, and the visit of Prince Charles & Lady Di, to name a few.
It's safe to say that Wednesday night's Fire Aid show will be added to that list for some 30,000 people who attended. With Nickelback headlining an all-star bill of acts that donated their time, more than $2 million was raised for Fort McMurray fire relief.
Organizers ran a nearly flawless event. At the root of everything was a spirit of community in support of our Fort McMurray brothers and sisters whose lives were devastated by the May 3 wildfire. Attendants were jubilant, staff members were all smiles and even the event security appeared to have a softer touch with spectators who may have contributed a few too many dollars to the $1 donation made for each Molson Canadian or Coors purchased.
Except for the final two acts, the performances shifted quickly between two side-by-side main stages with each act allotted 20 minutes (roughly 3-4 songs). The short sets ensured that every artist gave everything they had and played some of, if not exclusively, their hits. Corb Lund played the role of emcee with a folksy charm that allowed him to appear vulnerable while navigating a terrain that is not his usual forte.
The event started at 4:45 pm sharp with West Coast roots country rocker Dustin Bentall (son of Barney Bentall) kicking things off with a punch. Harlequin kept the tempo upbeat as they took us back in time with hits like Thinking of You and Innocence. Red Deer's Dear Rouge held their own amongst some of Canada's best artists. There was a palpable and collectively lustful sigh when the young guys from High Valley took the stage; singer Brad Rempel highlighted the importance of Fort McMurray not only to Albera and Canada, but as an energy provider to the world. The played county music like how I remember it, and once Brett Kissel and Ian Tyson took their turns, the event felt reminiscent of a 1980s Farm Aid. Tyson's Four Strong Winds felt extra poignant and beautiful.
Alan Doyle & The Beautiful Gypsies delivered on their promise to host Canada's largest kitchen party by turning the volume and rhythm up to party mode for their short and energetic set. Hot country star Dallas Smith kept everyone dancing and celebrating. It was great to see the Rankin Family perform a sweet and solid set full of smiles and laughter. The crowd was ecstatic to see the young Dean Brody take the stage in his straw cowboy hat and sunglasses.
Randy Bachman with The Sadies set an unattainable bar. It's hard to beat The Sadies on any given night, and with Bachman's hits like Ain't Seen Nothing Yet, Let it Ride and American Woman, it's near impossible. Their transitions, styling and stage presence were tight, smooth and beautiful. The Sadies – with Travis and Dallas Good out front – are made all the better with their classic embroidered suits, appearing as if they just walked off the set of a Coen Brothers movie.
It felt right having Corb Lund on centre stage in his Oilers jersey singing songs of gambling, hockey, whiskey and pulling dragons from the ground. It's hard not to like that guy. Barney Bentall popped by and followed with a few classics, Come Back to Me, Something to Live For (accompanied by his son Dustin) and a skillful cover of Prince's Little Red Corvette. City and Colour hit the mark with their vocal styling.
Blue Rodeo and Nickelback closed the evening with an hour each. Blue Rodeo songs are quintessential earworms that manage to make their way into your subconscious. There is something classically Canadian about Blue Rodeo and their place and time in our collective conscience. Try not to sing at least a few words to 'Til I Am Myself Again, Hasn't Hit Me Yet, Try and Lost Together? As a Canadian, it can't be done.
Speaking of Canadian, Corb Lund and Alan Doyle led the audience through a rendition of O' Canada before Nickelback took the stage.
Say what you want about the headliner, but those guys know how to put on a show. Nickelback opened with Something in Your Mouth, and segued into Figure You Out. Singer Chad Kroeger talked about the "awkwardness of having to explain to your parents the crap that comes out of your mouth with a song like this." Where Something in Your Mouth states, "You look so much cuter with something in your mouth," Figure You Out notes, "I like your pants around your feet."
If there was ever any doubt, Fire Aid ended with its feet planted firmly in blue bull-ball trailer-hitch country.
Kroeger acknowledged that as good as it felt to play Fire Aid he was truly appreciative of the effort made by everyone who attended and organized the event.
Last month, the band released a statement after the show was announced: "The wildfires have affected the entire country. The devastation, images and stories of the lives shattered by this resonate with everyone; but, perhaps none more so than Albertans. Alberta is home for us and we've never shied from that. When tragedy strikes at home, you help. It's the least we could do and we are humbled to be a part of this event with so many talented artists. So many people have answered the call for help already. This is the least we can do and we hope that our efforts can assist those that need it most."