Vow of celibacy FAIL in Shakespeare sex farce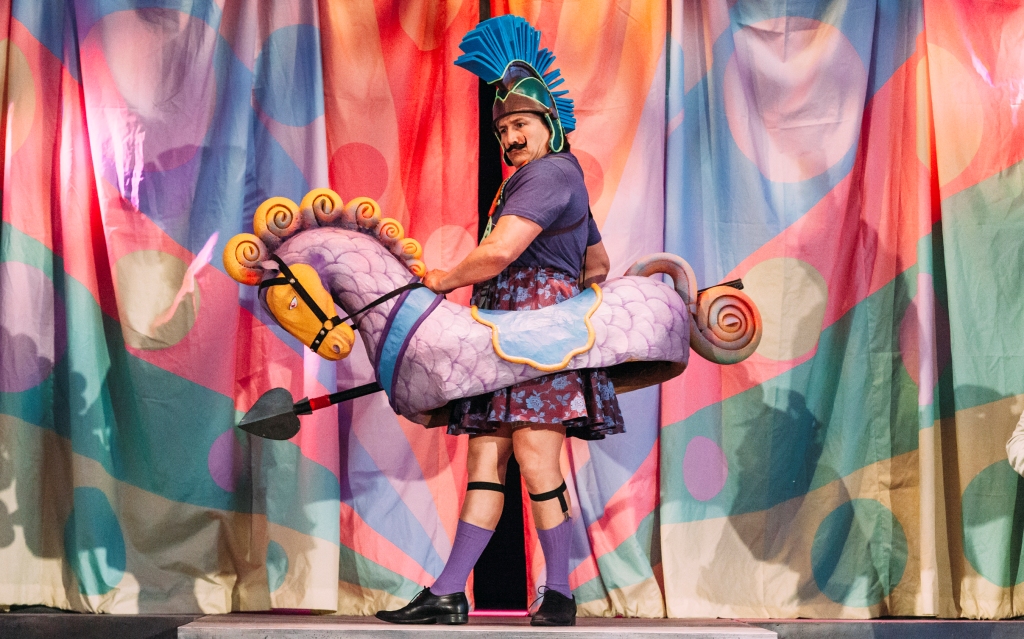 Love's Labour's Lost may be the least produced of Shakespeare's plays.
At one time it disappeared from the stage for 200 years. However, many of its pleasures have been rediscovered in recent times. Perhaps that's because the play, with its sense of fun and zany infectious humour, blending high-flying Shakespearean iambic pentameter with puns, groaners and pratfalls, lends itself to modern interpretation. In fact, the tone is surprisingly modern and, as this knockabout production from Jim Guedo for the Freewill Shakespeare Company currently playing in Hawrelak Park demonstrates, it is full of enough nonsense to keep us laughing right on through its two hours.
"Navarre will be the wonder of the world," proclaims King Ferdinand (Nathan Cuckow). The monarch has decided to devote himself to learning and contemplation, and to forgo the company of women for a period of three years. Three lusty young nobles of his court – Berowne (Jesse Gervais), Dumaine (Hunter Cardinal) and Longaville (Neil Kuefler) volunteer to go along with him by taking an oath of celibacy. Berowne is not too sure but he yields to peer pressure.
They are about to begin their rigorous regimen when the Princess of France (Kristi Hansen) and her entourage of three pretty young things (Mary Hulbert, Belinda Cornish and Cayley Thomas) arrive. They expect to be welcomed with courtly pomp. Instead they are shuffled off to camp outside the walls of the castle while the male dolts try to climb into their rarefied monk-like existence.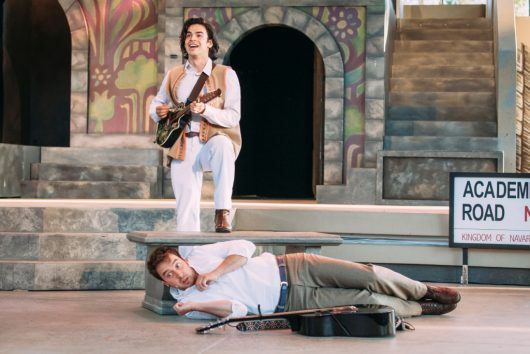 For their first appearance the Spanish Royals dress in white and arrive in a burst of sitar music presumably to impress the guests with their resolve – but the moment they appear and take one look at the radiant women, they come apart.
Love is in the air and sexual tension runs rampant on the ramparts. We all know that it is only a question of time before noble aestheticism and oaths of abstinence will evaporate like the evening mist in Hawrelak Park. And that each of the guys will pick exactly the right girl for them.
From their exile, the Gallic ladies of the court plot their return with the help of their trusty aide Boyet (an exuberant and funny Troy O'Donnell – whose enviable job is to lead, herd and generally try to reign in four lively ladies).
Letters get delivered to the wrong people; identity confusions that are obvious to the audience but not to anyone on stage are acted out. There are plays-within-plays and general tomfoolery. All this is delivered at a breathless pace by Guedo and his able cast.
There are a number of comic set pieces, particularly one when the addled young suitors come upon each other penning secret but ardently amorous songs to their love objects which they sing (beautifully), each accompanying themselves on various stringed instruments.
The principals are charming, but this is a play where the supporting characters entertainingly get their outrageous on. Ryan Parker is engaging as that familiar Shakespearian character – the wise fool. Billy Brown delivers a showstopping song in the first act in a clear and compelling tenor and the golden voiced Louise Lambert (as Jacquenetta, the slightly soiled but irrepressible farm girl) leads the entire cast in a rousing finale to the evening. In there somewhere Sheldon Elter just nails an hilarious portrait of the lunatic, mustachioed Spanish painter Salvador Dali.
Shakespeare has given some comprehensible and witty dialogue to Berowne and Rosaline – and it's delivered with style and elegance by Gervais and Hulbert.
In all, the show is a fun filled, serio-comic delight presented by a cast that seems to be having as much fun as the audience.
Loves Labour's Lost, a production of the Freewill Shakespeare Festival, plays on alternate days with Romeo and Juliet  in the big Heritage Tent in Hawrelak Park through July 17.
Photos by Alexa Tonn