MUSIC PREVIEW: Blink-182's mature immaturity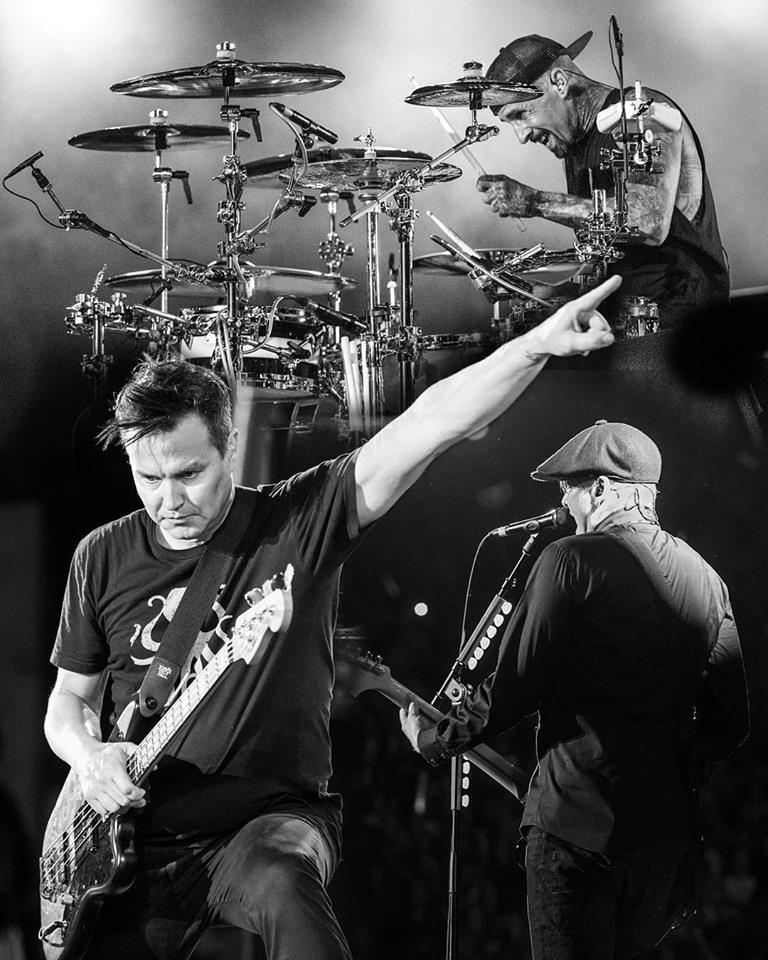 Paul the Apostle had something to say about Blink-182: "When I was a child, I spoke as a child, I understood as a child, I thought as a child – but when I became a man, I put away childish things."
Times sure have changed! And one could find no better rock band to embody the modern idea that we NEVER have to grow up than Blink-182. One of this famously "immature" band's best-known songs is an anthem of mature self-awareness about one's own immaturity: What's My Age Again?
For the record: Singer Mark Hoppus is 44 years old. He's still going strong.
The band's new album California, named from whence they came, is both deeper and yet somehow more shallow, rich in comedic style and brisk pop punk goodness. It contains statements like "I wanna see some naked dudes, that's why I built this pool," and a song called Bored To Death, with its observation, "Life is too short to last long."
That's like Sammy Hagar's line, "Time will tell if we stand the test of time."
Or Paul the Apostle.
Blink-182 plays Saturday at Rexall Place, with The Used in support. Show at 7:30 pm, tickets from $35
Thursday 7
Yes We Mystic – This is the best sort of modern rock: A new wave indefinable tasty smoothie of organic and electric, folk and rock, granola and kale with fresh mango, hipster chic without being obnoxious, rendered in elegant songs rich in haunting hooks. Comparisons are futile! Has the Talking Heads of Winnipeg been taken? Experience and judge it for yourself at the Almanac, with opener King of Foxes, 7 pm, $10 advance
Friday 8
Redfoo – Short but powerful was the reign of LMFAO, upon which party songs about parties dominated the charts for a few weeks there a while back. They broke up, sadly, not too long after Skyblu threw his back out doing the Wiggle in Sexy and I Know It. Party rocking is a dangerous business. His partner Redfoo bravely carries the torch, making what is billed as a promo appearance at the Ranch Roadhouse. He's got some new music, an Auto-tuned new thing called New Thang, and more interesting a song called Juicy Wiggle. Is the world ready for another case of the wiggles? Admission is FREE with RSVP before 11 pm, $35 otherwise.
Consilence – Airy female vocals on gorgeous melodies add the crucial element of dreaminess to this self-described "dream pop" group, playing its album release at 9910. With Marlaena Moore, R. Ariel and Jessica Jalbert, 8 pm, $10 at the door
Lusitania Lights – Exotic rhythms reminiscent of warmer climates combined with sad and wistful vocals evoke interesting emotions from this local band named for the passenger ship that was sunk by a German submarine in World War I. The band plays its EP release on this night at the Mercury Room, with Good Nature and Maverick Cinema, 8 pm, $10 advance
Daniela Andrade – Here's another amazing female YouTube sensation from Edmonton. On the heels of the success of Ruth B (Lost Boy), Andrade, 23, practically defines the idea of low-key passion, with rich, sultry, emotional material loaded with thought-provoking future-shock, especially in her captivating lament Digital Age. This would make great film noir soundtrack music, if it hasn't been done already. Video release show at the Needle Vinyl Tavern, 9 pm, $15 advance
Saturday 9
Insane Clown Posse – The much anticipated first Edmonton performance of this legendary rap duo from Detroit is SOLD OUT at the Union Hall. They plan to spew 700 litres of soda pop into the audience, so dress appropriately.
Walk Off the Earth – The genre-busting Canadian headliner of this weekend's "Seven Music Festival" in St. Albert scored a huge hit on pop radio with the bouncy Hold On – another success story sprung from the annals of the neo-folk scene. Also performing at the Mission Park site (which has seven hills) is Dear Rouge, The Bros. Landreth, The Elwins, Leeroy Stagger, Eyes on Ivan and The Carolines. Starts at 1 pm, tickets $59
Tuesday 12
KISS – This is it, right? The last Edmonton show ever from the painted wonders that built a gilded bridge between disco and rock 'n' roll in the 1970s and permanently scarred millions of pimply teens? Then they're retiring? Say goodbye, we must, one last time. Hey, it takes a lot of energy to rock and roll all night and party every day, especially when you consider that most sensible people do their rocking and rolling and partying at the same time, at night, leaving the day for more important matters – like sleep. Rexall Place, 7:30 pm, with Caleb Johnson, advance tickets $25 to $375