Insane Clown Posse lives up to its name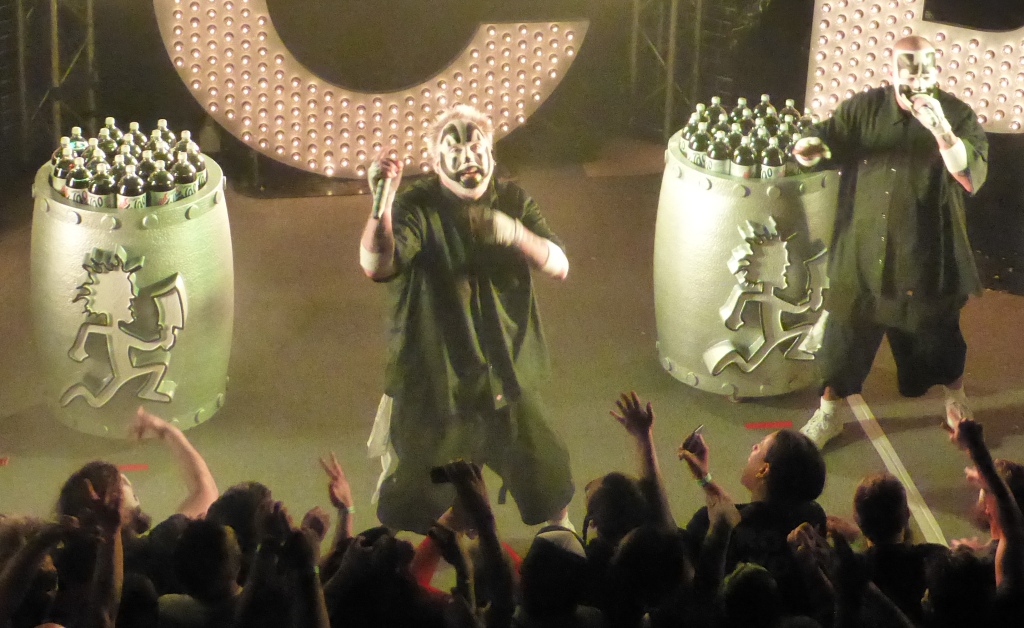 Their reputation precedes them – but Insane Clown Posse is not so evil after all.
The hundreds of Juggalos who turned up for the group's first Edmonton show at Union Hall Saturday night aren't about to run out and do any of the horrible things depicted in ICP songs, just as they wouldn't go out and cut people to bits after seeing The Texas Chainsaw Massacre. It's escapism. This particular ICP audience turned out to be quite a happy, friendly and polite bunch, albeit a very drunk one. No major incidents were reported.
Instead it was all about love. The last words the notorious rap duo shouted to their delirious, drenched fans were, "WE LOVE YOU!"
The love came flowing right back! Everything and everyone got wet because ICP sprayed an almost continuous stream of "Faygo" soda pop into the audience, for an entire hour they performed. The cola is made in their hometown Detroit. It's their schtick. "Carnival of carnage" is obviously a metaphor for getting splattered with fluids of unknown origin. Good thing it was diet pop. No sugar.
For the last song, the horror-rappers even invited audience members on stage to join the soda fight. Complete bedlam ensued. The stage and dance floor were turned into an indoor spray park; people cheered as a sopping wet Canadian flag was held aloft. It was a sticky, crazy night.
For the uninitiated, Insane Clown Posse is a hardcore gangsta rap version of KISS plus Alice Cooper plus GWAR. Born in the Detroit rap scene of the 1980s, the rappers Violent J (Joseph Bruce) and Shaggy 2 Dope (Joseph Utsler) dress and act as evil clowns, displaying a solid rapport both with their fans and each other as they rap about unspeakable things. While spraying the crowd with soda pop. You've never seen street performers like these before.
The fans – known as "Juggalos" – are said to be so enthusiastic that ICP was put on an FBI watch list for alleged gang activity, nothing ever proven, of course. Not since 2 Live Crew or Body Count has a rap group caused such a stir. These guys make Snoop Dogg look like Nick Jonas. They eat Eminem for breakfast.
It's no wonder they have a reputation. A non-stop barrage of ICP songs played at the show dealt with murder, incest, bestiality, necrophilia, a Diagnostic and Statistical Manual of Mental Disorders set to gangsta rap. Sometimes it was hard to understand what was going on, but certain things came through loud and clear. General angry nihilism was a big theme. In one number, they invited the audience to shout a mantra, "FUCK THE WORLD!" Which we did. It felt good.
Theatrics rivaled an Alice Cooper show; there were in fact a few performers on stage who looked familiar, like that zombie French maid. Additional evil clowns and large furry animals cavorted around, all armed with two-litre Faygo bottles and doing their part to soak the crowd. Axes were brandished in one song. Feathers were spread. Confetti rained. What appeared to be a cowboy scarecrow was thrown about. The two rappers got into a fight on stage, a soda pop fight.
Meanwhile, they proved worthy of their musical reputation, rhyming with fast flow and perfect focus, their skills as good as any in the game. All of it was hugely entertaining. First and foremost, these clowns are great showmen.
The crowd sang along to every world of almost every song heard from ICP albums dating back to the early 1990s – including lines like this: "Girl, you know I love you, but now you gotta die." There is no way to read any other meaning into that song Bitches, written in 1999, another era. It's completely awful.
Is it over the line? Too much? Grounds for condemnation? Something to keep the disturbing ICP reputation going? It was hard to judge in the heat of the moment, a gathering of the Juggalos among friends, taking this act for what it is – so over the top and outrageous that it must be comedy.