REVIEW: Blink-182 comes on strong with the new guy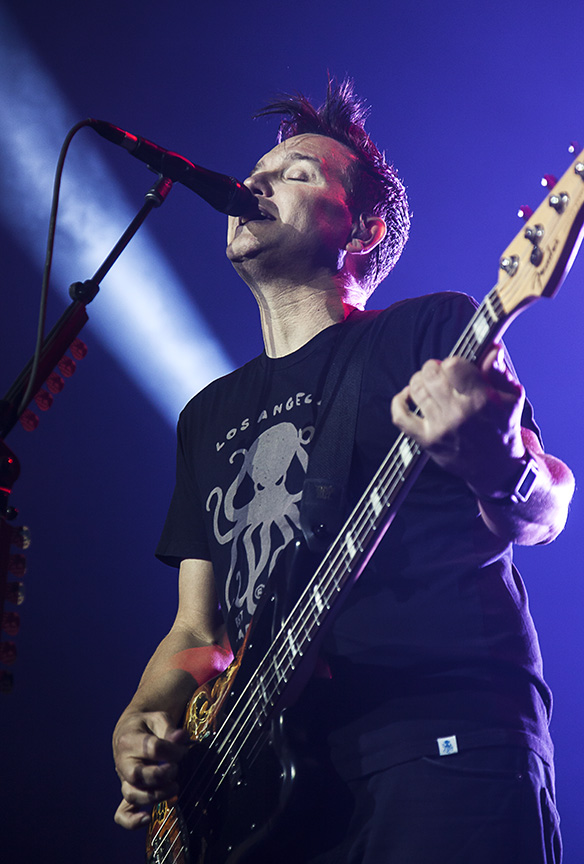 Shuffling band lineups are nothing new in music. It's a rarity to encounter a group with any sort of longevity behind its name that hasn't endured its fair share of turnover. But losing a key member, particularly one whose voice has become a band's hallmark, can be a make or break moment.
Blink-182 doesn't appear to be letting the departure of founding member Tom DeLonge slow it down. Playing at Rexall Place Saturday night, the pop-punk trio released its new album, California, just last week. It's the band's first record to feature "the new guy" Matt Skiba taking DeLonge's place behind the microphone.
It took a moment to adjust to seeing a new face on stage with bassist Mark Hoppus and drummer Travis Barker, but Skiba quickly made it apparent why he was chosen. The set kicked off with Feeling This and What's My Age Again, which stoked the nostalgia factor many fans were likely craving. The trio's playing was tight throughout the night (minus informing everyone there was a small setlist screw-up midway through the performance) and Skiba sounded right at home belting out any given number from Blink-182's extensive back catalogue. His take on the songs did not resonate as a jarring departure from the familiar melodies many fans grew up listening to.
Despite having a brand-new album out, Blink leaned heavily on its older material and didn't bust out its latest single, Bored to Death, until it was fairly deep into the setlist. The crowd – which ranged in age from those who used Blink as a soundtrack to their formative years, to a younger demographic discovering the band for the first time – certainly didn't seem to mind as it enthusiastically sang along to nearly every song.
The show itself wasn't the type of spectacle that can often be synonymous with arena shows. The stage set-up wasn't flashy, but it served its purpose as the backdrop for a straightforward rock show. Banter was also kept to a minimum, allowing the songs to do the talking, although, as is a pitfall of the pop-punk genre, the numbers veered towards feeling repetitive as the show neared its end.
The Used started off the night with an expletive-filled welcome as frontman Bert McCracken implored the crowd to show each other a little love before the band launched into 45 minutes of its more well-known songs: Taste of Ink, Sharp Objects and All That I've Got, to name a few. McCracken interacted with the crowd considerably more than the evening's headliners, imparting sentiments about music having the power to change the world and save us all, as well as briefly addressing his sobriety. The Used hasn't released a studio album since Imaginary Enemy in 2014, but any lack of new material in the setlist isn't a criticism here, either. The only one to be had with The Used would be some vocal inconsistencies. Overall, it seemed many fans were there to revisit a piece of their youth rather than take in a slew of new material, and both bands wholeheartedly delivered.