KISS STILL ALIVE!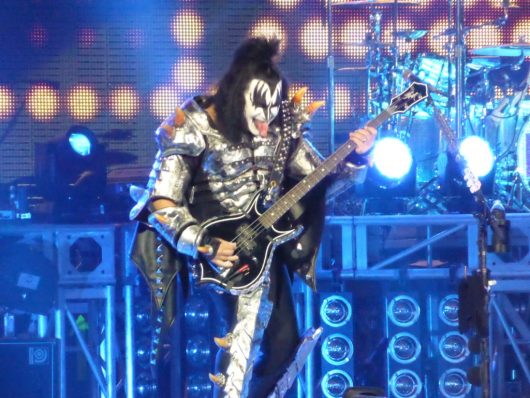 "Let me remind you that patriotism is always cool!" declared Paul Stanley at Rexall Place on Tuesday night.
There was general agreement among the 10,000 members of the Edmonton regiment of the KISS Army.
Cue O Canada – the proper version – sung by a proper member of the Canadian military: Maj. John Kim. Man of many talents. This special encore guest got a big hand and a handshake from Stanley and Gene Simmons. A giant Canadian flag was projected onto the big screen. People had taken off their ballcaps and put their hands over their hearts to sing along, just as they had sung along to such hits as Detroit Rock City and Lick It Up and Black Diamond.
Well played, KISS, well played.
Blatant cash-grab tour or not, they could do no wrong for their Edmonton fans, who were looking a little, you know, older, but clearly in the throes of joyous nostalgia for a band that formed their youth. The band gave them exactly what they wanted Tuesday night. KISS came at exactly the right time for struggling teens in the 1970s who hated disco and didn't understand punk. Caught between Boomers and Generation X, there was little else but Peter Frampton to sooth the horrors of the decade. KISS were the anti-punks, and their mantra was taken very seriously: "I want to rock and roll all night and party every day," even though that didn't make any sense because one generally parties and rocks at the same time – at night – while saving the day for important matters. Like sleep.
Never mind. The song still speaks to the teen within.
These guys know what they're doing. They should, after more than 40 years. While there was been much KISS-dissing on social media, no discouraging words were overheard from any fan who attended this concert – a competently rendered carbon copy of every single show they've ever done in Edmonton since they played the NAIT cafeteria in 1973 or so (minus the pyro that first time).
The standard KISS concert goes like this: Detroit Rock City, Deuce, Shout It Out Loud, triple bang for your buck, explosions, sparklers, laser beams, rabble-rousing patter from Stanley (surely one of the greatest rock talkers in the business), rising platforms, flying band members, more explosions, some B-side filler from the old days, Gene Simmons spitting blood, breathing fire, Stanley riding a wire across the arena, "Ed! Mon! Ton!" playing I Was Made For Lovin' You that they don't do very much but did it anyway because "you're special!" It was a non-stop, pyro-fueled beatdown of four-chord goodness, simple, basic, escapist fare, the fast food of rock 'n' roll. You know what you're going to get with KISS.
Stanley and Simmons may not in fact be the greatest rockers in the world as their traditional introduction suggests, but they have wisely selected guitarist Tommy Thayer and drummer Eric Singer as replacements for the original members Ace Frehley and Peter Criss, respectively. The new guys, not so new by now, were clearly the best musicians on stage at Tuesday's show. Singer even did his turn on lead vocals while keeping time, and in the encore minus drums with the ballad Beth – the band's biggest single, co-written by the ousted Criss, which must've been galling for Criss purists, especially since Singer was wearing the cat face paint. Is nothing sacred?
Small matter as KISS proved to be worthy of their draw after all this time, still filling arenas, more or less, not quite ready to do the Jubilee Auditorium, though that time may come. For a band that was supposed to have said "farewell" 16 years ago, KISS is still going strong. No word on a new album, suggested title: Kiss Still Alive!