NEWSIES: Weak story, amazing dance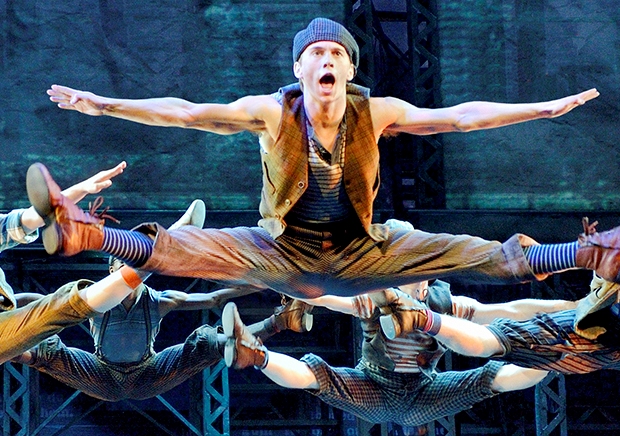 NEWSIES has certainly had a checkered career. It began its life as a Disney live action film in 1992 and immediately laid an egg, ranking as one of the lowest grossing films ever released by the company.
But in its eternal attempts to mine its film canon after the astonishing stage success of Beauty and the Beast, the Disney folks took another look at NEWSIES. After considerable tweaking, a new version opened on Broadway in 2012 and – bippity boppity boo – became an immediate and long-lasting stage hit.
As shown by the excellent Broadway Across Canada production now playing at the Jubilee Auditorium it's not difficult to see why. It's the tale (as old as time) of the little guy taking on corporate greed – in this case the largely true story of a strike by the street urchins who sold newspapers on the streets of New York in 1899. When that grasping old skinflint Joseph Pulitzer raised the cost of a newsboy bundle of his newspapers (or "papes" as they're called here) from 50 to 60 cents, the kids walked out.
The story was gussied up by music from Alan Menkin (Little Shop of Horrors, Aladdin) and book by Harvey Fierstein (Kinky Boots, La Cage Aux Folles) – but despite that blue-ribbon team the story remains pretty weak.
Ahhhh, but it's the dancing. As choreographed by Christopher Gattelli (on Broadway and on the road) the evening comes at you in the first few minutes and and doesn't let up until the last paper is sold. NEWSIES is as much a testament to the vitality and creative juice of the dancers as anything else. You find yourself asking "How can the human body take such abuse and keep up with all those high flying kicks, spinning pirouettes, somersaults and back flips – and keep going?" Time after time, a dance reaches a breathtaking climax only to boot up again and move on relentlessly to an even more spectacular apogee. Athletic though it is we're not talking mere gymnastics here – it's real dancing, precise, eccentrically graceful and exciting to behold.
If there is one image you take away from the show it is of a defiant dancer, his feet planted on the stage, staring out across the footlights, an arm raised pointing at a distant, unknowable future. Everything about the production (including the emotional impact) is big with titles like The World Will Know and Once And For All. The show is not above stacking one genuine showstopper on top of another, as in the knockout duo of an outsized dance called Seize the Day and the hero's thrilling, hall filling solo Santa Fe which ends the first act.
The thin plot features the fiery Jack Kelly (the impressively multi-talented Joey Barreiro) and his more cautious friend, Davy (Stephen Michael Langton), who attempt to rally the newsies. There is Crutchie (Andy Richardson) the spunky kid on a crutch who gets beaten up by Pulitzer's goons and Les (Turner Birthisel), the nine-year-old wisecracking little guy who provides a comic counterpoint to the epic Children's Crusade.
And what would a dancing musical about unionizing and hard-nosed labour negotiating be without a tender love story? Jack, a scruffy fellow of the streets, falls for the upperclass reporter Katherine (a likeable and animated Morgan Keene) who sees in the newsies' battle a chance to make her name as a journalist.
Although not as good as either Oliver or Annie there are echoes of both here.
Note should be taken of Tobin Ost's splendid set. It's a huge, three piece, ever moving metal gantry that breaks down into everything from a tenement rooftop, a back alley, Pulitzer's sumptuous office to a fancy house. It is always impressive but when it's all connected, with its various levels filled with wildly gyrating singing and dancing performers all gliding toward you across the stage, it's overpowering.
NEWSIES plays in the Jubilee Auditorium through Sunday night.