Edmonton Radio a flippers free for all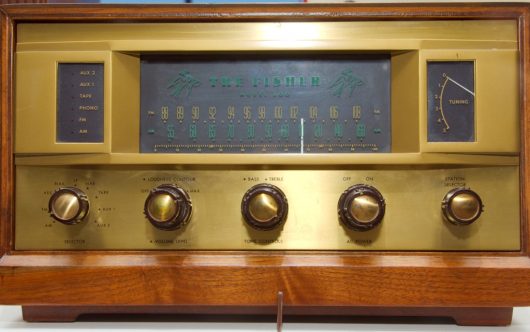 Don't take free radio for granted.
It remains an easy connection to an exciting world of music and culture outside your own. You might even imagine the person speaking on the radio is your only friend in the world, that he or she is talking directly to YOU, selecting good songs they think you might like to hear. It's a wonderful dream.
It may come as a shock to learn that DJs on most commercial radio stations don't program their own music, and in some cases aren't live or even in the same town. The playlist is usually handed down from on high, the results of marketing meetings where program directors have become "brand managers."
Still, the illusion of the personal connection can persist on a good radio station – which may be why video didn't kill the radio star after all.
The latest results from an intensive study of Edmonton radio are in! The data (1,100 listening hours in 18 months) revealed that while things could be better, on the whole they're OK. On the whole. Our large and unwieldy number of competing FM stations seem to have settled into a complicated yet stable orbit, with lots of overlap and some personality shining through. No one's been fired recently. No major format changes are in the wind. I could be wrong.
So many stations creates a flipper's paradise. Here's a fun car game: "Find Any Good Song." If you fail, you have to randomly listen to CBC talk until you figure out what the topic is, and then try again.
Offering the most consistently interesting variety of "good songs" in the flipping derby is Sonic 102.9 FM, which plays a mix representing the "alternative" side of popular music: new rock, classic grunge, neo-folk and even smatterings of cross-over hip hop. Sometimes it isn't immediately clear if you're listening to Sonic or the Bounce 91.7; they're owned (and presumably programmed) by the same company.
No one plays enough heavy metal in such a metal town. Sonic occasionally airs some Rage Against the Machine or System of a Down, not so new, but so rarely that it stands out like a sore thumb against the station's usual "modern light rock" style.
Best bet for hard rock is the Bear 100.3 – and it could be better. Their playlist often overlaps with the classic rock of K-97, the second best bet for rock 'n' roll radio as long as you like it old. Among good traits, there are signs of laziness in the programming of both stations. Did Led Zeppelin have other songs than Stairway to Heaven? Is Jimi Hendrix is known for more than Foxy Lady? You wouldn't think so some days – and you'll hear Ballroom Blitz at least once a day.
The habits of the flipping listener have become important. In random flips to Sonic and the Bear, there always seems to be a commercial playing – which just prompts another flip. Hot 107 also comes up near the top of the list of best music – because they toy with the usual top-40 formula, and also because there ALWAYS seems to be a song playing. Not necessarily a good song, but more than average. There's the modern radio conundrum: The tipping point between too many commercials and not enough. Too many and you lose people. Not enough and you go broke.
Hot 107 is one of three officially branded top-40 pop stations in town, along with the Bounce and Virgin 104.9. The hit parade is a strange world all its own, a place where the pinnacle of the music world's artistry and marketing in almost every genre come together to build great songs that represent a golden age of pop music as an art form – which we then get completely sick of after hearing it 100 times in two weeks. Part of the Fun Car Game is catching one song playing on two, sometimes three stations at the same time. A rare recent quadruple has been awarded for Renegades by the X-Ambassadors, and Stressed Out by Twenty One Pilots.
Every weekday all three top-40 stations run what is known as the "5 O'Clock Shit Mix," where remixers skilled in the art of moving faders demonstrate tin ears by ruining popular songs, some already too bad to be ruined. Flip away!
Sadly, the new flavours of top-40 disappear as quickly as they arrive, sometimes taking the artists with them – one-hit wonders before they even get going, the songs remembered, maybe, the artists forgotten. This is where stations like Capital 96.3 FM and UP! 99.3 step in: Havens for one hit wonders. Listen for Renegades and Stressed Out to be added to their playlists about 10 years from now.
Special mention must be made of 102.3 NOW! Radio – the No. 1 station in Edmonton almost for as long as it's been around. Pumped by massive billboard campaigns, they seem to thrive by poaching the formats of other stations, and are often found in instances of stations playing the same hit at the same time. Heedless of stylistic continuity, they pluck the most popular or requested songs from all formats for a result that goes down like a dog's breakfast of an insane person's mixtape: Foo Fighters next to Pink nestled betwixt Guns N' Roses and Meghan Trainor and Drake, with Nickelback and Ballroom Blitz not far away.
In short, listening to NOW! is like flipping between 13 different radio stations. It's diabolical.
As nice as it is to detect a singular human intelligence with some educated musical taste from one's radio friend, it's not all about the music. Among much vacuous patter are some excellent talkers in Edmonton radio. Sonic's Garner Andrews is the best of all – a soothing Letterman-like presence in the morning, usually accompanied by trademark mental patient background music. Medication time!
Other talkers worth noting are Yukon Jack and his Big Yap, along with the deceptively smart Ryder in the Morning show on Hot 107.
Mornings are when listeners expect the best talk, but other personalities have marked their slots. K-97's Melissa Wright cannot be touched as Edmonton's affable yet outspoken Queen of Classic Rock Radio during the mid-day, while you can hear a promising new voice on the scene in Lauren Hunter, who does evenings on Sonic. She has attitude.
Doing the afternoon drive on the Bear is Scott McCord with his "Funhouse." Like Terry Evans and Bill Cowen on K-97 mornings, McCord knows his town very well, and speaks as if he is indeed addressing a close friend – no worries as an occasional "shit" or "fuck" slip in there. But far too much of this guy talk is about sports. Sports talk belongs on sports radio! Back in the day when K-97 was the only FM music game in town, the announcers talked mainly about rock 'n' roll. What ever happened to that? Alan Cross does a good rock talk show on Sonic called The Ongoing History of New Music – though he's neither live nor in the same town.
Finally, sad news about The Champ. You remember The Champ? A bit started by Canadian comedy duo Maclean and Maclean and adopted by syndicated radio, The Champ is a punch-drunk boxer who misinterprets everything people say as an insult, or a pass at his wife – and then he "loses it." Dumb, but funny. Unfortunately, he's sold out to the MAN – as the spokesman for the Canadian Brewhouse. It's not funny anymore.
If this isn't a poignant metaphor for the state of modern free radio in Canada, I don't know what is. Of course it is possible to read too much into these things.