Chris Cornell unplugs grunge at the Jube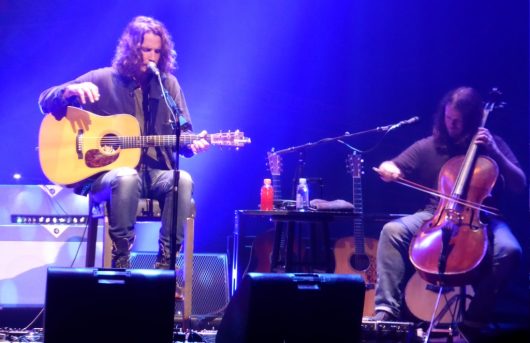 It's official: Generation X has entered middle age.
No better proof could be found than the fact that one of its rock 'n' roll heroes was playing the Jubilee Auditorium on Saturday night. The Jube! Where Engelbert Humperdinck played.
It turned out to be the perfect venue for Chris Cornell, the 52-year-old former frontman of Soundgarden – performing unplugged and (mainly) alone. A bit of a surprise, but it went over like gangbusters. There was no band, no drummer, just his cello player (Bryan Gibson) only about half the time.
"I've moved up to this nice fucking place," he told the sold out crowd at the concert hall, making comic hash of such an unlikely situation. Gotta maintain one's rock 'n' roll reputation, after all.
What followed was a grueling marathon of classic grunge-era songcraft – from Temple of the Dog to Soundgarden hits to Cornell's prodigious solo material, including from his new album Higher Truth. He killed on almost all of it with little but voice and acoustic guitar. Cornell managed to turn 2,500 former grunge rockers into fans of the singer-songwriter genre. Who knew?
Take a page from Elton John. It takes a lot of skill – not to mention balls – to strip down one's songs completely down to their bare bones, warts, moles and all, and perform them naked, metaphorically, in front of a crowd who's used to said songs a certain way. It's the true test of a good tune, and the musician behind it. Cornell, like his peer the late Kurt Cobain, is one of these stealth guitarists not necessarily famous for his guitar chops, but nonetheless a master of effortless self-accompaniment. Even with his distinctively unusual chord changes, these are songs you could sing around a campfire – even Black Hole Sun. The cello was a nice touch in that one.
Voice-wise, Cornell is one of the best "classic" rock singers to emerge from the Seattle music scene in the early 1990s – classic as in able to wail like Robert Plant and yarl like Eddie Vedder. Cornell was straining for high notes in the first few songs, especially the demanding Can't Change Me, but he was up to full power before too long. By Fell on Black Days, he was wailing and yarling in fine form.
There was a confounding, conflicting feeling with this show. That you were in the presence of a true God of Rock, one of these people who isn't famous by accident, but in the decision to go unplugged for two solid hours, there came a certain "sameness" to the proceedings. It was a marathon.
He broke it up with playful covers. He caused chills with Prince's Nothing Compares 2U. Cornell did Bob Dylan's The Times They Are A-Changin' – complete with the dreaded harmonica harness – and mangled the lyrics into "The times the are a-changin' back," while referencing the current political climate in America. Later he played the chords to U2's One and sang the lyrics to Metallica's more depressing song also called One, after noting that Harry Nilsson's song called One is the most depressing One song of all. Cornell, among other gifts, is obviously a studied music fan.
Finally came a Beatles cover – A Day In the Life – which proved to be a stark reminder that many of the best rock songs of the early 1990s from Soundgarden and other notable Seattle bands have lasted this long for a reason. You can play these grunge rock hits on acoustic guitar next to Beatles songs and they'll fit right in.
If the choice of opening act reflects the headliner, Chris Cornell is a genius. An artist named Fantastic Negrito is one to watch. He sang with astounding power, control and a vocal range that must be at least four octaves, and came off like an old-fashioned preacherman brimming with inspiration and good advice. Like this: "Take that bullshit and turn it to good shit!"