REVIEW: Whitehorse divine at Interstellar Rodeo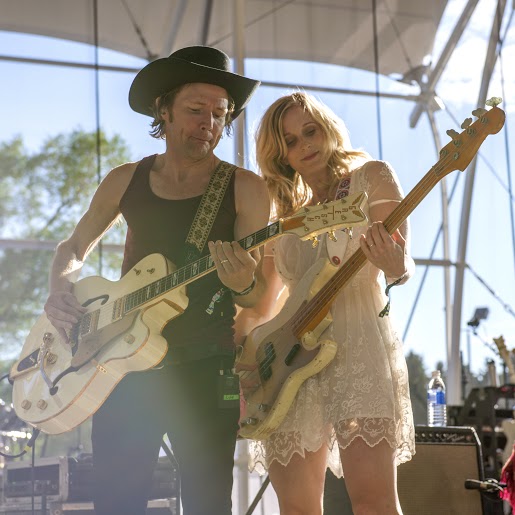 Interstellar Rodeo is a deliciously Edmonton festival.
A warm Saturday in Hawrelak Park boasted everything you could want from a music festival: Kids played football, people lounged on blankets; a woman gyrated to the music with an iridescent hula hoop, another lady rocked a tutu and a cowboy hat; babies were wearing Led Zeppelin T-shirts.
The music is international but there's strong representation from local talent. The Market Picnic section of the festival boasts local artisans like Christine MacDonald, a copper jeweler who owns Smithstine. MacDonald recently gained notoriety when she created a piece to commemorate the Fort McMurray fires – a necklace with an Alberta-shaped pendant that boasted a heart over YMM.
The duo Fantastic Negrito started the afternoon off (before leaving to open for Chris Cornell at the Jubilee Auditorium) and the Canadian border control gave us a stripped down version of Sam Outlaw. Cat Power was a huge draw for the afternoon crowd, and she played to packed seats. Edmonton's Nuela Charles kept the crowd going before the final sets of the evening with her warm alt-soul vocals.
After that it was the just-so-sweet folk roots music group Whitehorse (above) – comprised of married duo Luke Doucet and Melissa McLelland, who put on hold their successful solo careers to travel together.
Their set opened with Devil's Got a Gun from their album The Fate of the World Depends on This Kiss. Musical loops and a yellow telephone were featured on the set, while the duo is multi instrumental, switching from acoustic, to bass, to keyboards and drum sets. Doucet played a beautiful white and gold Gretsch White Falcon, made in Japan and modeled after the US-made 1956 version. It's a hollow-body electric guitar, the type that gives off wonderful vibratious feedback. Its unique sound drew in artists like Neil Young.
The Juno-winning band's last song, Tom Waits' Gun Street Girl, was gritty and divine.
Edmonton's own Jessica Jalbert of Faith Healer played what she called her first solo ever. Clad in all black and using a JamMan Looper, she cheerfully declared she was basically singing karaoke. She's spoken in interviews of being inspired by oldies artists like B.B. King. Her voice is soulful, and unique – but familiar.
The last act of the night was Lord Huron, their second visit to Edmonton (having played the folk fest last year). They took the stage as the sun began to set, with fog machines rolling, looking like a blend between rock stars and hipsters – and that's exactly what they sounded like.
The Los Angeles band packed the floor with their mix of indie-rock and folk. The music was high energy and even bordered on that category of music known as prog-rock.
"This one's good for makin' out, so do that," frontman Ben Schneider suggested with before launching into The Night We Met. "It's making out, followed by extreme sadness, though."
The lyrics are familiarly sad: "I had all and then most of you, some and now none of you, take me back to the night we met."
Now who hasn't been there?
The night wrapped up with MC Chris Wynters ushering us all out so we didn't keep Darryl Katz up past his bedtime.
It was a perfect day at Interstellar Rodeo. And best of all? We have one more day!
Photos by Tyler McKay